Fairmount Avenue Relief Sanitary Sewer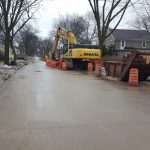 Firm: Clark Dietz Inc.
Client: Village of Whitefish Bay
Location: Whitefish Bay, WI
Flash flooding leads to flooded basements. But when 400 basements flood on a regular basis, there's a bigger problem. The Village of Whitefish Bay identified a 45-acre area experiencing consistent about flooding. They knew that only an engineering solution could overcome this persistent problem.
Clark Dietz conducted hydraulic analysis and found that the problems stemmed from a single sewer main pipe that serviced the area. The design team developed an alternative that involved a relief sewer system underneath a local street. To make this happen, extensive communication was needed with residents and Whitefish Bay. The engineers discussed all of the options with the public and clarified why this shorter, cheaper route under Fairmount Avenue was the best choice.
The solution was not without challenges – the street had recently been paved and was an important road for residents. Clark Dietz then developed a solution that involved trenchless technology which drastically reduced the amount of excavation needed and limited disruptions to traffic on the street. When groundwater backed up into the excavation areas, the design team even deployed pumps in a way that reduced noise in the neighborhood.
Clark Dietz and the Village of Whitefish Bay set out to improve residents' lives. The team designed solutions that met the needs of the community in every way possible. The project highlights the good that proper communication and conscientiousness can bring.