Five Corner Road, WSOR Railroad Bridge - Green County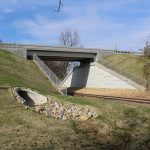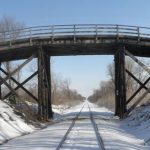 Firm: Jewell Associates Engineers Inc.
Client: Green County Highway Department
Location: Monroe, WI
Green County was faced with a traffic trouble spot – a wooden bridge opened in 1960 over a railroad bridge. It featured a counter-intuitive "hump" shape that decreased stability and safety. A smart design was needed to fix these issues and keep the road open for rural traffic.
Jewell Associates knew from the beginning that the old structure would have to be eliminated and completely rebuilt. The design of the old bridge arched over the railroad below and restricted speeds to less than 15mph. The first stage in replacing the bridge was to use Mechanically Stabilized Earth (MSE) walls. MSE walls provide a better structure for the sides of the bridge and reduced the length of the bridge. This allowed the design team to use a single span structure which was less expensive than usual. Because the bridge sat over a railroad, there was a need for additional vertical clearance. While this usually leads to additional cost on other projects, the use of MSE walls and a single span kept costs low and reduce future maintenance costs. This structure is expected to last 75 years which is substantially longer than the original bridge, further reducing costs.
The design team worked closely with the county and railroad authorities to design a new bridge. With innovative design, they lowered the cost and met all the requirements – a great design goal to meet.
---