Madison Water Utility Operations: Stormwater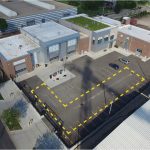 Firm: Mead & Hunt Inc.
Client: City of Madison Water Utility
Location: Madison, WI
Madison Water Utility decided to redesign its exisiting Operations Center to become more environmentally friendly and to streamline activities. This new facility and overall site redevelopment meant that steps had to be taken to remove the pollutants being generated by the construction activity and everyday operations. Unique site constraints and high standards led to some innovative solutions.
Mead & Hunt worked with the client on both the Operations Center redesign and on this specific stormwater project. Because of this connection, the design team was able to offer solutions that merged into the full project and worked better than a piecemeal approach. The problems facing the runoff problem were extensive. The site was extremely limited and had shallow groundwater levels because it was located between two lakes. A shallow sewer was impossible because the surface above could not support the continuous load of heavy trucks. Finally, the site contained contaminated groundwater and petroleum impacted soils which meant that more extensive stormwater treatment was needed as opposed to a non-contaminated site.
The design team's solution was unique – an underground stormwater treatment vault. Created out of pre-cast concrete to prevent it from rising up towards the surface, the vault has a two-layer liner to prevent the surrounding contaminated groundwater from seeping in. The tank treats stormwater before it reaches local water resources. The tank even has a baffle which is a device that gathers the oil and grease runoff from the heavy trucks parked above. The lifespan of this tank is much longer than a typical retention basin and being underground saves space above for the actual operations center.
Awards judge Dan Talarczyk, PE, PLS said: "The stormwater component of this redevelopment project demonstrated an elegant solution to stormwater management on a congested urban site with limited area."
With this innovative solution, the design team met the site's needs and helped the client continue progress towards a more sustainable and environmentally friendly future.
---