Memorial Union Renovation and Alumni Park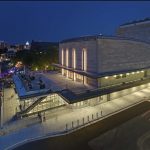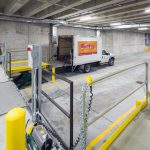 Firm: GRAEF
Clients: Uihlein/Wilson and Moody-Nolan
Owner: Wisconsin Department of Administration
Location: Madison, WI
The Memorial Union at UW-Madison is, for many, the heart of the university. A now historic building constructed in 1928, it has expanded to be an administrative hub, a student hangout, outdoor and indoor theaters and even a hotel. The project required extensive design work and collaboration with stakeholders. The redevelopment of the union was sensitive and required the design team to pay attention to the final aesthetic.
GRAEF broke down the design and construction of the improvements into two phases. In Phase I, the design team worked mostly on the theater in the union. By using a steel frame/composite floor system, the thickness was reduced which allowed for an enlarged play circle because it removed now unnecessary supports. The west wing of the facility was also simplified from its previous mismash of confusing hallways into a modern, inviting design.
Phase II was a more extensive remodel and required innovation from the design team. While many modern improvements were provided and quality of life changes made, the biggest upgrade was to the loading dock. A significant challenge was creating the loading dock ten feet below the water level of nearby Lake Mendota. A special membrane and drainage system protects the dock from water seepage. The new dock features a truck turntable which significantly cuts down on the space needed for semi trucks to turn around. The turntable allows them to drive in and be rotated into the appropriate loading bay. It's estimated that this will save the university (and taxpayers) $300,000 a year.
Said awards judge Jerry Deschane: "GRAEF impressed me with their creative, and technically-brilliant solutions to the combined challenges presented by this project. Preserving a University of Wisconsin institution and at the same time making it more functional was a significant challenge in its own right. Layering over that underground semi-truck loading docks, served by turntable below the water table at this lakefront site is an incredible engineering feat,"
GRAEF's improvements give new life to a historic building that represents the university and will help it form a central experience for future generations.
---