WIS 54 and County U Intersection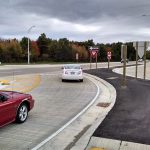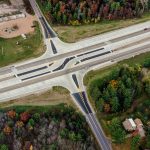 Firm: Becher-Hoppe Associates Inc.
Client: Wisconsin Department of Transportation – North Central Region
Location: Portage and Wood Counties, WI
Fundamentally, drivers expect two things from their trips: to get to where they're going efficiently and safely. The intersection between WIS 54, a principal arterial route on the National Highway System, and County U was an extremely dangerous intersection. Angle crashes and fatalities occurred because of traffic volume and poor visibility. Becher-Hoppe designed an intersection that would keep traffic flowing and lower the number of crashes.
The design team decided to implement a unique J-turn intersection, named because the driver makes a J-shape when turning left or going straight. The design minimizes angle crashes because it doesn't leave the side of a car facing oncoming traffic. Becher-Hoppe took this a step further and added auxiliary lanes for turning so that drivers wouldn't have to rapidly cross lanes of traffic. Similar intersections have seen dramatic decreases in angle crashes and fatalities. The design also took into account multi-modal transportation needs as well as creating ample space for larger vehicles and trailers to make the turns. Finally, the team also modified the design to minimize local environmental concerns; no trees or wetlands were cleared during construction.
Engineers play a fundamental role in securing the needs of travelers. They deliver roads that get drivers there and they keep them safe – in this case, getting them there just as fast and keeping them a lot safer.
---