Back to Events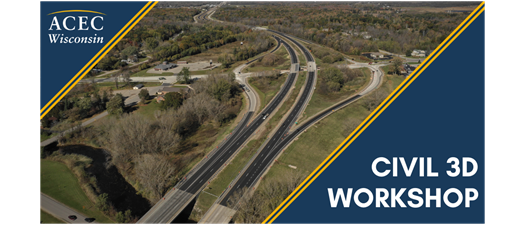 2020 Civil 3D Workshop
Learn from experts in Civil 3D! Webinar info provided after registration.
Monday, September 14, 2020
to Friday, September 18, 2020
Event Details
The Civil 3D Workshop is going virtual this year. This gives attendees the chance to attend a wider variety of sessions and your firm the chance to reach a much wider audience. Breakout sessions and general sessions will highlight Civil 3D tips, innovations and best practices for any expertise level. PDHs are also available for each session but will only be given to registered attendees.
There are two ways to register for this event:
Purchase a ticket for the whole workshop
This gives one person access to every session. This is your best value option with over 20 sessions for $70 for members. Click "registration options" above to purchase.
Purchase tickets for individual sessions
This provides access for one person to just that session. It allows you to customize your schedule but it is a better deal to purchase the full workshop ticket if attending more than one session.
Tickets are available for each individual session through the workshop agenda.