Beloit Powerhouse Riverwalk
Date posted
February 20, 2022
2022 Engineering Excellence Best of State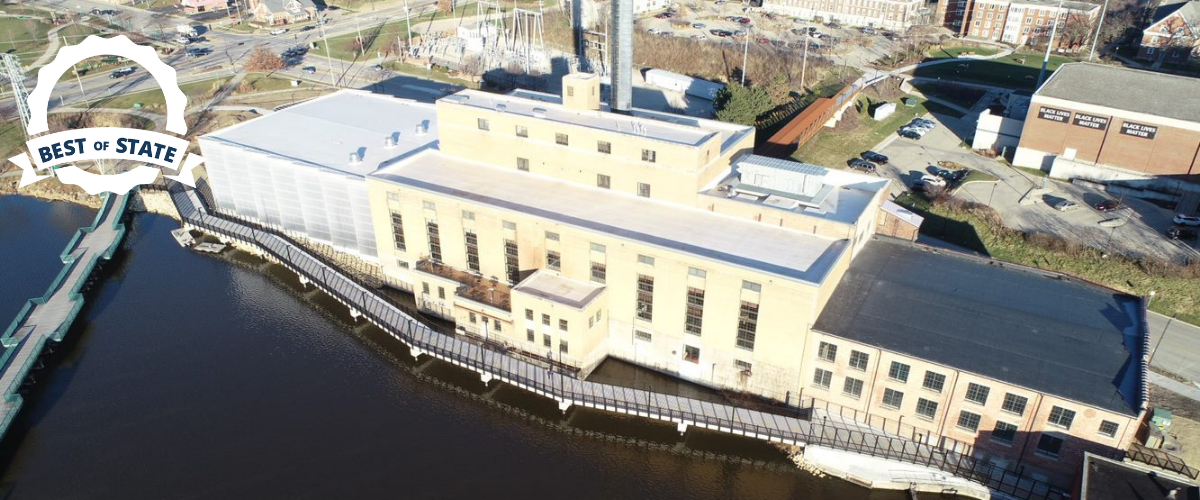 Entering Firms: Jewell Associates Engineers Inc. & RH Batterman & Co Inc.
Client: City of Beloit
The City of Beloit is quickly redeveloping its downtown from its industrial past. An existing path system provides pedestrians greater access to the downtown and the beautiful Rock River. An old powerplant is now the future home of the Beloit College Union: The Powerhouse. However, these assets were not well connected. Since the path system did not extend to the new student center, users had to walk along a busy roadway.
A New View in Beloit
Jewell Associates and RH Batterman cooperated to fill a critical link in the system. Jewell designed a pedestrian bridge alongside the future student center that serves multiple functions – it connects the new development with existing paths and gives users a beautiful view of the river. The foundations were reinforced so it can serve as a base for a new deck for the student center. The team also redesigned the path leading up to the bridge so that it was further set back from the adjacent road to improve safety.
RH Batterman contributed to the design and provided survey support. Additionally, the team provided construction oversight which kept the project moving. Oversight was especially valuable to meet stringent environmental standards while working over the Rock River.
Awards judge Errin Welty said, "This project addressed numerous hurdles to complete a missing link within a popular bike trail while complementing an impactful adjacent redevelopment project. Working with multiple local and state partners to design a functional path while protecting the Rock River created a finished project that will be used by many in the community for years to come."
Connecting the City
Beloit now has another piece in its redevelopment. The riverwalk provides a safer, more reliable pathway while implanting cost-saving measures, minimizing impacts to the river.