Class of 2020 Wraps-up… Finally!
Date posted
April 12, 2021
The Leadership Institute Class of 2020 began way back in September 2019. When the pandemic struck, the group was set to have the final session. Since March, we've stayed connected with virtual meetings and discussions. With a strong desire to continue the program in-person, the group patiently waited for the time to resume in-person instruction. The time finally came last week when we were able to hold our final session – Work/Life Balance for an Effective Leader.
Class Advisor Stan Sugden was a constant through it all. In what was originally a commitment to serve as Class Advisor from September 2018-March 2020 (Class of 2019 and Class of 2020), Stan stuck with it and is now the longest serving Class Advisor on record ending is term in April 2021. We thank Stan for his extended commitment to ACEC Wisconsin and the Leadership Institute program!
The Class of 2020 officially graduates at the October 1, 2021 Awards Banquet. Save the date and plan to join the celebration.
Recruitment for the Leadership Institute Class of 2022 will kick off this Spring. We are planning an in-person program running September 2021 – April 2022. Watch for details in early May.
Leadership Institute Class of 2020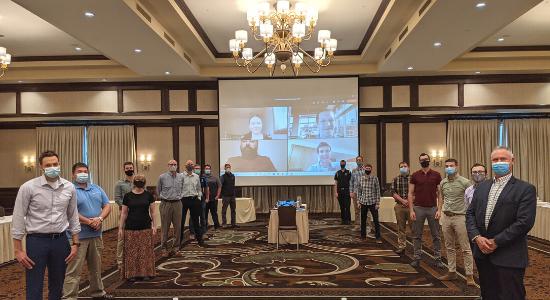 Travis Brush, PE, KL Engineering
Andrew Burt, PE, ENV SP, Ruekert & Mielke Inc.
Joanna Bush, PE, CBS Squared Inc.
Brandon Flunker, PE, CFM, Clark Dietz Inc.
Adam Gander, PE, Strand Associates Inc.
Tyson Glimme, Mead & Hunt Inc.
Jason L.Gross, PE, SE, GRAEF
David S. Hemmerich, PE, Baxter & Woodman Inc.
Noah Hofrichter, PE, IIW, P.C.
Todd M. Janssen, PE
Eric Jeske, PE, Gestra Engineering Inc.
Paul Petrides, PE, SE, raSmith
Christopher Ragusa, Larson Engineering Inc.
Ryan Schaitel, PE, Ayres Associates
Sara Schoenmann, PE, JT Engineering Inc.
Reid C. Spiering, PE, CORE 4 Engineering Inc.
Sean M. Spromberg, PE, MSA Professional Services Inc.
Ben L. Thompson, PE, JT Engineering Inc.
Dan Tracy, PE, Jewell Associates Engineers Inc.
Joseph M Urban, PE, Strand Associates Inc.
Gregory Walker, GRAEF