Developer's Vision Transforms Brownfield into Additional Tax Base
Date posted
March 15, 2022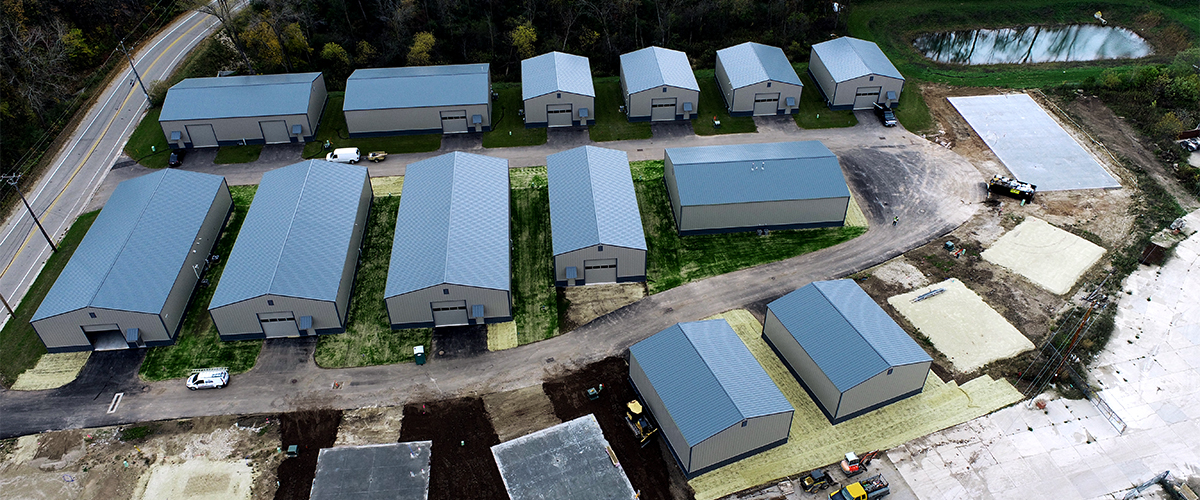 Written by: Dave Brose, PE, EMCS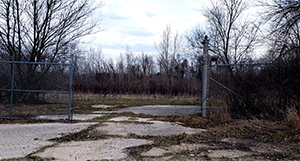 For decades, a former petroleum storage site stood vacant on the south side of the City of Port Washington. This Murphy Oil site remained a brownfield although the storage tanks were removed in the early 1980s. The former owners were required to clean the designated brownfield site. A large portion of the soil was removed, monitoring wells installed, the site was capped with suitable material, and eventually received conditional closure in 2001 and final closure in 2005. With its history, this 5-acre parcel was dismissed and overlooked by developers for years—even in Port Washington where unoccupied land is a premium commodity.
With a vision in mind, in 2018 BNN Development purchased the property from Murphy Oil and partnered with the City of Port Washington and EMCS, Inc. to develop business barns. To make BNN's vision attainable, EMCS helped BNN navigate through the multitude of permits required to move the project forward. These permits, while most were typical for any development, had an additional level of complexity since this was a former brownfield site.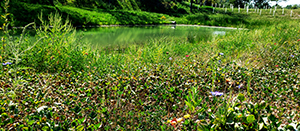 To address environmental challenges at this site, the consultant looked at the end result in developing a game plan listing all permitting requirements, developing a design that minimized impacts and stayed above the groundwater for the site and then checking off the permits one by one in the most efficient manner.
The permits required with the approver included:
Artificial Wetland Exemption Determination – Wisconsin DNR
Development of a Stormwater Management Plan – City of Port Washington
Stormwater Detention Pond (within 500 feet of Mineral Springs Creek) – Wisconsin DNR
Soil Loss & Sediment Discharge Calculations – Wisconsin DNR
Wisconsin Cultural Resources Exemption – Wisconsin Historical Society and Wisconsin DNR
Private and Public Sanitary Conformance - SEWRPC
Watermain Extension – Wisconsin DNR
Sanitary Sewerage System Extension – Wisconsin DNR
Watermain Extension – Wisconsin DNR
Construction Site Storm Water Runoff – Wisconsin DNR
Electric and gas services – WeEnergies
Water, storm sewer and sanitary – City of Port Washington
Driveway installations – City of Port Washington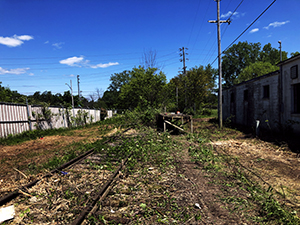 A railroad spur extended into the site adding to the complexities. After extensive coordination with the railroad and detailed title work research by EMCS; the developer was able to obtain an abandonment of the spur line. The subsequent purchase of the railroad property enhanced the viability of the project and the developer moved forward.
Following a three-year redevelopment process undertaken by BNN Development and their consultant, the former contaminated site began its new role in 2020. The site now provides usable business units with the extra benefits of water, sewer, and natural gas.
The end-result are twenty-five high-demand units for uses such as specialty contractor workshops or customed controlled storage. Business Barns, a vision by the entrepreneurs at BNN Development, has repurposed a neglected site. This reimagined site has turned a longtime unused property into a dynamic and beneficial development that will provide the City of Port Washington with an additional tax base for years to come.
About the Guest Blogger
Dave Brose, PE, Senior Vice President at EMCS, Inc., has been at EMCS since 1990 and oversees all operations. Dave is currently the Board Chair for ACEC WI. He also is a past President for TDA Wisconsin. EMCS, long-time member of ACEC Wisconsin, is a full-service civil engineering firm providing professional planning, design, and construction services to both the public and private sector. EMCS is based in Milwaukee; they have two additional offices in Wisconsin, as well as offices in Indiana and Michigan.