Leadership Institute's Running the Business Session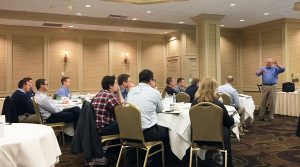 Leaders need to understand the fundamentals of running a successful business. Design industry consultant and top-rated Leadership Institute presenter David Wahby, Wahby & Associates, lead the Class of 2018 through the Running the Business session. We focused on the importance of financial scorekeeping, reading statements and reports, key indicators and what impacts future growth.
To catch a break from the numbers and formulas, the Class of 2018 was treated to a five-course dinner and etiquette training. We enjoyed great food and drinks while learning tips to impress at the next business or social function.