Resch Expo
Date posted
February 20, 2022
2022 Engineering Excellence Best of State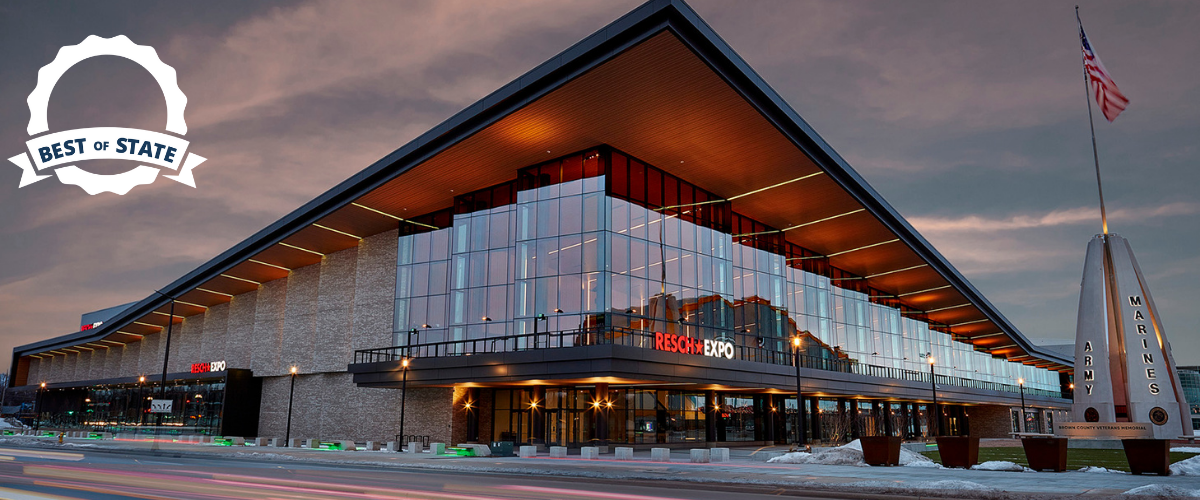 Entering Firm: GRAEF
Client: Village of Ashwaubenon
When people think of Green Bay, they probably think of football. But when there is a need for an all-weather venue that supports a wider range of activities, the Resch Expo, located across the street from Lambeau Field, should come to mind.
Changing the Game
GRAEF's structural engineering expertise was vital for a facility that supports Green Bay's Titletown District. Resch Expo is a flexible space that can meet many needs. To achieve flexibility, the design team avoided using support columns. Instead, a huge cantilever roof was installed with multiple 280-foot-long steel trusses. The length of these far exceeds what is normally used in arena design and required careful installation. Because construction took place in winter, the trusses were designed to absorb the dramatic temperature changes during and after construction.
Winter construction was necessary to support the Green Bay Packers' bid to host the 2022 NFL Draft. The design team used a new trademarked construction process to accelerate completion of the arena. The acceleration involved careful construction staging and shaved more than two months of the completion time. The venue opened in January 2021, much earlier than expected.
Awards judge Sharon Bremser said, "GRAEF's innovation to accelerate design and construction timelines by using collaborative technology is the future for all successful projects. The Resch Expo is a critical piece for promoting economic growth for the Village of Ashwaubenon."
A New Famous Arena
The Resch Expo is a critical piece of the region's economic development. It expands the Titletown District beyond football to a space that can accommodate a wide variety of events. It is a full partner of Lambeau Field and gives the region a multi-purpose entertainment district.