Annual Business Meeting: A Healthy Organization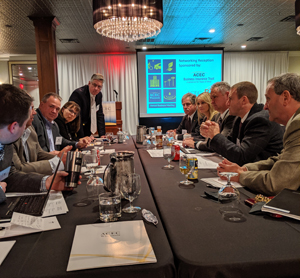 The Annual Business Meeting was held May 14 in Delafield. Chair Jan Zander presided over meeting. The 2018-19 fiscal year was a successful year. Highlights include valuable conferences and events and the unveiling of a refreshed, streamlined strategic plan. Treasurer David Way reported the organization's financials are stable, strong and strategic. President Chris Klein reported on our legislative priorities and plan moving forward. Anyone with questions should feel free to reach out to the ACEC WI team or Board of Directors.
In addition to the business meeting, the event featured education, roundtable discussions and networking. Lee Ann Wheeler from the ACEC Business Insurance Trust provided updates in professional liability issues, highlighting current trends in cyber and drone coverage. Attendees also heard from Lydia Zabrycki of the ACEC Retirement Trust on the building blocks Plan sponsors need to understand that ensure solid retirement plan management. ACEC WI member firms are eligible to take advantage of the Business Insurance, Retirement and Life/Health Trusts. Special thanks to the Business Insurance Trust and Retirement Trust for sponsoring the event.
Download the Business Insurance Trust Presentation
Download the Retirement Trust Presentation
The meeting also featured the always popular roundtable discussions. Utilized the wealth of knowledge and experience in the room, attendees had lively discussions. The networking continued over casual conversation at the reception.