Chemistry Building @ UW Madison
Date posted
February 19, 2023
2023 Engineering Excellence Best of State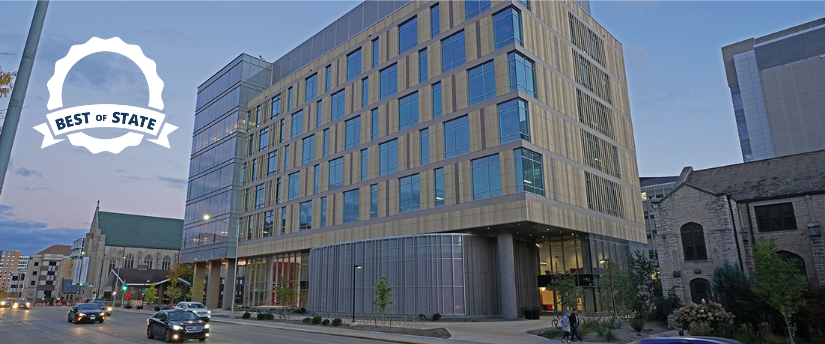 Entering Firm: GRAEF
Client: University of Wisconsin-Madison
The University of Wisconsin – Madison is well known for its top-tier chemistry program. But the program's facilities were suffering. The 1960s building was wholly inadequate for the growing student population and conducting today's research.
Keeping the Building Stable
GRAEF took the lead on engineering for the existing building and the new addition The new nine-story tower used an innovative new foundation to meet the sensitive needs of the equipment housed within. A voided concrete slab is thinner, lighter, and extremely rigid relative to normal concrete slabs. The extreme rigidity is essential for limiting vibrations throughout the building which is critical for lab equipment.
Innovative Design Maximizes Space
To maximize learning space, the university requested basement classrooms. Long steel trusses support the building above while giving ample space for classrooms, instead of a more cramped maintenance area. The team moved the maintenance equipment to a two-story penthouse on top of the building. This unusual space was designed with multiple access routes for technicians to access wherever they are in the large structure.
Awards judge Brandon Braithwaite said "The GRAEF team took on this challenging project and executed a structural system for the flagship Chemistry Building that UW-Madison and the State of Wisconsin will be proud of for generations. Vibration control was a significant design challenge for this project in a busy, urban environment."
A New Flagship Structure
The remodeled chemistry complex, and its massive addition enables the university to continue its cutting-edge education and work. It is a design that befits a world-class learning destination.