Documenting the WisDOT STH 130 Bridges
Date posted
April 11, 2023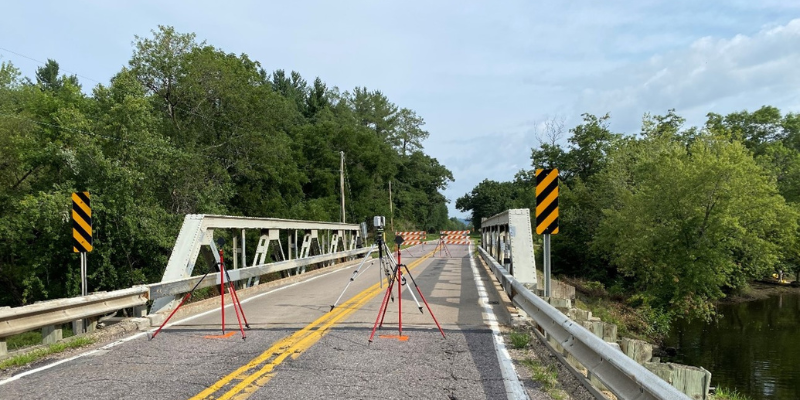 Written by: Alicia McConnell, PE, sUAS, Michael Baker International

State Trunk Highway 130, also known as WIS 130, is a thoroughfare that runs north-south in south central Wisconsin. Currently, the Wisconsin Department of Transportation (WisDOT) is developing Design-Build documents for a proposed structure replacement on WIS 130 south of Lone Rock in Richland, Sauk and Iowa Counties. The current proposal will replace the three existing structures that have been deemed outdated with two new structures.
As part of the process, WisDOT engaged the technology team at Michael Baker International to provide a digital 3D model of the three Lone Rock bridges.
The use of photogrammetric processes to capture existing infrastructure is a relatively new mitigation strategy for large-scale structures in Wisconsin but has been increasing in use as a means of documenting historical structures, like those along WIS 130.
Due to the type of structures that needed to be modeled, as well as the complexity that the structure types posed to photogrammetric modeling alone, our team proposed utilizing both unmanned aerial systems (UAS) and static LiDAR, which stands for light detection and ranging, to develop the realistic models. We utilized the UAS to collect photos of the structures and immediate surroundings and captured data on the interiors of the truss bridges with a static LiDAR scanner. By combining these two methods, our team was able to provide a more complete 3D model than photos alone could inform. The UAS-derived images were used for photogrammetry, which gathers measurements and data about an object by analyzing the change in position from two different images, while the static LiDAR was used to capture more than 1.2 million topographical data points per second, achieving engineering-grade accuracies, while progressive 360° spherical camera arrays capture digital images up to nine frames per second.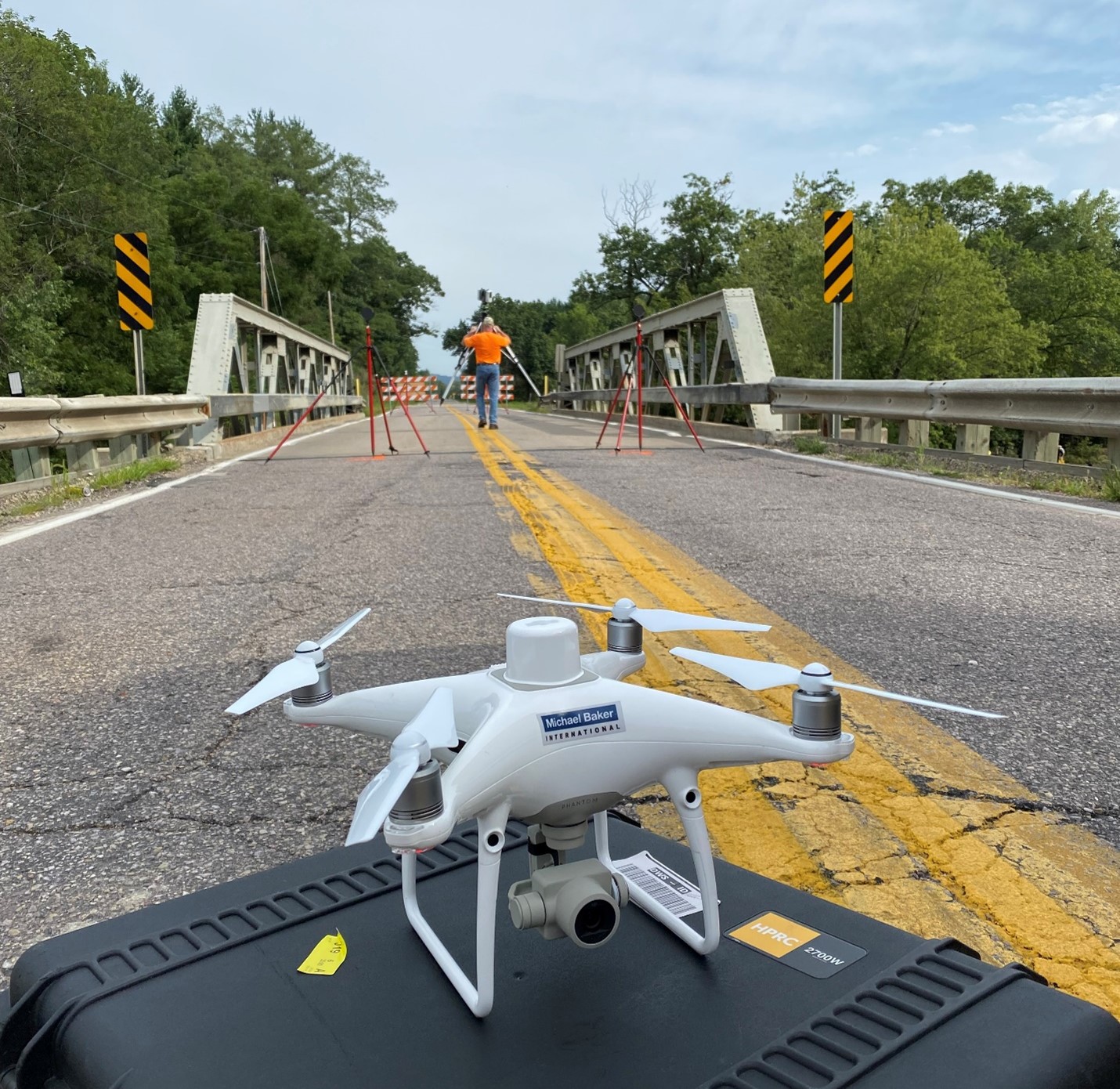 The Michael Baker team utilized UAS to create a spherical panoramic image to show the spatial relationship between all three historic structures. To enhance end-user functionality, Michael Baker delivered a spherical panoramic photo with interactive points of interest at each bridge location to provide an interface for users to interact with each structure. Once completed, this user-friendly interface was made available for public viewing at both the WisDOT STH 130 Bridges project page and at the Platteville Area Research Center and the State Historic Preservation Office.
Throughout the project, we encountered a few unique challenges. When preparing for the field work, we noticed vegetation was blocking UAS access to two of the structures and worked with WisDOT to get it trimmed back to allow UAS flights around each structure. Once we had completed data collection, we needed to find an innovative way to link and visually display the data on WisDOT's site. We combined the information gathered from both the photogrammetric processes and LiDAR to display the realistic 3D models of each structure within the spherical panorama. This ultimately allowed users to select a bridge and interact with it in a way people have not been able to in the past. Finally, managing the size of the data set proved to be a challenge. The data was cumbersome for WisDOT to host on its website and most users would not have the advanced graphics cards to display the detailed data sets. To mitigate this issue, we were able to thin the data sets and give users options to view the data based on computer capabilities.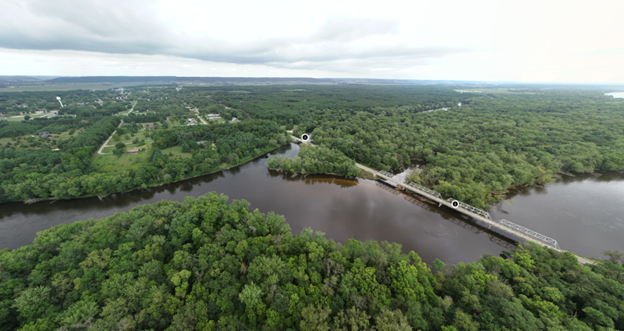 In September 2022, our team successfully delivered the final images and 3D model, which allows users to click on a point of interest associated with one of the bridges and interact with the 3D model of the bridge.
About the Guest Blogger

Alicia McConnell, PE, sUAS, is National Aerial Technologies Director for Michael Baker International. She oversees 31 pilots across the nation that perform UAS-based missions, including surveying and mapping, bridge inspections, communication tower inspections, construction inspection and monitoring, disaster assessments, building façade inspections, roof inspections, and thermal analyses.
Michael Baker International is a leading provider of engineering and consulting services spanning four distinct Verticals: Infrastructure, Design-Build Services, Federal Programs and Services and Consulting and Technology Solutions (CTS). The firm's Practices encompass all facets of infrastructure, including design and civil engineering for diverse bridge, highway, water, rail and transit and aviation projects, as well as planning, architecture, environmental and construction and program management.