Drones for Leading-Edge AEC
Date posted
January 11, 2022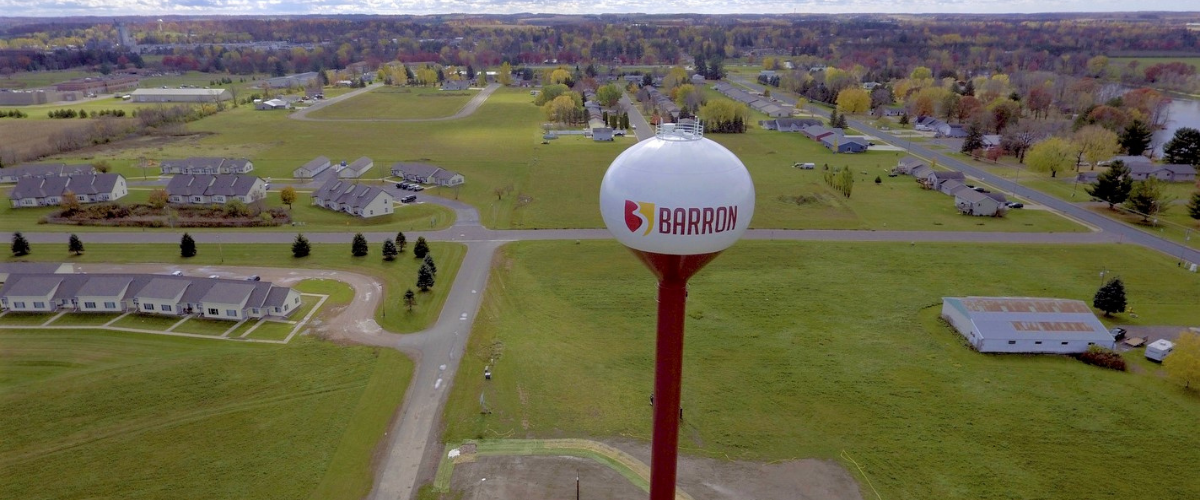 Written by: Shawn O'Shea, AICP, ASEL, sUAS and Jeff Powell, sUAS of MSA Professional Services


Technology is integrated into our lives like never before — from smart phones with 100,000 times the computing power of the Apollo 11 computer, to using technology to manage complex systems and make informed decisions through asset management software. The architecture, engineering and construction (AEC) industry has seen a leap in technology as well, with tools such as drones, GPS and 3D scanning allowing us to gather site data and design projects more accurately and efficiently.
On site
Traditionally, during the design phase of a project, a designer communicates to a surveyor which points of importance should be recorded at a site to inform project design. Today, drones can be employed to collect data over the entirety of a fairly large area. This data is then processed through software to generate point clouds. In a point cloud, each point represents a single scan measurement, and when stitched together, creates a complete digital fabric of the site. 3D scanners, LiDAR and photogrammetry can also aid in this process, ultimately providing designers much more data with the same accuracy as traditional surveying methods.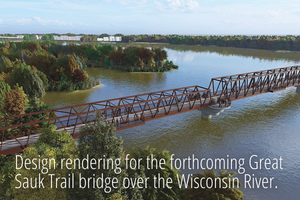 The difference lies in the amount and type of terrain that can now be covered. A drone-assisted survey can cover remote and rugged terrain, or locations difficult to reach by foot: steep landscapes, river valleys, trestle bridges and water towers. It can also cover distance, helpful in surveying things like trails or waterways. There are limitations to all of the aforementioned methods; however, utilizing a hybrid approach of traditional and point cloud methods is a game changer. The aerial platform can provide new and beneficial vantage points and can save on labor hours or repeat field visits to collect data inadvertently missed or later deemed necessary. These efficiencies translate into the smooth, start-to-finish development of things like topographic maps, terrain models and 3D renderings to use in project design and public engagement.
Documented
Drones are an excellent means to document site conditions during any stage of a project and can be pivotal in identifying potential hazards or maintenance needs during inspection of structures such as bridges and water towers. All of this is done remotely, without the need for equipment like booms or putting crew members at risk. Drones are also the new go-to resource for construction management and performance monitoring. Here, they can inspect construction process and progress, keeping contractors on schedule and in conformance with quality, safety and regulatory standards. Progress flights also keep a running record of real-time conditions and can serve as proof of accountability if ever needed.
Regularly flying a project site with a drone can also be a fun and engaging way to interact with the community at hand, creating videos to boost public excitement and generate buy-in, or present information to city councils and project stakeholders. Such updates can help the public understand project intricacies and how the improvement is worth the investment.

On point
Drones are also advancing site and building 3D rendering capabilities. Point cloud data generated during the survey phase can be imported into rendering software programs such as Lumion which connects point cloud dots and fills in the data between to form a 3D model. From the 3D model, surveyors can extract measurements and designers can create 2D or 3D renderings, digital models or videos — or manipulate the model to fit any design idea. These high-impact visuals are exceptional at illustrating concepts for proposed new building, park or public works projects. Pairing drones with professional surveying capabilities, designers are given data within 1 or 2 centimeters of accuracy and are able to design for the specific footprint of a project, within actual dimensions of the space.
Boon or bust
What does this mean for AEC firms? It means we have the ability to take advantage of this industry boon. Tracking the technology as it evolves and creatively applying it to projects is how we will build better processes and deliverables for our clients and society as a whole. If we continue to push this tool forward and respond to the wide range of its capabilities, the drone may very well become just as essential to our work as our smartphone.
About the Guest Bloggers
Shawn O'Shea, AICP, ASEL, sUAS - Shawn is a certified planner and serves as a client service manager and market lead at MSA. He enjoys helping to resolve community challenges and provide new and innovative approaches to comprehensive planning, community design, public engagement, land use and GIS development.
Jeff Powell, sUAS – Jeff serves as a GIS specialist. He applies his expertise to a variety of client communities, helping municipalities of all sizes with creative GIS application, data analysis, drone and web mapping solutions.
MSA Professional Services, Inc. (MSA) is a 100% employee-owned, full-service multidisciplinary consulting firm serving clients throughout the U.S. Based in offices across Illinois, Iowa, Minnesota and Wisconsin, MSA partners with clients to help solve today's complex and multi-faceted infrastructure challenges and specializes in the sustainable development of communities.