Erb Park & Swimming Pool – Revitalizing a Beloved Community "Bird Bath"
Date posted
October 16, 2018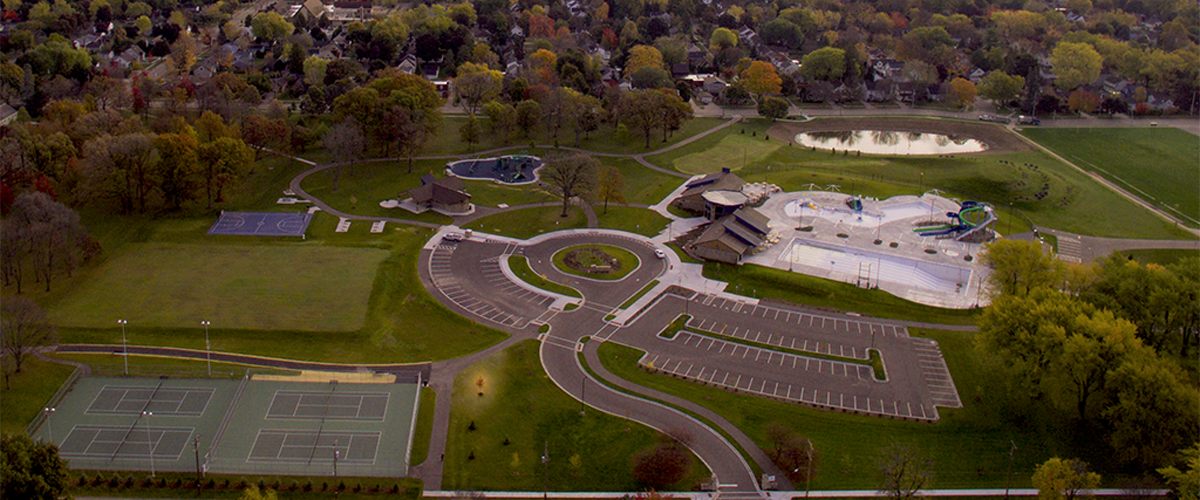 The City of Appleton, Wisconsin, has long been considered the heart of the Fox River valley, with beloved Erb Park being its cultural pulse for nearly a century. Purchased in 1923, the park acquired its first public pool in 1940—affectionately known as the "bird bath" due to its small, rounded shape—and has been a beloved community gathering place ever since.
After years of use and associated deterioration, much of the existing facility had fallen out of compliance with code and ADA standards, including the competition pool that was leaking large amounts of water. After great deliberation and community input, the City decided that total reconstruction was the best direction forward.
In February of 2016, the Appleton City Council selected MSA to make the transformation and requested a condensed timeframe, targeting a grand re-opening ceremony on July 12, 2017.
Innovation and Accessibility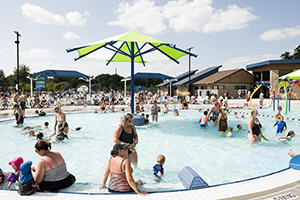 Public input throughout the design process underscored a collective goal of breathing new life into Erb Park while hearkening back to its roots and making it accessible to people of all ages, abilities and mobility levels.
The resulting park grounds are fully ADA compliant throughout all buildings, park areas, amenities and aquatics areas with the pools themselves offering something for every visitor: a zero-depth entry pool, a training pool for lessons, a competitive pool for swim meets or lap swimmers and waterslides for the thrill-seekers in the group.
Erb Park also provides safe, multi-purpose areas in which to recreate or relax—in any season. A network of trails weaves throughout the park's large trees and winter visitors are able to glide across the ice-skating rink or chase snow on the new sledding hill. Nearby is a multi-purpose warming house where folks can recharge, and—in summer—the same space becomes rentable for private events.
Multi-season functionality
The multi-seasonality of the bathhouse posed a unique opportunity for design. It needed to accommodate large, seasonal pool locker rooms and an aquatics lobby while also hosting a warming room with concessions, support office areas and restrooms for winter use.
A summertime ventilation system was incorporated into the lobby and aquatic center, utilizing natural and supplemental duct ventilation in conjunction with an oversized ceiling fan. Natural daylighting was promoted by modifying building materials functions and integrating interior LED lights with a sensor system.
Environmental Stewardship
The Erb Park project worked to preserve as many of the park's existing tree groves as possible while still fulfilling the City's requests for large amenities. Park grounds incorporate native, perennial landscaping and the sledding hill uses a variety of low-height, no-mow grass. The playground integrates sustainable, poured-in-place rubber surfacing. Tables and benches throughout the park are also repurposed, made from recycled plastic.
Stormwater and responsible water usage were paramount to the final design and development. A dry riverbed constructed in front of the bathhouse now allows for public education about roof water collection and sits above grade to add a pleasing aesthetic component to the entryway.
Natural and Historic Cohesion
Set within a picturesque residential neighborhood, the Erb Park project needed to complement its surrounding while also paying homage to its history.
The architecture of the park buildings pairs nicely with nearby homes, designed with sloped roof forms and meandering massing to break down scale. Building orientation intentionally breaks free from the City grid to soften integration into the park. The selection of the earth-toned building materials, spring green pool accents and royal blue sun canopies, cabanas, tiles and tables all carry a cohesive organic and aquatic motif throughout.
A nostalgic piece of the Erb Park's history—the original park entrance stone columns—now serve as a welcoming gateway into the new trail system. In addition, the recreational pool has a rounded center that pays tribute to Appleton's original "Bird Bath."
Reunification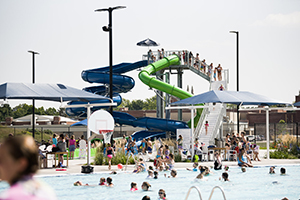 The City of Appleton is thoroughly enjoying the revitalized park, which continues to be a favorite gathering place…a busy one, too. Generally, when a new pool opens in a demographic this size, it may see 18,000 – 21,000 users throughout the season. When Erb Park reopened, the City saw 20,000 users in the first two weeks alone, growing to 44,000 within the first six weeks.
From bird bath to Olympic-sized splendor, Erb Park is sure to be enjoyed by residents and visitors for generations to come. MSA is proud to have worked with the City of Appleton on this exciting project.
About the Author

Raine Gardner, PE, is a senior project engineer and the Parks and Recreation practice leader at MSA Professional Services, Inc. (MSA). She also serves on the firm's board of directors and was selected as one of five national recipients of the Young Professional of the Year Award for 2018 by ACEC National and is a graduate of ACEC WI Leadership Institute. She is a licensed professional engineer in Wisconsin, Minnesota, Michigan and Iowa—as well as a member of the American Society of Civil Engineers, Wisconsin Parks and Recreation Association and the National Recreation and Parks Association. MSA is a 100% employee-owned, full-service multidisciplinary consulting firm serving clients throughout the U.S. Based in 16 offices across Illinois, Iowa, Minnesota, Wisconsin, Georgia and Texas. MSA is a long-time member of ACEC WI.