Forgotten Urban Land Presents Unique Opportunities for Stormwater Treatment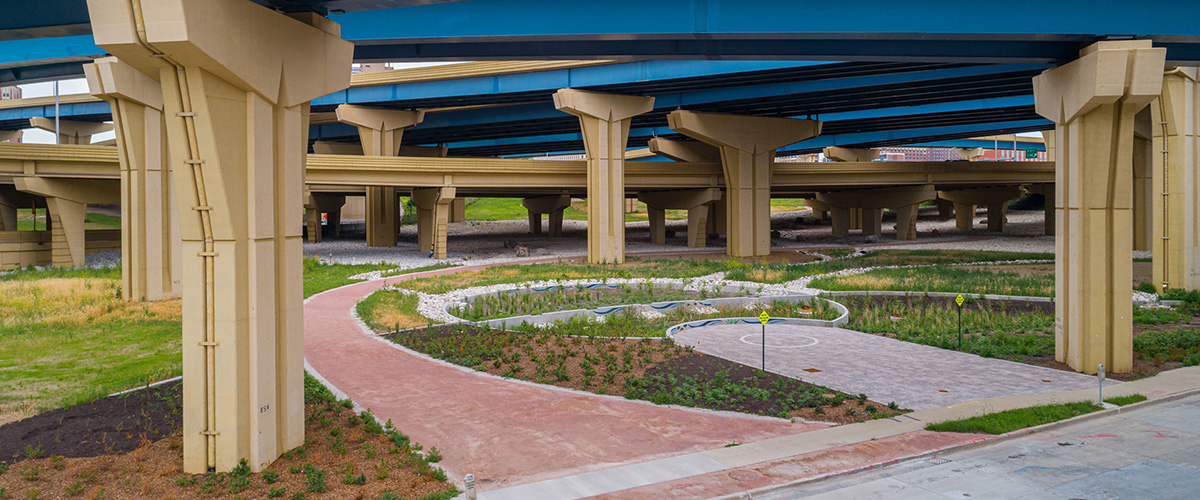 Written by: Anna Suderland, PE, Strand Associates Inc.

The Marquette Interchange in downtown Milwaukee is the second largest interchange in Wisconsin. With approximately 16 acres of open land beneath the elevated bridge decks adjacent to the Marquette University Campus, this site presented a unique opportunity to collect and treat stormwater prior to its discharge to the City's combined sewer system or the Menomonee River.
The Marquette Interchange Green Infrastructure Project required extensive coordination with stakeholders to incorporate community goals. Milwaukee Metropolitan Sewerage District and the City of Milwaukee had multiple goals for the project, including capture and treatment of freeway runoff, environmental education, and revitalization of this forgotten space. The project team, led by Strand Associates, Inc.®, also collaborated closely with the Wisconsin Department of Transportation (WisDOT) throughout all phases of the project. As the landowner, WisDOT had several project requirements: protect the existing bridge piers and underground utilities, contain 100-year flows within the site, and provide access for routine maintenance. Close coordination with all stakeholders and the public was necessary to incorporate these goals into the final design. The design team balanced meeting project goals with the most cost-effective construction materials to provide a robust and aesthetic project.
Land beneath an urban interchange is not a typical location for green infrastructure.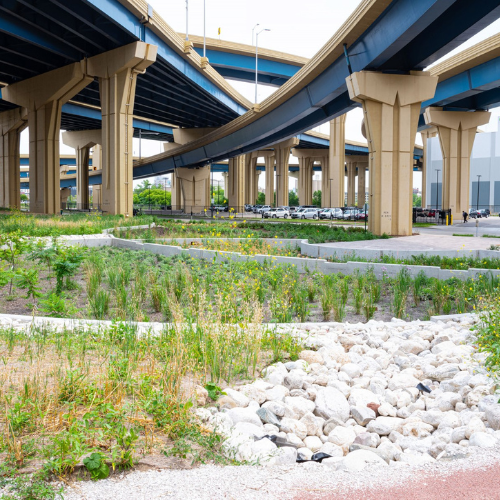 Several unique project challenges successfully navigated include protecting existing interchange infrastructure and utilities, managing impacted soils, considering low sunlight and high salt levels for plantings, and treating high pollutant loads from freeway runoff. The final design included three bioretention basins with a combined area of 8,600 square feet, a 1,700-foot permeable maintenance path, rock-lined channels, a permeable paver plaza, and approximately 4 acres of native landscaping. The team also designed innovative pre-treatment devices, including stone filtration baskets, a baffle manhole, and a v-notch weir settling basin. Overall, the project provides more than 290,000 gallons of stormwater capture capacity from nearly 6 acres of freeway annually, exceeding the project's initial goal of capturing 150,000 gallons of stormwater, and facilitated the rehousing of 93 persons who were previously homeless.
Prior to this project, the Marquette Interchange site was overwhelmed with homeless encampments, crime, and litter. Although the primary objective of the project was stormwater capture and treatment, the project also provided an opportunity to address these societal issues. Prior to construction, local agencies worked to find housing for homeless individuals and conducted an extensive cleanup operation. The final design discourages negative use of the space while promoting environmental awareness by providing a green gathering space for the community.
The Marquette Interchange Green Infrastructure Project was the first of its kind in the City of Milwaukee and provides future value to the engineering profession for revitalization of poorly utilized areas, particularly those under the many major urban interchanges across the country. This project exemplifies how innovative engineering techniques can be leveraged to provide a social, economic, and sustainable community asset from otherwise unutilized public land.
About the Guest Blogger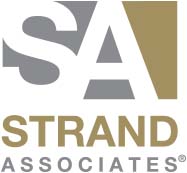 Anna Sunderland, PE, is a stormwater engineer at Strand Associates, Inc.® in Milwaukee. Strand Associates is a long-time ACEC Wisconsin member. Established in 1946, Strand is a thriving corporation with 12 offices and projects in 48 states.