Game On at Glendale Landfill Site
Date posted
August 10, 2021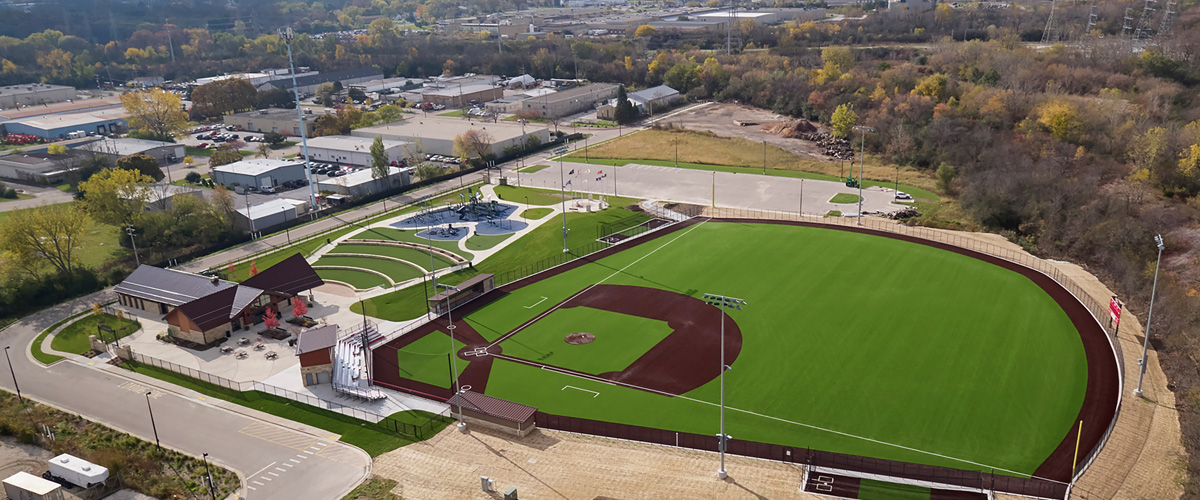 Written by: Bill Honea, PG, Ayres

Located only four miles from Milwaukee, the small community of Glendale, Wisconsin, is recognized as "one of the most progressive of the northeast Milwaukee suburbs." Recently, the City demonstrated this to be true once more, teaming with planning experts and environmental engineers to see a long-blighted plot of land be transformed into a community gem.
West Bender Road Landfill, a former municipal solid waste site, stood vacant near the City for decades. The 15-acre parcel had been dismissed and overlooked by potential developers, even here where unoccupied land is a premium commodity.
In 2020, following a five-year redevelopment process, the former landfill site began its new role – serving Glendale residents and visitors as a collegiate-level baseball park and outdoor recreational area.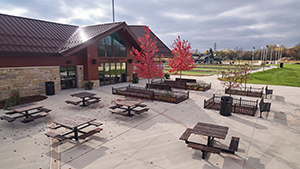 Richard E. Maslowski Community Park features a synthetic turf, collegiate-level baseball field and two high school softball and recreational grass fields. Athletes from Milwaukee School of Engineering, Nicolet Union High School, and other regional teams compete on these fields which are fully equipped with dugouts, batting cages, bleachers, and press boxes. In addition, visitors enjoy the complex's outdoor stage and amphitheater, community center, veterans memorial, playground, concession stand, and amenities.
With a vision in mind, in 2015 the City partnered with Rettler Corporation for planning services and Ayres for environmental engineering. To make Rettler's design goals attainable, Ayres guided the team regarding complex modifications to landfill cover plans in accordance with regulations from Wisconsin Department of Natural Resources. Those modifications are designed to maintain the function of existing landfill components while providing an adequate barrier to reduce infiltration and limit direct human contact. In short, they are the foundation for recreational use here at the park.
To address challenges at the environmentally complex site, Ayres applied proven, reliable engineering concepts in an exceptionally rare venue.
Ayres' plans involved relocating and reconfiguring existing systems to maintain and, where feasible, improve the integrity of the landfill. Savvy environmental engineering resolved problems that had potential to stem from:
Methane gas
Toxic gases
Disturbing landfill cap
Settling
Dewatering
Utility lines as conduits for gas and leachate
Prohibition of drinking wells
Variable waste surfaces
High groundwater conditions
Unsuitable soil
Work involved recapping several acres of the site, excavating specific limited sections, and installing an impermeable stormwater collection trench beneath the athletic fields. Stormwater management was one of the most complex pieces of this project. The proposed redevelopment would introduce grading modifications and impermeable surfaces that would impact water runoff. To effectively manage that runoff, Ayres modified the design of stormwater underdrains and gas venting systems to fit within the limited space of the landfill cap.
To maintain landfill gas systems, Ayres relocated passive internal gas vent trenches and outlets as well as perimeter gas probes. The design also placed a vapor mitigation system beneath the park's press boxes.
Most of the complex's structures were built on shallow foundations or wide footings, and those located on the landfill cap are fully or partially open to fresh air.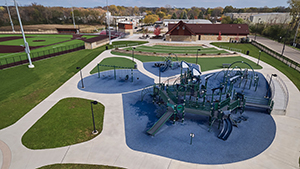 The end-result is a beautiful, highly functional facility that offers outstanding athletic accommodations and ideal gathering spaces – inviting the Glendale community to come together in a setting very few thought possible. The project supports the well-being of the area's residents and environment, demonstrating engineering's capacity to overturn assumptions and offer meaningful solutions to stubborn problems.
The outcome of Richard E. Maslowski Community Park opens eyes to the possibilities of redeveloping similar closed landfill sites throughout the country – thousands of them in Wisconsin alone. In Glendale, the sheer beauty that's replaced the blight is a game-changer, proving that positive thinking can, indeed, be brought to life in a very unlikely place.
---
About the Guest Blogger

Bill Honea, PG, is a geologist at Ayres and served as environmental project manager of the Glendale Landfill Redevelopment Project since 2018. With 300+ innovative problem-solvers nationwide, Ayres is a long-time member of ACEC Wisconsin and stands with integrity behind thousands of projects that strengthen communities and our country's infrastructure, economy, and environment. Ayres is based in Eau Claire; it has four additional offices in Wisconsin, as well as offices in Florida, Colorado, and Wyoming.