Good Things Can Come in Small Packages
Date posted
April 13, 2021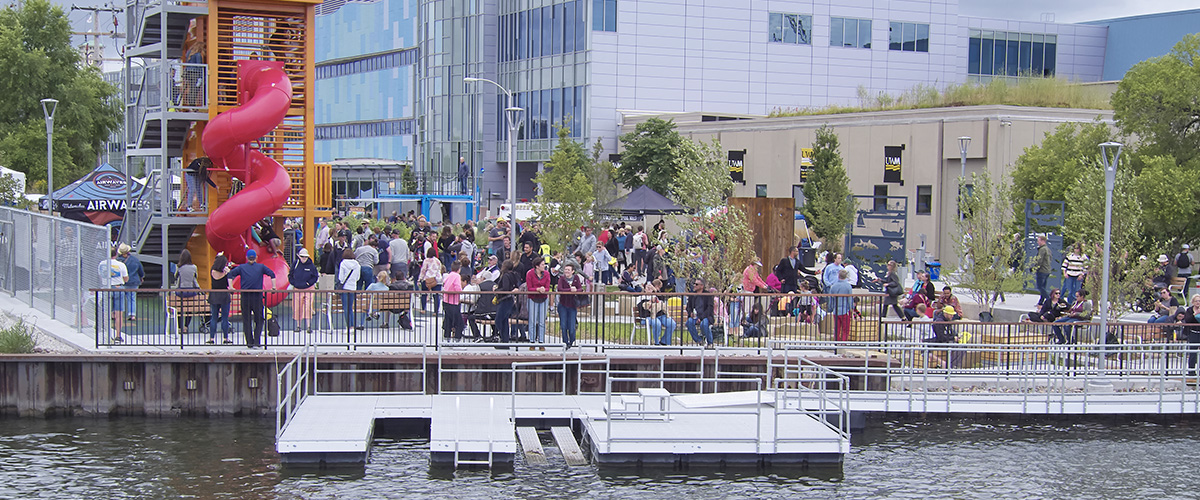 Written By: Bruce Morrow, PLA, LEED AP, Ayres

A project doesn't have to be large to provide substantial impact. Milwaukee's Harbor View Plaza has a relatively small footprint with its approximately 3,500-square-foot area. Even so, Milwaukee Harbor District knew the space had great potential as the catalyst for their long-term vision of the entire Harbor District riverfront. A top priority of this vision was enabling Milwaukee citizens and visitors more opportunities to connect with the Milwaukee Inner Harbor. To do this, barriers had to come down.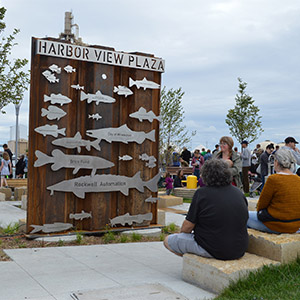 Harbor View Plaza started as a derelict plot of land situated along the inner harbor shoreline between University of Milwaukee's School of Freshwater Sciences and a former coal pile site. If you happened to stumble upon the site, your visit would likely be short. About all you could do was to take your seat on a lonely bench and look at ships in the harbor. Water access was nonexistent - due to a largely unstable 60-foot harbor wall.
Today, a trip to Harbor View Plaza confirms the ability to transform a site, to create a space that will welcome visitors for generations to come. If you venture to Harbor View Plaza you can now climb the statuesque four-story slide. Even adults are easily accommodated on this feature that pays homage to the working harbor through its shipping container design. If heights aren't your thing, then perhaps you'd enjoy putting in at the new handicap-accessible kayak or canoe launch, the first to be offered in the area. The site also engages visitors through its unique gridded plaza space with bubbling water from regional stone blocks, working water pumps, nature plantings, and numerous seating locations. Greenfield Avenue and the circular driveway can also be blocked off to allow a variety of community events or festivals at the site.
If visiting on a nice day, you may spot a tourist bus or two dropping passengers off from near and far.
Its all in the details.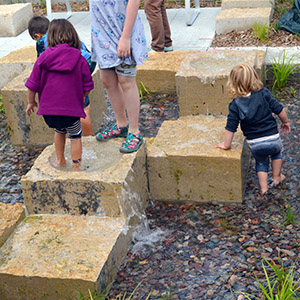 The site had been known to experience flooding at times, as well as long dry periods. Harbor View needed to be sustainable, and strong enough to withstand the forces of nature, whatever they may be, for years to come. With all this in mind, locally resourced, sustainable materials were used throughout the design. The gridded plaza contains regional stone and natural gravel plantings instead of soil. That big slide that looks like shipping containers was actually made with real shipping containers. Even the donor sign that greets users was created from a piece of sheetpile wall.
Lasting Impression.
Harbor View Plaza was a labor of love for all involved. It is a product of collaboration between very diverse groups that worked together to create a one-of-a-kind destination.
The project turned a small, bleak, unused, and hazardous property into a loved community asset that invites people to connect with Milwaukee's Inner Harbor and enjoy a picturesque outdoor setting that's truly unique to this community.
About the Guest Blogger

Bruce Morrow, PLA, LEED AP is the manager of the Landscape Architect group at Ayres and has been providing planning, design, and implementation services since 1995. Ayres, a long-time member of ACEC, is a team of 300+ innovative problem-solvers nationwide, standing with integrity behind thousands of projects that strengthen communities and our country's infrastructure, economy, and environment. Ayres is based in Eau Claire; it has four additional offices in Wisconsin, as well as offices in Florida, Colorado, and Wyoming.