Hamel Music Center Uniquely Isolates Sound, Producing Outstanding Performances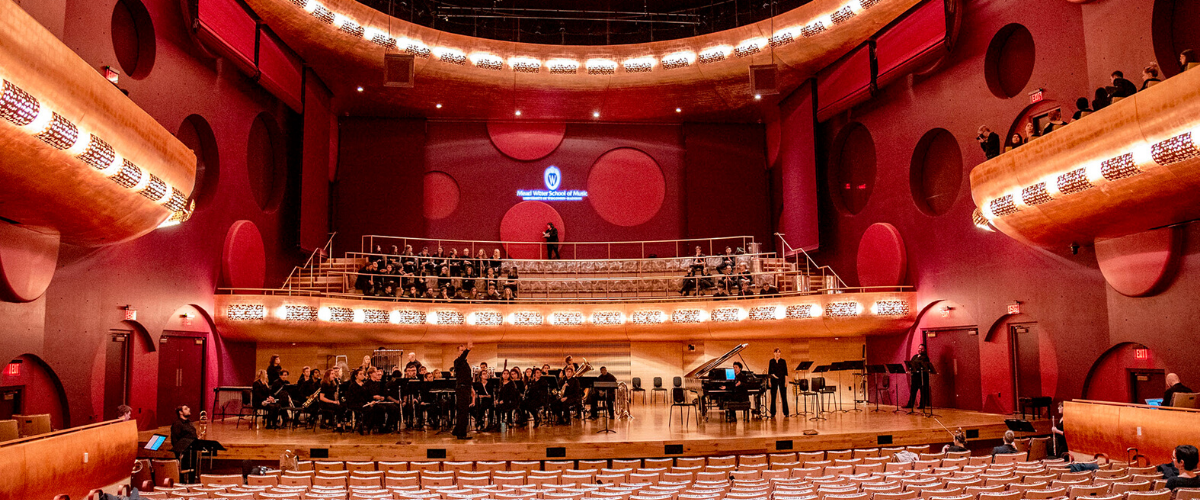 Written by Steve Roloff, P.E., LEED AP, raSmith

The Hamel Music Center at the University of Wisconsin-Madison is a world-class concert hall that required extreme accuracy in its design. This one-of-a kind music facility required structural and acoustic designs that would work together. Teamwork and expert knowledge resulted in just that: extraordinary sound quality and listening experiences for university students, faculty and community patrons. Many experts gave careful consideration to the facility's structural strength and support, reverberation and sound isolation, acoustical performance and materials used, among other specifications.
A School in Need
The Mead Witter School of Music was housed within a campus building constructed in 1969. Over the years, significant building changes to keep pace with the times had not occurred, outside of a major asbestos removal in the 1990s. Staff were teaching and students were learning in an environment that begged for physical and functional upgrades as the school continued to grow. The need for sound isolation was paramount to the musicians' achievements of excellence.
Requiring this modern environment, predevelopment for a new School of Music began in the mid-2000s with a goal for early 2017 building occupancy. Multiple setbacks left the project on hold for years before getting back on track thanks to many generous donor contributions.
As part of the team, raSmith worked with Strang, Inc. (architect) and Talaske (acoustics) to provide a structurally smart design.
Top-Notch Sound
The team's goal was to design a building fit for rehearsing and performing. Acoustics and sound isolation needed to be top tier for exceptional performances unlike any other. Our structural engineering team faced challenges of isolating sound stemming from busy vehicular and pedestrian traffic along University Avenue, doors that would be opening and closing, expected chatter within the lobby, loud HVAC systems, and music played in adjacent halls. Each of the music center's halls (concert, recital and rehearsal) and its lobby needed to be isolated from one another, like a vault for acoustics.
We relied on what our past project experience has taught us and on collaboration with others on the larger project team. Solutions to highly unique problems were inventive, such as the use of acoustical isolation joints (AIJs) that were essential to providing superior sound isolation around the three individual halls.
Unique Sound Treatments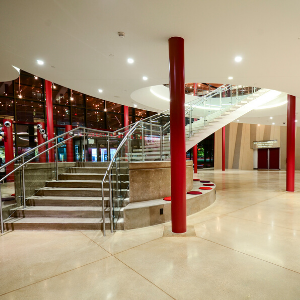 A standard nut, washer and bolt assembly, with additions of a neoprene washer, neoprene bushing and neoprene bearing pad, were used as part of the AIJ for the concert hall. Hundreds were used to isolate the framing outside of the concert hall. But bearing on the hall's perimeter were concrete walls on the other side of the AIJ. Adding neoprene to the joint served as that insulating piece to absorb any potential vibrations from adjacent walls.
Beyond this joint assembly, the recital and rehearsal halls utilized double-wall construction. For the recital hall, this consisted of an exterior precast wall panel in conjunction with an interior acoustically isolated concrete masonry unit wall. Similarly, the rehearsal hall's perimeter used a precast panel but with an acoustically isolated interior drywall system instead.
An acoustical coffer system (a series of strategically sized and strategically placed concave and partially or fully hollow circles) line the concert hall's walls. These sizable circles treat sound by absorbing and reflecting it, along with the hidden reverberation chamber areas where sound actually passes through. The coffer system is visible and fits in beautifully with the rest of the hall's aesthetics.
The overall structural design that worked perfectly for acoustical requirements was to essentially place three separate buildings within one larger building. The concert, recital and rehearsal halls are self-supporting and isolated from the large overall building (including the main lobby and its required support space).
Each hall and the lobby area achieved the appropriate noise criterion rating and provided UW–Madison with a standout facility.
A New Star on Campus
Design and construction occurred between 2014 and 2019 at a total cost of $55.8 million. And in October 2019, the Hamel Music Center celebrated its grand opening. The new recital hall's capacity nearly doubles that of the old recital hall. The concert hall's stage, unlike that of its predecessor, comfortably fits a large group of student-musicians.
It takes engineering excellence to dive into these fine details as well as to take a comprehensive view to ensure the client's vision is met.
In the end, the new Hamel Music Center was completed successfully and with great satisfaction to all involved.
About the Guest Blogger

Steve Roloff, P.E., LEED AP, is the structural group leader at raSmith, an ACEC WI member, and served as the project manager and senior structural engineer for the Hamel Music Center project. He has more than 35 years of structural engineering experience. raSmith, a longtime ACEC member firm, is a multi-disciplinary consulting firm comprising civil engineers, structural engineers, land surveyors, development managers, landscape architects and ecologists.