How does SSM Health attract and retain workers? By focusing WELL.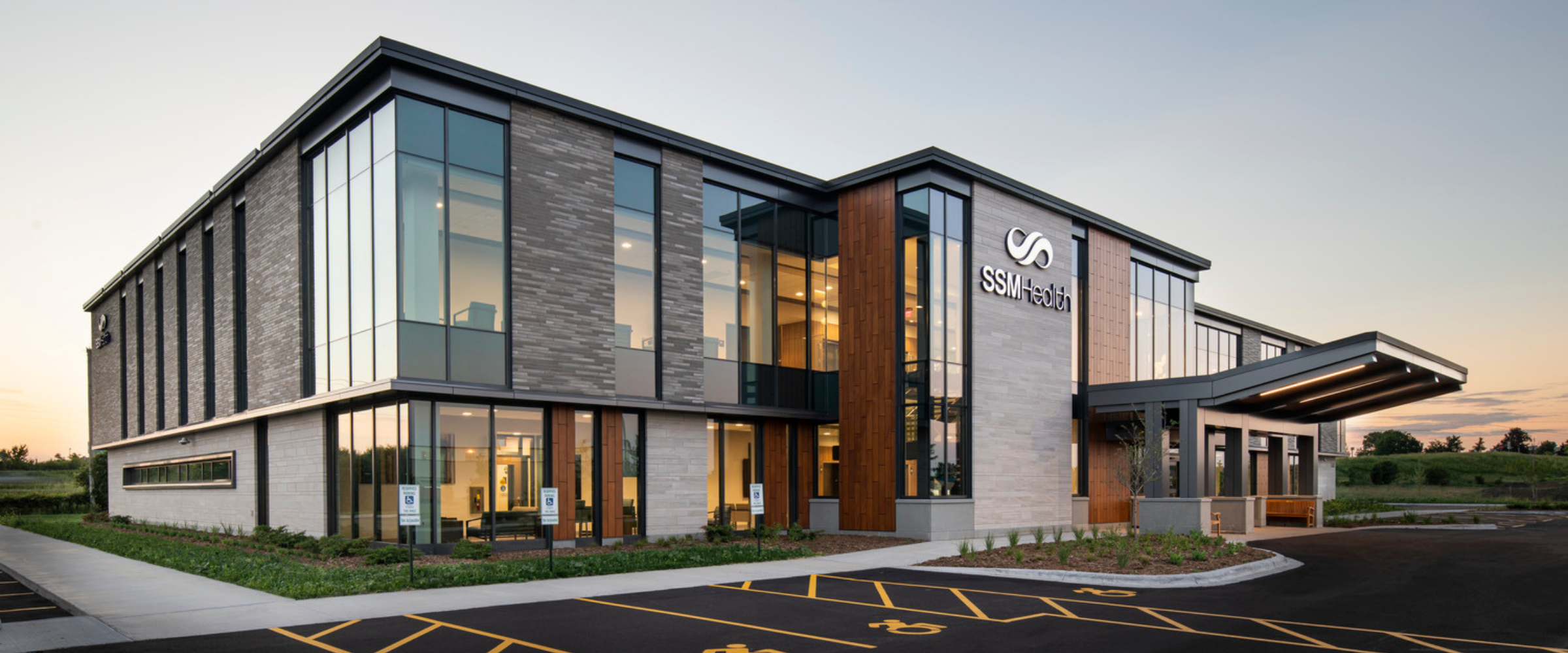 Written by: Kris Cotharn, PE, IMEG

Recent surveys have found 76 percent of healthcare professionals are experiencing exhaustion and burnout, and 48 percent are considering retiring, quitting, or changing careers. Years of the COVID-19 pandemic have only worsened the problem.
When SSM Health sought to build a new $13 million clinic in Beaver Dam, Wis., they wanted a design that created a supportive atmosphere that promotes care team wellness. This choice would differentiate the clinic in a crowded healthcare market and be key to attracting staff and patients.
The 39,803-sf Dean Medical Group and Fond du Lac Regional Clinic is expected to be the first WELL v2-certified health clinic in the state. WELL v2 is a performance-based system for measuring, certifying, and monitoring the features of a building that affect human health and wellbeing.
Ten areas — air, water, nourishment, light, movement, thermal comfort, sound, materials, mind, and community — are considered during WELL v2 certification.
About the Space

The clinic houses 30 primary and specialty care providers, procedure and exam rooms, conference rooms, imaging, telehealth spaces, laboratory, a retail pharmacy, employee work and respite areas, bike storage, and locker rooms. Exterior connections allow mobile MRI and CT trucks to dock as needed. Shell space stands ready for future expansion.
Employees work in an open-office concept built around exam rooms, offering easy access to patients, equipment, and supplies, along with the health benefits of natural light and exterior views from the floor-to-ceiling windows.
Pursuing WELL v2
How did IMEG meet the design challenges for WELL v2? Here's a look at six areas that required engineers' expertise.
Air
Indoor air quality concerns included adequate ventilation air, interior contaminants, exterior contaminants, interior material off gassing, and microbial sources. The HVAC system was designed to include air monitoring and post-construction testing to ensure sufficient air quality. Engineers designed systems to supply high levels of ventilation air throughout the building. The mechanical system also included energy recovery to minimize energy usage while supplying the best air quality for occupants.
Water
Water connections were added throughout the building so that employees would have easy access to water for hydration and hygiene. Plumbing system designers designed filtration systems that ensure quality drinking water is provided. They also addressed sink and faucet choice to ensure the water column is of sufficient size and positioned to keep hands away from surfaces.
Light
Floor-to-ceiling windows bring daylight into the public and clinical areas. The windows also were outfitted with motorized exterior blinds to control glare, and lighting controls adjust the interior lights when daylight is available. Work areas have occupant-controlled supplemental task lighting. Engineers also worked to achieve a high color rendering index, because hue skin tone is important in medical applications.
Thermal Comfort
Radiant-heat was installed along exterior walls to prevent drafts and create a comfortable waiting area. This improves thermal comfort, which is best achieved with consistent temperatures from head to ankles.
Sound
Patient privacy was a key. Acoustic control measures included having an enhanced sound transmission coefficient in the walls between exam rooms and using white noise to mask sounds. Sound leaks at air transfer openings were eliminated with ducted returns, and sound-reducing ceilings with high noise reduction coefficient (NRC) were used. Gasketing on the doors also creates an effective sound seal. Thicker glass was used on exterior walls to create a higher sound transmission class (STC) and reduce roadway noise.
Materials
The design managed volatile organic compounds (VOCs) from furniture, flooring, insulation, and paints. The building's HVAC system was designed to achieve a high level of flushing. This allowed it to remove, prior to occupancy, VOCs that had off gassed from construction activities.
A Team Effort
IMEG, architect Eppstein Uhen Architects, other consultants, and SSM Health, worked together early in the design stage to develop a strategy to gain certification. To accommodate a fast construction schedule, CD Smith, the construction manager, joined the team early to enable the design to be refined, and costs managed, as the project moved to the construction phase.
This team effort led to a building that offers a healthy and inviting environment for patients, the care team, and staff.
About the Guest Blogger

Kris Cotharn, PE, is the client executive of IMEG's Madison office and principal-in-charge of projects. She served as the project executive for the SSM Health Dean Medical Group Clinic in Beaver Dam, Wis. IMEG is a national engineering consulting firm with 2,100 employees at 75 locations, including Madison, Wis.