I-94 N-S Freeway / STH 11 Interchange
Date posted
February 22, 2021
2021 Engineering Excellence Best of State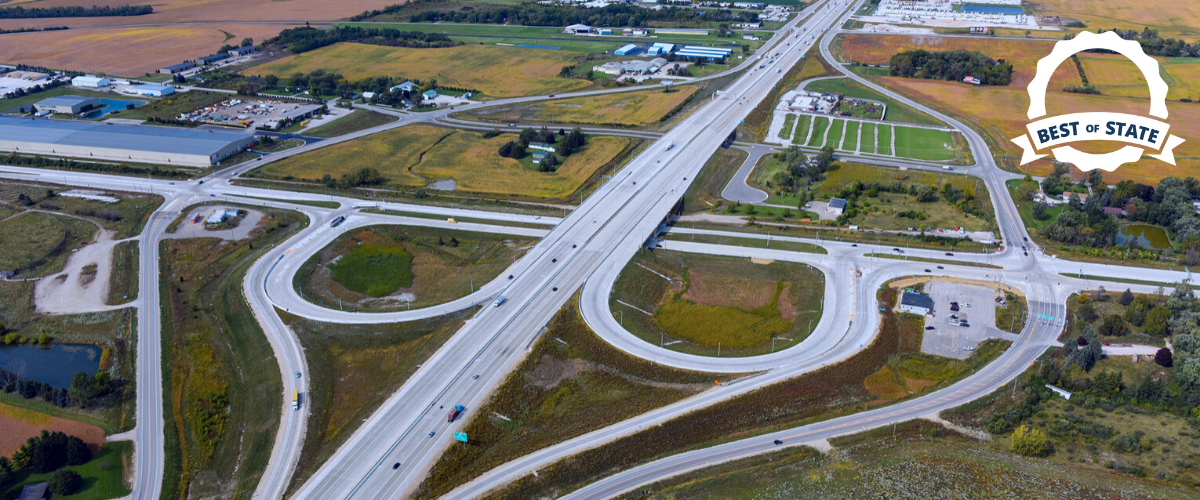 Entering Firm: SE Design Works LLC
Client: Wisconsin Department of Transportation
I-94 is a critical link between Milwaukee and Chicago. It is a key freight corridor and is quickly growing as businesses and populations boom between the two metro areas. While expansion of the highway was previously discussed, the incoming 2,700-acre Foxconn manufacturing campus required design and construction to begin immediately.
A Group Effort on a Major Project
SE Design Works is a coalition effort created to handle the immense work and quick timeframe. Design work was completed in six months, rather than the typical three to five years. Design included the freeway, local roads and nearby interchanges. Bridges had their height increased to accommodate the expected influx of large trucks. The design team coordinated with local entities, environmental authorities, and construction teams to keep the process on schedule.
Saving Lives and Travel Time
The improvements will save lives and reduce travel times. The outdated design and degraded pavement contributed to a crash rate 20 percent higher than the stage average. The new design and pavement rehabilitation will significantly reduce the crash rate. The expansion provides quicker and safer travel for businesses and residents. Wisconsin products travel efficiently and safely through the corridor.
Awards judge Tom Buchholz said "I was impressed with SE Design Works Team…and how they…deliver the design project in just 6 months. A project of this size and challenge would normally take 3 years to complete".
The Fastest Mega-project In State History
Construction was completed in only 18 months and the project was the fastest completed mega-project in state history. An open, collaborative effort meant that the design team was able to meet the fast-paced schedule. The new freeway corridor is a vital asset for the state and provides immediate social and economic benefits.