Improvements of STH 23 Through Historic Darlington and Pecatonica River
Date posted
September 12, 2023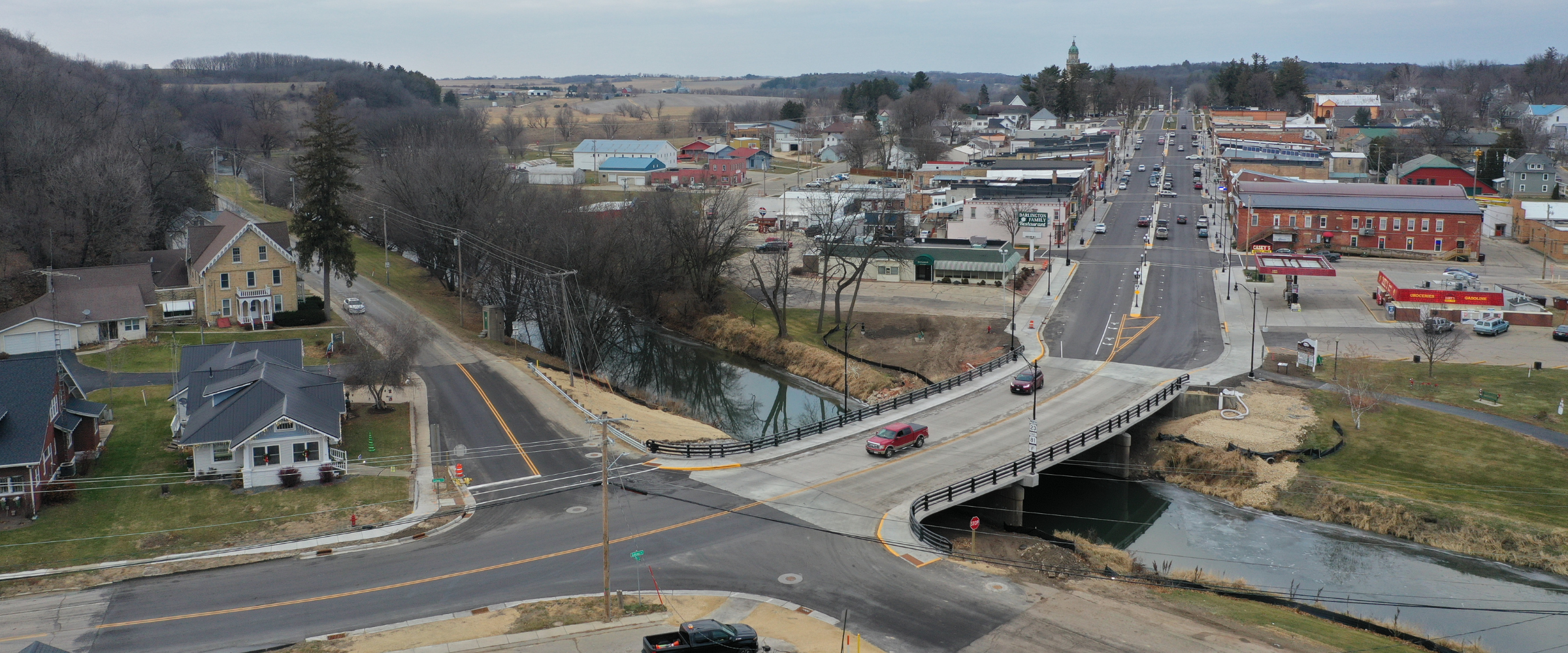 Written by: Brad Groh, PE; JT Engineering Inc.

The City of Darlington resides near the southwest corner of Wisconsin along the banks of the Pecatonica River. This former mining town carries a charm that is cherished by its community. But, this historic charm also comes with the issues of age. Outdated roadways, non-compliant pedestrian accommodations, and deficient storm sewers were all prominent issues. Renovating all of this while preserving historic features would be a challenge. The Pecatonica River further complicated matters as the source of regular flooding on STH 23. With the existing bridge serving as the only river crossing in or around Darlington, project staging would prove to be a major challenge.
JT Engineering, Inc. understood these challenges and immediately addressed the best way to handle them in collaboration with the Wisconsin Department of Transportation's Southwest Region. The project team met with local stakeholders to identify their main concerns. By partnering with the City of Darlington, JT was able to create a design solution that would address the community's construction traffic and emergency access needs while ensuring safe, constructable work zones. Autodesk's Infraworks was used to explore potential solutions and exhibit these ideas to stakeholders, enhancing their understanding of the project using 3D simulations.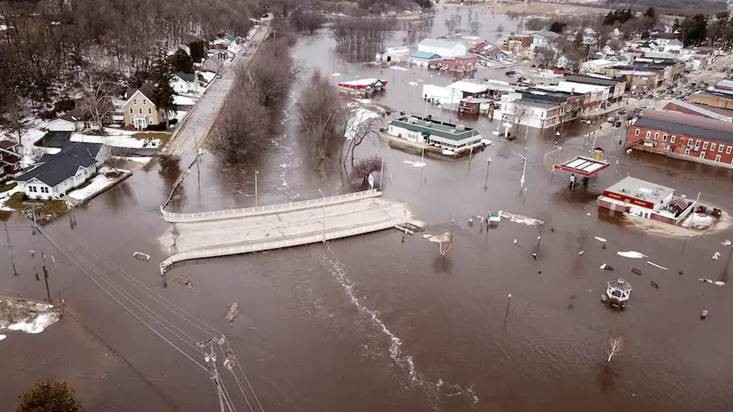 Many incremental fixes were needed to support the comprehensive reconstruction plan. Drainage improvements included installing new slip-in inline check valves into the sewer system to protect the downtown area from river backups. These special valves allow water out but not in, preventing the backflow of the Pecatonica River during flooding. The water service system was also fully replaced from lead to copper piping to improve water quality within the community.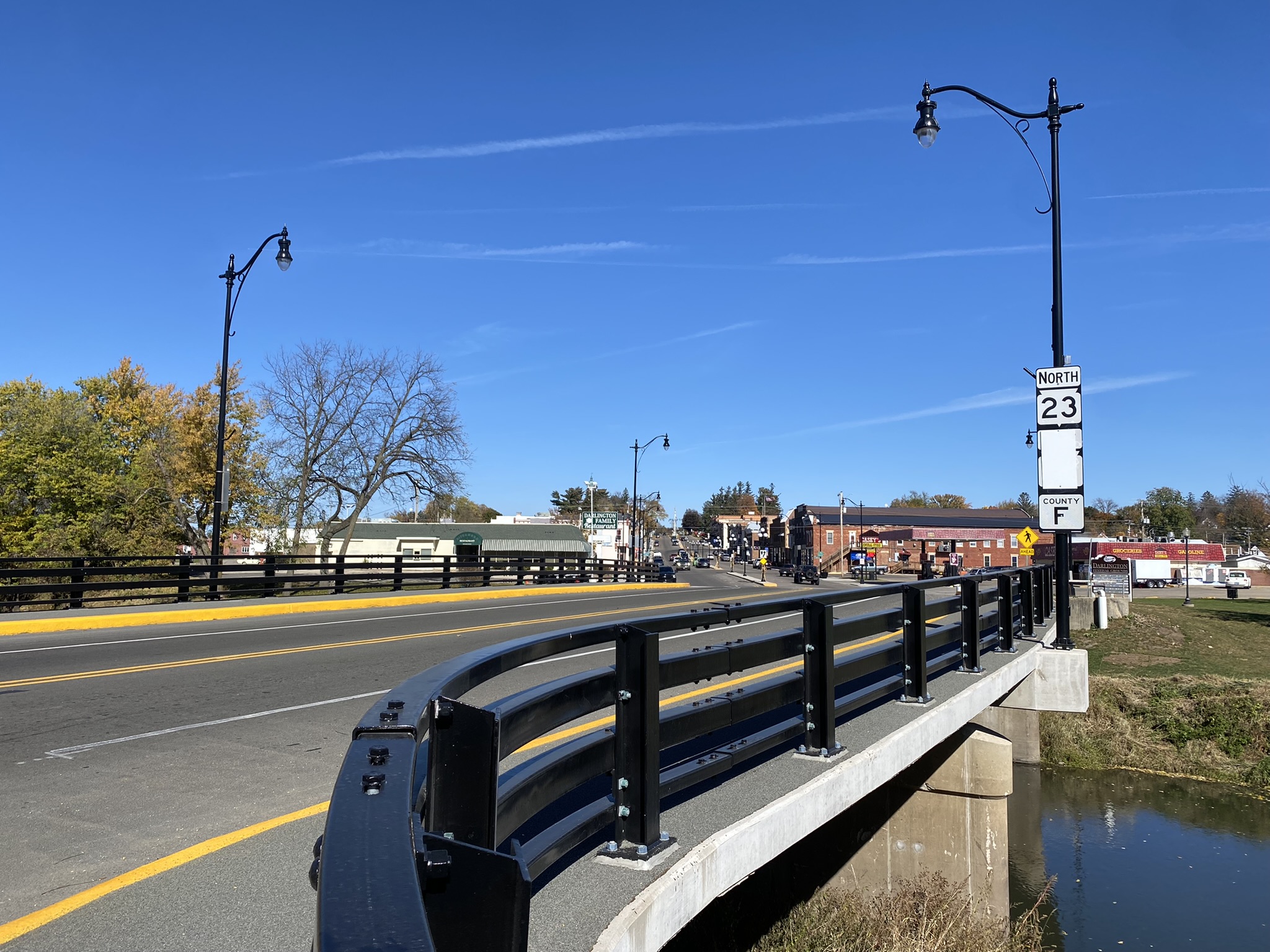 The Pecatonica River bridge presented the greatest staging challenge on the project. The crossing had to remain open at all times during reconstruction to ensure access for emergency vehicles and schools. The project staged reconstruction of the structure in halves with temporary signals to ensure that this vital community link remained viable throughout construction.
STH 23 through Darlington's downtown historic district was also included in the project. Roadway design in this segment was carefully considered, as the finished product needed to avoid or minimize disturbance of any elements that were contributing to the district's historic features. Roadway alignments were adjusted to avoid impacts on the historic buildings, including the Lafayette County Courthouse situated in a stretch where STH 23 makes two 90-degree turns within one block. At this location, the roadway was reconfigured and widened to better handle Oversized/Overweight vehicle turning movements without encroaching into the adjacent historic property. At the intersection of STH 23 and STH 81, parking was reconfigured to allow for improved intersection sight distances and less restrictive truck turning movements.
Another significant part of this project included enhancing pedestrian accommodations. With the reconstruction of STH 23, existing sidewalks were improved to meet ADA standards to the greatest extent practical and new sidewalk was installed near the south end of the project, providing better school linkages for pedestrians. Rectangular Rapid Flashing Beacons were added to promote pedestrian crossing awareness. On-street bicycle accommodations were also added south of the Pecatonica River, enhancing multimodal accommodations within the community.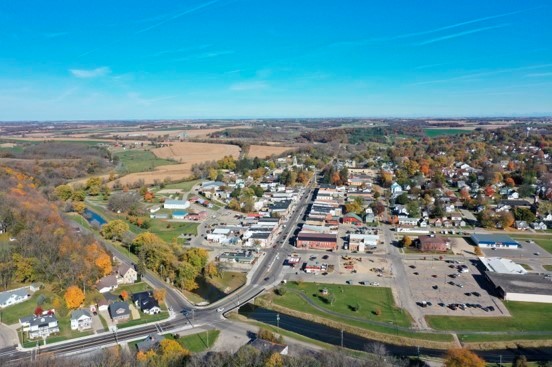 With JT's careful planning and creative design, the City of Darlington now features a contemporary roadway while still preserving its historic charm. STH 23 exhibits improved accommodations for cars, OSOW vehicles, bicyclists, and pedestrians, and safety throughout the community has been enhanced as a direct result. Water issues have been resolved with new copper piping, and flooding concerns near the downtown have been mitigated through storm sewer enhancements and an improved bridge deck across the Pecatonica River. STH 23 now serves as a prime example of delivering critical functional improvements throughout a roadway corridor while preserving the integrity of numerous historic features within the community, underscoring the project's success.
About the Guest Blogger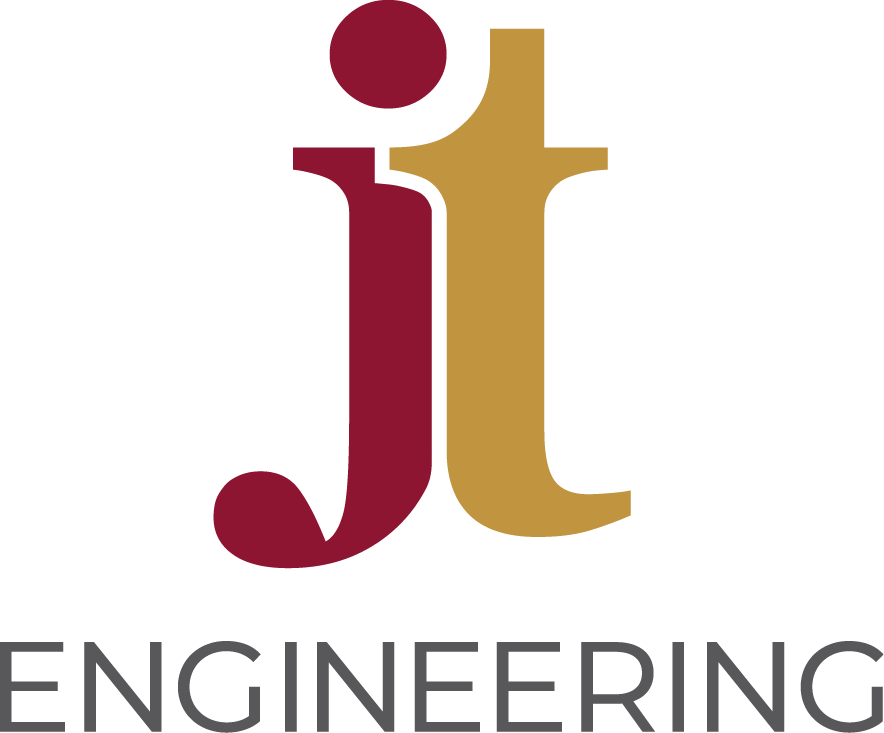 Brad Groh, PE, is Southwest Design Manager at JT Engineering, Inc. JT was founded in 2005 and has now grown to four office locations and over 90 employees. Brad is Vice Chair of ACEC Wisconsin's Transportation Steering Committee and a Leadership Institute graduate.