Improving Safety and Quality of Underwater Bridge Inspections
Date posted
March 12, 2019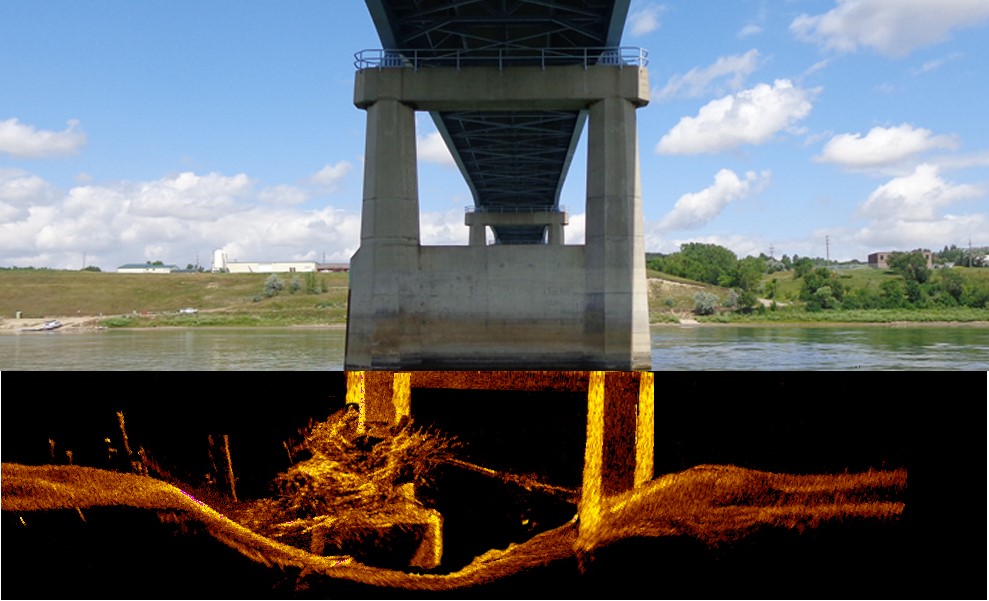 Written by: Roy Forsyth, PE, CWI, C.H. and Mark Mutziger, PE; Collins Engineers
Engineers are intimately aware that what is out of sight, cannot be out of mind. Bridges often have foundations in waterways. Even though they often cannot be visually seen, they need to support the bridge no matter if the water rises, there is a flood, or a fallen tree gets caught on a pier.
In response to the failure of the Silver Bridge in 1967, the National Bridge Inspection Standards (NBIS) were established. These standards require underwater bridge inspections to be completed on a 60-month interval. The current laws dictate that these inspections be performed with the use of divers despite facing challenging and dangerous environments that include zero visibility, swift currents, and heavy debris. The NBIS also requires the measurement of water depths to document streambed elevations around bridges and that these soundings be compared to previous inspection cycles to verify the presence of scour at the foundations. Traditionally, this measurement process used methods such as a weighted tape measure dropped from the bridge deck into the water to the channel bottom. These methods are crude. The data obtained is difficult to repeat and does not allow for accurate comparison from one inspection to another.
Anyone that has ever used a cell phone or made an online purchase understands that technology can fundamentally change and improve our lives. Improvements to sonar and imaging equipment led the Federal Highway Administration to explore the suitability of sonar for use in structural inspection activities. Collins Engineers helped develop a report titled "Underwater Inspection of Bridge Substructures Using Imaging Technology." The report's conclusions encourage the use of sonar technologies to improve and supplement underwater bridge inspection and further recommends that additional guidelines, procedures, and training be developed to ensure proper implementation. And here in Wisconsin, the Department of Transportation recently implemented changes to their underwater bridge inspection program that allows (or in some cases requires) more accurate and repeatable hydrographic surveys to be conducted utilizing sonar and GPS.
The Collins Engineer-Diver's office is located at the murky and inhospitable depths below bridges, dams, and other marine structures. The firm is a leader in utilizing sonar for assisting and enhancing underwater bridge inspections. These surveys are not only useful from an inspection/monitoring standpoint but can also be utilized for hydraulic analysis and environmental studies. Rather than spot water depth measurements, the entire waterway bed is mapped with contours.

Other resources available in Collins' underwater toolkit include the ability to capture 2-D and 3 D images of structures submerged in zero visibility water where normal cameras are rendered useless. These images can be used to alert divers of underwater hazards as well as to document existing conditions found during an inspection.
These new technologies allow owners to "see" the "out of sight" portion of the bridge or other water structure and understand and manage their assets more competently. Hazards can be identified and mitigated before they jeopardize the structure. That is technology worth implementing that can keep both inspectors and everyone that drives on a bridge over a waterway safe.
About the Authors

Roy Forsyth, PE, CWI, C.H. is a Structural Engineer and Commercial Diver for Collins. He is a professional engineer licensed in Wisconsin and several other states. Mr. Forsyth is a Certified Welding Inspector and Certified Hydrographer. In addition, he is a member of the American Welding Society and The Hydrographic Society of America. Mark Mutziger, PE is the Vice President – Regional Manager at Collins. He is a licensed professional engineer in Wisconsin and Minnesota.
Continually on the leading edge of standards and methodology, Collins provides engineering ingenuity and solutions to complex problems, and realistic, honest answers. Collins has 25 offices across the nation including two offices in Wisconsin. Collins is proud to have been a member of ACEC WI since 2000.