Incorporating Innovative Inspection Techniques to Ensure Bridge Safety
Date posted
April 12, 2022

Written by: Drew Garceau, PE and Mark Mutziger, PE, Collins Engineers Inc.

In July 2021, Collins Engineers, Inc. (Collins) performed the biennial inspection of a unique type of border bridge located between Wisconsin and Minnesota. The St. Croix Crossing Bridge has an extradosed design and is so unique that there are only a handful of bridges in the entire United States of this type of construction. Collins' inspection teams used a combination of traditional and innovative inspection techniques to successfully document the current condition of the bridge as well as provide insight into the future of structural evaluations.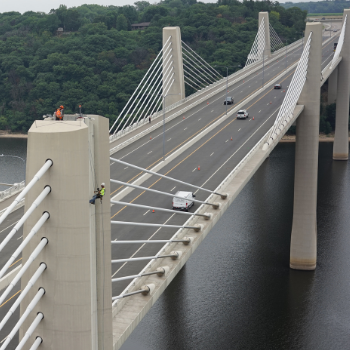 The St. Croix Crossing Bridge totals 5,579 ft in length with the four longest spans reaching 600 ft each and crosses the St. Croix River between St. Joseph, WI, and Oak Park Heights, MN. The extradosed bridge is a blend of cable-stayed and concrete segmental box girder construction, which allows for long spans that can be achieved with tower heights approximately one-third the typical height of a traditional cable-stayed bridge.
Much like the complex engineering that went into both the design and construction phases, inspecting a bridge of this size and configuration required extensive coordination, planning, and innovation.
Through discussions with WisDOT and MnDOT, a detailed inspection plan was developed. The plan ultimately reduced overall lane closures and allowed for the incorporation of advanced access methods and innovative technologies while reducing the overall duration and costs of the inspection.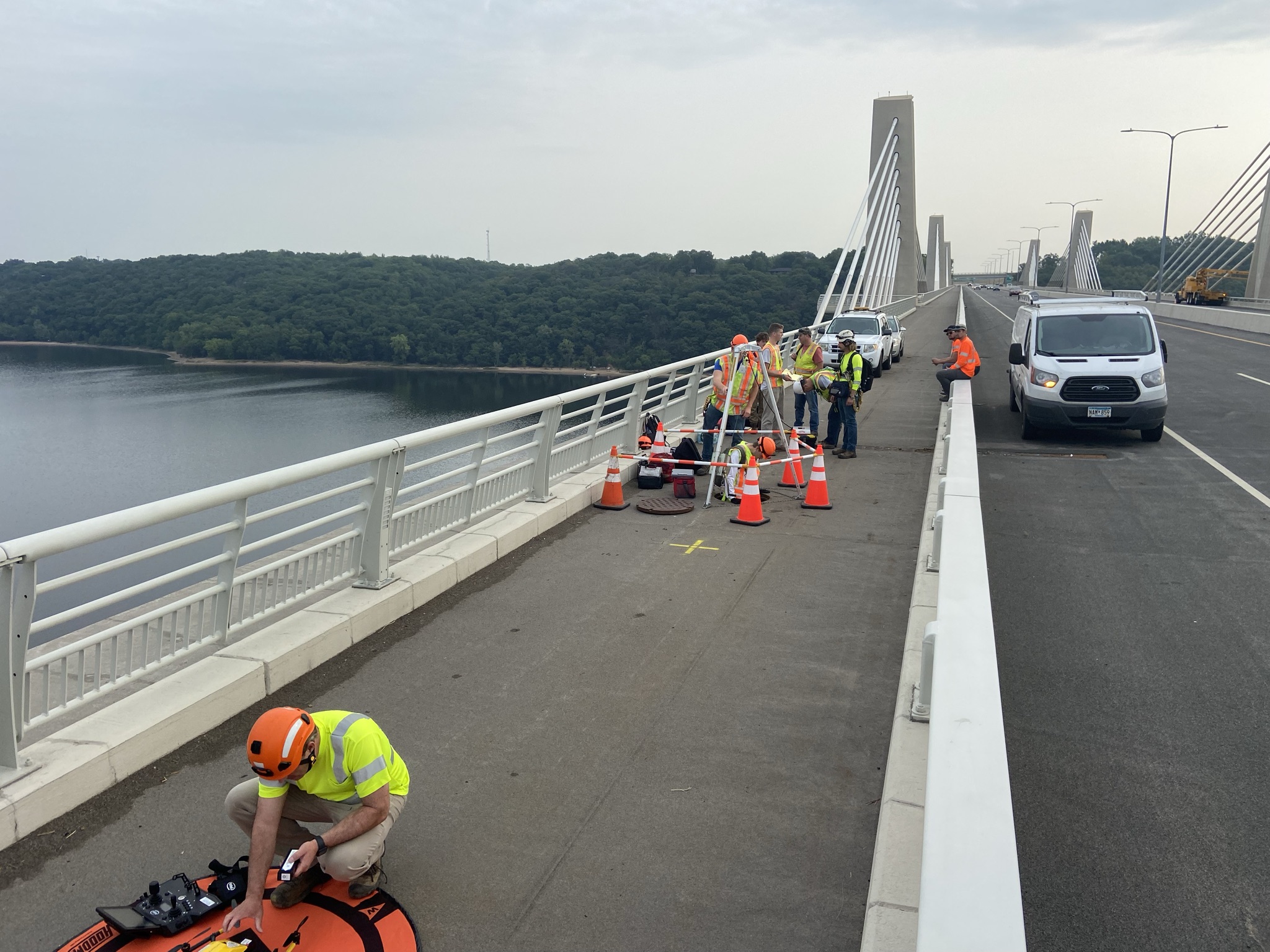 The final inspection plan included an 18-person inspection team led by Collins with the help of inspection staff from WisDOT, MnDOT, Michael Baker International, and Fickett Structural Solutions. Access methods deployed throughout the inspection included:
WisDOT under-bridge access vehicle
Aerial-lift work platforms
Rope access climbing
Confined space entry
24' long boat
Unmanned aerial systems (UAS) or drones
Incorporating UAS into the field operations provided numerous benefits both in collecting the data and delivering documentation that can be used for future inspections. The UAS was able to move quickly to parts of the bridge that are traditionally difficult and time-consuming to access with traditional methods such as under bridge access vehicles or aerial lifts. Using UAS, Collins captured thousands of pictures of the entire bridge and, through photogrammetry, created a detailed digital twin model of the bridge. The digital twin provided multiple benefits to both the inspection team and the bridge owners. The digital twin model was used for numerous applications including the ability to:
Document the bridge condition at a specific point in time. Future inspections and updated models will allow the owners to track deterioration rates over time.
Identify, annotate, measure, and quantify bridge findings or repairs.
Provide quality control to verify bridge conditions.
The benefits of data captured with innovative technology such as UAS increase as this technology continues to improve in quality, efficiency, and reliability. The future of inspection and asset management will continue to include data captured effectively through UAS and other innovative technologies. As engineers, we need to continue to adapt to technological innovations and improve processes to provide safe and expedient field operations that gather the field data. That data is processed into meaningful information that owners can use to preserve and maximize precious capital investments.
About the Guest Bloggers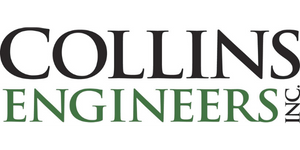 Drew Garceau, PE, is the Vice President – Facility & Infrastructure Preservation for Collins Engineers, Inc. He is a Professional Engineer licensed in Wisconsin and several other states.
Mark Mutziger, PE, is the Vice President – Regional Manager at Collins. He is a Professional Engineer in Wisconsin and other states.
Continually on the leading edge of technology use, standards, and methodology, Collins provides engineering ingenuity and solutions to complex problems, and realistic, honest answers. Collins has 25 offices across the nation including two offices in Wisconsin. Collins is proud to have been a member of ACEC Wisconsin since 2000.