Introducing the Resch Expo – Lambeau Field's New Neighbor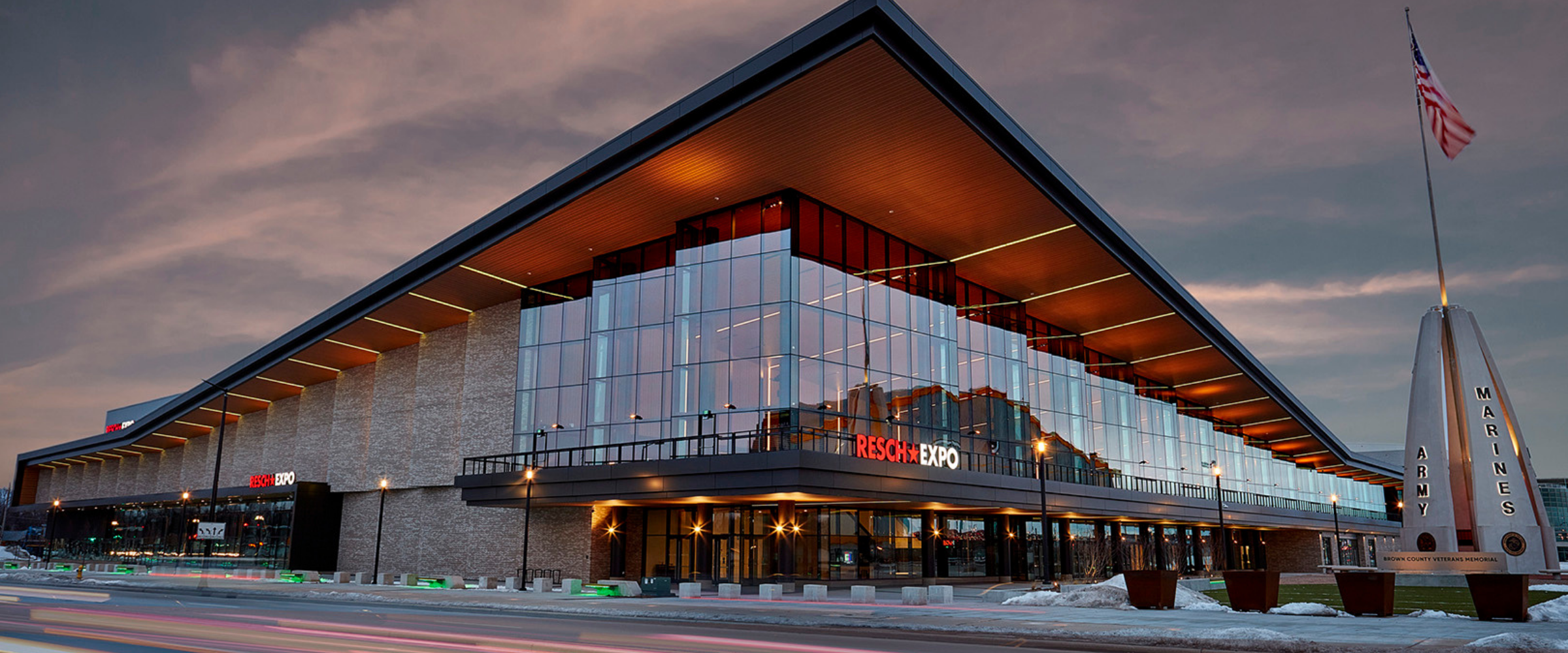 Written by: Patrick Skalecki, PE, CDT, LEED AP; GRAEF

Just east of Lambeau Field in Green Bay, you will find the stunning new Resch Expo located at the southeast corner of Lombardi Avenue and Oneida Street. GRAEF, along with Kahler Slater Architects and Populous, provided the design of the new exposition center, which includes an outdoor public plaza, to replace the former Shopko Hall. The multi-use facility consists of space for entertainment, expositions, indoor and outdoor sports, commerce, and private and public community events. GRAEF provided structural, site/civil, landscape architecture, and survey services on this $93 million project, which opened in January 2021.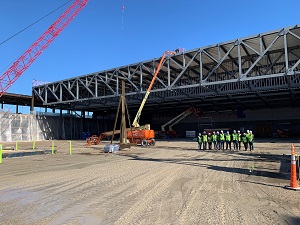 When the Resch Expo was proposed, it was intended to anchor the Green Bay Packers' bid to host the 2022 NFL Draft. After initial construction timeline estimates identified the major challenges in meeting that goal, a transformational new construction project delivery system pioneered by GRAEF was implemented. This delivery system, known as GRAEFaccelerate™, allowed design and steel detailing to be completed concurrently rather than sequentially. This innovative approach significantly reduced the amount of time required to design and detail the project. Aside from the time saving and quality-assuring advantages of using GRAEFaccelerate™, the design and detailing of the structure was completed by one team, which closes any communication divides that might exist using a standard delivery method. By the estimate of the contractor, over 2 ½ months were saved by using GRAEFaccelerate™. Amazingly, while 4,200 tons of steel and 80,000 bolts were used to construct the building, there was not a single structural steel RFI (request for information) submitted by the contractor.
The Resch Expo features an impressive 60-foot roof cantilever above an awe-inspiring glass façade. The GRAEF team engineered and detailed clear span trusses to entirely eliminate columns in an exhibition space that is approximately 280 feet × 460 feet. These design achievements offer a building interior with an amazing 125,000 square-foot, column-free, flexible environment. The colossal 280-foot-long trusses far exceed those typically used and are most commonly used in arena designs which require a wide-open space. Designing with these enormous elements required a skilled and experienced design team. To complicate matters further, the massive trusses were erected in the dead of Wisconsin's winter and saw a temperature change of nearly 70 degrees. The GRAEF team designed and detailed the connections to allow this thermal change to occur without introducing additional forces into the partially completed structure. In addition to the structural design expertise, the site engineering also required creative problem solving. On-site stormwater detention was required to attenuate the discharge rate and treat runoff for water quality. Given the limited project area, significant building size, and need to increase the parking area, GRAEF investigated and designed an underground detention system beneath the parking and loading area to achieve the necessary storage volume totaling 78,800 cubic feet.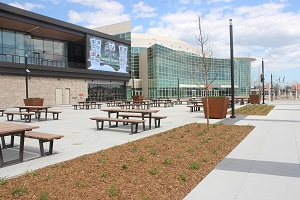 Along with the new structure, GRAEF's landscape architects provided a refined site/landscape design that completed the project's overall development. A public plaza, made up of several large outdoor rooms, accommodates large group gatherings for programmed as well as unprogrammed events. The new plaza was designed around the existing Armed Forces Memorial, which is the focal point at the west end of the plaza. Other outdoor features include a turf recreational space, a raised beer garden, a stage area on the east end for formal or informal performances, multiple networking/seating areas, ambient lighting throughout, an abundance of planters and seat walls, tree-lined walkways, and perimeter circulation spaces.
When the Resch Expo was envisioned, it was seen as a partner to Lambeau Field as well as a valuable addition to the Resch Complex alongside the existing Resch Center. The new facility features indoor and outdoor areas and an exhibit hall floor that can be divided into a one, two, or three-hall design. The new 300,000 square-foot exposition center includes 125,000 square feet of flexible, column-free exposition space, and a 280-foot clear span roof. The facility can accommodate a wide variety of events in the Titletown area, fulfilling the vision of the multi-functional entertainment area to be enjoyed by residents and visitors alike.
About the Guest Blogger

Patrick Skalecki, PE, CDT, LEED AP is a Senior Civil Engineer, Principal, and Green Bay Office Manager at GRAEF. With over 28 years in the engineering industry, Pat has developed extensive knowledge along with technical and managerial skills in public infrastructure and site engineering. Pat served as the Principal-in-Charge on the Resch Expo project. GRAEF is a multi-discipline engineering, planning, and design firm dedicated to serving public and private clients throughout the United States. GRAEF has been a long-time member of ACEC Wisconsin.