Last Chance to Register for Emerging Professionals Event
Date posted
February 27, 2023

Tuesday, March 7 | 9:00 a.m. - 12:00 p.m. | Wisconsin Dells
Join other emerging professionals to connect, grow, and learn the morning of Tuesday, March 7th in Wisconsin Dells.
Emerging Professionals Roundtable
Emerging professionals (those in the first third of their careers) are invited to discuss any topics in a small group environment. This is your opportunity to talk to others along the same career path and make lasting connections.
Leadership from the Ledge:
What Hostage Negotiators Know about Communicating Under Pressure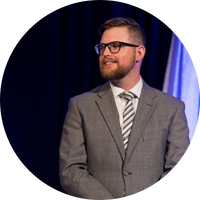 Do you know when to use your listening and negotiating skills to get the best from your clients and team? Join a communications expert and former hostage negotiator, Dan Oblinger, Leadercraft, to learn about the basis of emotional communication and how it relates to trust. Discover how improving your communications skills will improve your internal and external leadership opportunities.