Leadership Institute Class of 2019 Recognized
Date posted
March 25, 2019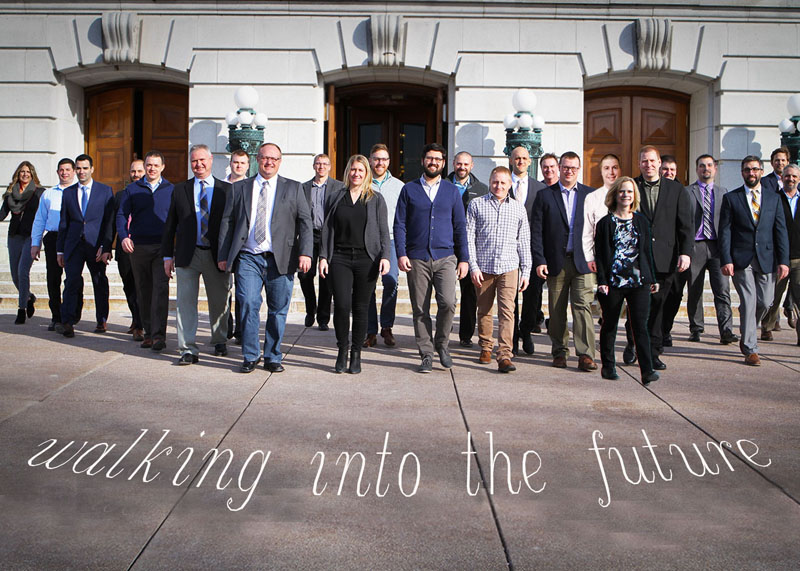 Members of the Leadership Institute Class of 2019 were recognized at the March 22, 2019 Awards Banquet. The Class of 2019 began its leadership journey in September and will complete the sixth and final session April 3-4. Training included: leadership skills, business development, financials, risk management, government affairs and work/life balance. This well-rounded business training also included personal and professional goal setting and developing an outstanding network of peers.
Congratulations to the Class of 2019!
Ryan Beltrand, Ayres Associates
Daniel Borchardt, MSA Professional Services
James Cappeart, Ayres Associates
Dylan Douglas, JT Engineering
David Gohdes, Strand Associates
Matthew Graun, Becher-Hoppe Associates
Robert Hanold, Jewell Associates Engineers
Benjamin High, raSmith
Robert Jack, Strand Associates
Nathan Koepke, GRAEF
Jason Laue, MSA Professional Services
David Mortensen, PE, GRAEF
Matthew Muchow, Vierbicher Associates
Katie Nakles, EMCS
Neil Pfaff, Vierbicher Associates
Marc Ruden, IIW PC
Alyssa Schmitt, Stormwater Solutions Engineering
Justin Schueler, raSmith
Ryan Schultz, Ruekert & Mielke
Jeffrey Smith, KL Engineering
Jamie Stahulak, HDR
Scott Stroud
Diane Thoune, Clark Dietz
Levi Warner, Larson Engineering
A big thank you to Stan Sugden, PE, FACEC of Ruekert/Mielke for serving as class advisor. Stan attends each session and offers a point of continuity and real-world application of topics. Stan has been an incredible guide for the Class of 2019 and will continue his role as class advisor with the Class of 2020.
The search for the Class of 2020 begins soon. Watch for additional information in late April.