Marinette Park Transforms Blight to Bliss
Date posted
December 8, 2020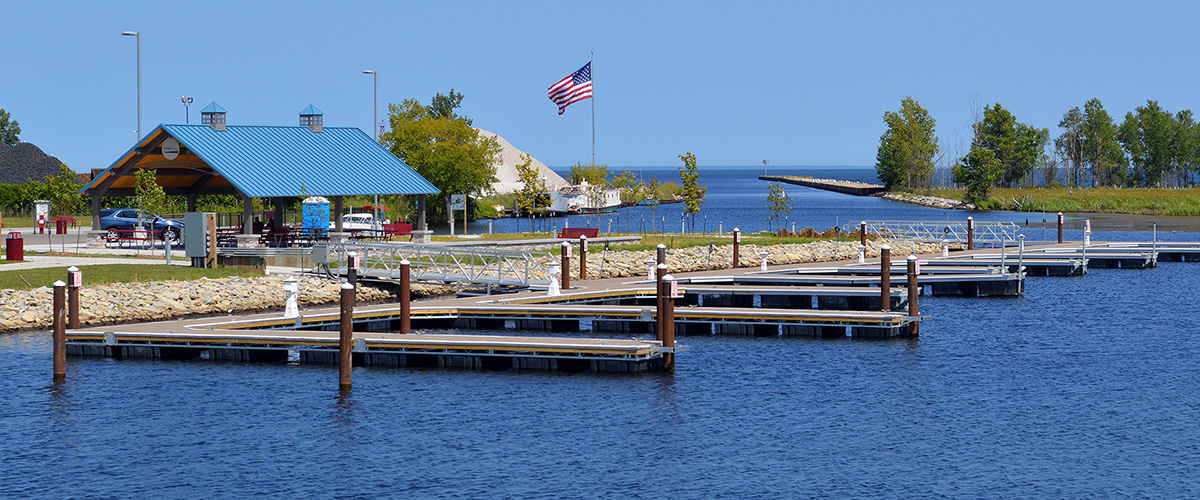 Written By: Pete Kolaszewski, PE, and Scott Wilson, PSS, Ayres

Thick weeds. Contaminated sediment. Marinette's Menekaunee Harbor at the mouth of the Menominee River wasn't a pretty sight and had become virtually unusable. As Lake Michigan and Bay of Green Bay levels dropped decades ago, the harbor became an unfriendly place for water enthusiasts and fish, which could no longer reproduce in the muddy, contaminated, shallow water.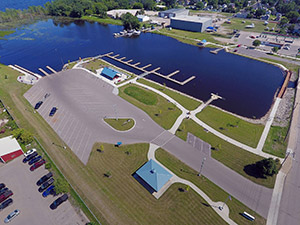 After several decades of trying to locate funding to revitalize the City's only harbor, without any success, the City of Marinette got the ball rolling on the harbor's revitalization by hiring engineering consultant Ayres in 2010 to begin the process of transforming the harbor area into a flourishing park and boat launch, giving water enthusiasts and anglers direct access to the river, the Bay of Green Bay and Lake Michigan beyond. The City and Ayres formed a vision with an end goal in mind for this culturally significant site and began securing funding for the multiphased project.
Public funding requests initiated by Ayres over the years brought in nearly $8 million in federal and state grants, with the City supplying over $1.5 million in matching funds.
Working closely with the Wisconsin Department of Natural Resources and the City, Ayres provided a structural and engineering evaluation of the harbor seawalls to determine whether they could withstand harbor dredging activities. Tasks also included assisting in locating, surveying and acquiring property for the final deposition of dredged sediment, which was known to contain heavy metals, mercury and low-level PCBs. A new seawall and riprap shorelines were designed by Ayres and ultimately installed.
The massive dredging project and seawall construction were completed in 2014, with 66,000 cubic yards of contaminated sediment removed to reduce restrictions on fish and wildlife consumption, improve fish and wildlife populations and permit safe navigation of recreational boating in the deepened harbor.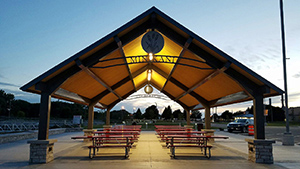 The City and Ayres then got to work on designing and redeveloping a contaminated industrial site surrounding the harbor, adding a parking lot, boat landing, restrooms, transient docks, two pavilions, a boating plaza, an ADA-compliant kayak/canoe launch, a Native American memorial and a pedestrian bridge over the last few years.
After the dredging project and as improvements were built, boaters, kayakers, canoeists and anglers started returning, with the Harbor Park even hosting national fishing tournaments that draw people from throughout the country.
Menekaunee Harbor Park is considered the birthplace of the Menominee Indian Tribe of Wisconsin. A replica of the ancestral bear that stands at the Tribe's cultural museum in Keshena, Wisconsin, was erected in the park in 2019 to help tell the Tribe's creation story. A mural in the park pays tribute to the site's importance for the City's logging, boating and fishing history.
The project was backed by solid design incorporating a number of disciplines, including environmental, water resources, structural, and civil engineering, combined with architectural and landscape architecture design and public funding expertise.
A project this complicated – over $9 million in construction and many moving parts – required innovation, ingenuity and perseverance to succeed. Together, the City and Ayres shared common goals and a passion to reinvent the harbor area. This project was born out of necessity, cultural respect and a passion to turn the harbor into something great.
Today, the Harbor Park is thriving and has been a significant and economically important project for the City of Marinette.
About the Guest Bloggers

Pete Kolaszewski, PE, is a municipal engineer at Ayres and served as project manager for portions of the Menekaunee Harbor Park & Boat Launch project. Scott Wilson, PSS, is vice president of development services at Ayres and led the funding and environmental components of the Menekaunee Harbor project.
Ayres, a long-time member of ACEC, is a team of 300+ innovative problem-solvers nationwide, standing with integrity behind thousands of projects that strengthen communities and our country's infrastructure, economy, and environment. Ayres is based in Eau Claire; it has four additional offices in Wisconsin, as well as offices in Florida, Colorado, and Wyoming.