May is Mental Health Awareness Month
We are all impacted by the stressors of daily living. From parenting challenges to work obligations, caring for dependent loved ones to navigating physical ailments, we can all relate to having something in our life that presents a challenge for our mental health.
May is Mental Health Awareness Month. This provides us an opportunity to highlight the importance of mental health and reduce the stigma surrounding it.
Our mental health adjusts as our lives change and as we have support and resources to respond to the demands of our lives. Like our physical health, we deal with our mental health every day. If your mental health is worsening due to stressors in your life, that impacts everything else – school, work, relationships, and physical health.
Some of us will experience a mental health crisis and/or illness that will impact our daily life more significantly. According to the Substance Abuse and Mental Health Services Administration, nearly 1 in 5 American adults will have a diagnosable mental health condition in any given year. The NIH found that 46 percent of Americans will meet the criteria for a diagnosable mental health condition sometime in their life, and half of those people will develop conditions by the age of 14.
Mental Health America's report on the State of Mental Health in America reports that many people who experience mental illness won't receive treatment. This is attributed to issues such as lack of access to care, financial constraints, and the stigma involved in talking about mental health.
The engineering industry has its own challenges with supporting mental health. In an industry that is 90% male, work cultures can reinforce the stigma around what men are comfortable talking about. A culture that doesn't support men talking about their negative feelings or concerns about their personal lives leads to diminished mental health. A 2022 survey of Masculinity in Engineering conducted by EqualEngineers found that the rates of engineers reporting suicidal ideation or self-harm has increased since 2019 from one in five, to now one in four.
Sometimes, we can address our declining mental health through activities like exercise, sleep, connections with loved ones, and being mindful not to take on more than we can handle. If you have severe symptoms that last longer than two weeks, you can discuss your concerns with your primary care provider who can refer you to a mental health professional.

What can you do now to support your own mental health?
Assess whether your symptoms are interfering with your daily life
Review the questions in the NIH infographic (above)
Complete a free, confidential screening from Mental Health America - MHA Screening
You are not alone. Contact a primary care provider or a mental health professional. If your company offers an Employee Assistance Program, contact them for support with this.
If your symptoms aren't interfering with your daily life, consider what's negatively impacting your mental health and choose one thing to address it. These are ideas to get you thinking about something you can do:
Spend time outside daily. Regular exposure to Vitamin D can improve your mood.
Practice gratitude through reflection and tuning into your senses to appreciate the unexpected.
Talk to a trusted friend, coworker, or loved one about what you're dealing with; people like to be supportive and helpful, so try asking for something that would help you.
Prioritize getting enough sleep.
Get to know your neighbors. Build connections through offering assistance or simply saying "hello."
Slowly breath in through your nose for five seconds and out through your mouth for five seconds; this helps regulate your emotions, improve attention, and improve levels of cortisol (the stress hormone).
Remove barriers to health habits. Put fruit where you can easily access it. Buy shoes that enable you to take walks. Put your yoga mat out where you can see it every day.
Toolkits
The National Institute of Mental Health provides resources, including: Caring for Your Mental Health.
You can request the Mental Health America's Mental Health Toolkit. The toolkit provides useful information on how to support your own mental health and that of those around you. The focus this year is on how to understand and adapt your environment to positively impact your mental health. The resources are about housing, home environments, neighborhoods and towns, and nature – aspects of the natural and built environment that are important to the ACEC industry.
Additional sources:
About the Guest Blogger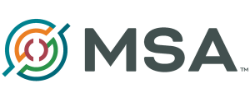 Cynthia Prest is the Chief People Officer at MSA Professional Services. She plays a key role in developing and executing human resource strategy, employee relations, succession planning, talent acquisition, performance management, professional development, and instructional design efforts. Her passions are helping people recognize their strengths and work more effectively with one another and supporting leaders in becoming better leaders. Cynthia serves as co-chair on the firm's Diversity, Equity and Inclusion Council and is a member of ACEC Wisconsin's Diversity & Inclusion Committee.