New Interchange Finally a Fitting Roadway For Growing Community (And Its Eagles)
Date posted
March 10, 2020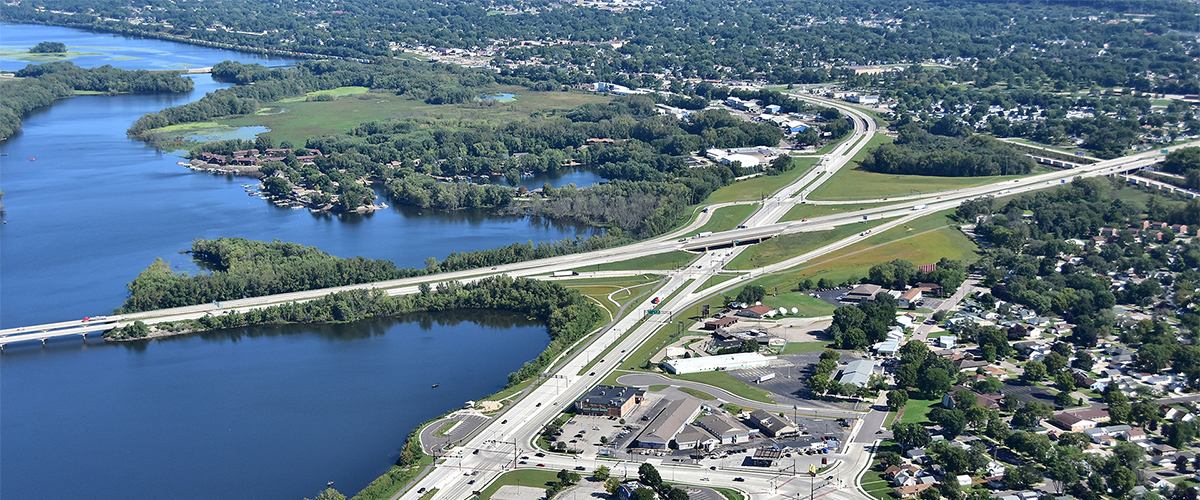 Written by: Mark Petersen, PE, Ayres Associates


Just ask the eagles: the fishing is good on the Mississippi River. Every winter they glide over its open water in search of fish not hiding under ice, and in the spring they build their nests along the picturesque bluffs in southwestern Wisconsin. So it makes sense that bird-watchers and passers-by would gather to see the magnificent birds soar along the river near La Crosse – even if they had to park fairly hazardously on a highway ramp shoulder to do so.
But it wasn't just bird-watchers flocking to La Crosse. The area has been steadily growing over the past few decades, becoming a gateway between Minnesota and Wisconsin as well as the main branching-off point for many smaller communities. Interstate 90 is the main corridor, and unfortunately had not grown with the communities it served. The formerly rural interchange was struggling to handle the urban traffic needs, unwieldy to navigate and unimpressive to travelers and visitors.
When the Wisconsin Department of Transportation (WisDOT) proposed improvements, lightbulbs went on: it would be possible to make this highly travelled segment both functional and beautiful – and incorporate a safe eagle viewing area and parking lot.
It would be a huge undertaking, pulling together not only roadway, structural, municipal, water resource and traffic engineers from lead team Ayres Associates but also engineers from CH2M, KL Engineering, and K. Singh & Associates. In addition to the design and traffic considerations, the enormous scope meant the team faced the multiple complexities of coordinating with two cities, a township, a county highway department, two DOTs, a railroad and an airport, as well as a variety of permitting agencies and utilities.
Where do you even begin with such a large keystone project? Ayres' team began with making sure the people who used it were included in the design process. Over the course of six public meetings, we sought input from and carefully listened to local officials from La Crosse and Onalaska, residents, and business owners. Even after design was under way, we conducted a mini study to evaluate shifting the USH 53/STH 35 further away from the river after there were changes in the local government officials.
The project lasted five construction seasons and included reconditioning IH 90, raising it over STH 35 and lowering it under CTH "B" to improve vertical clearances. The STH 35/USH 53 interchange was designed and reconstructed as a diamond interchange meeting current design standards. An auxiliary lane was added between the USH 53/STH 35 interchange and the STH 157/USH 53 interchange to accommodate traffic patterns. USH 53/STH 35/Rose Street was reconstructed from a rural roadway to an urban roadway. A total of 13 bridge replacements and rehabilitations were also completed, and complicated staging and traffic control were required in addition to lane reconfigurations. Ramp gates with ITS components (cameras and message boards) were also installed to help keep motorists informed.
When you have something like the Mississippi River on your project, you take advantage of it. Ayres Associates had also worked with the City of La Crosse to design an eagle viewing area that includes an official eagle viewing plaza, parking, a path and native plantings, and this project connected the roadside oasis to the new interchange by providing a pull-out and parking lot so that people can safely and conveniently watch eagles from the shore. The project also included a multi-use bicycle and pedestrian path along parks, businesses and residences.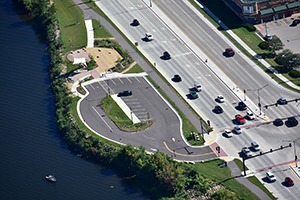 A roadway near a river has its dangers as well, and one of the upgrades was to adjust it to be above a 100-year flood event, thus avoiding potential future shutdowns and improving safety. Environmental studies also ensured that the river's ecosystem remained unharmed, and detention ponds and grass swales will actually improve stormwater runoff quality.
The team accomplished all this while staying on schedule and on budget. To keep the project on schedule, we reduced the original six PS&Es down to five. Designing all these projects as one large project also helped with coordination and traffic control staging and reduced driver inconvenience.
In the end, going the extra mile made this extensive project a smooth success and gave the southwestern region an improved interchange that provides the best of both worlds: convenience and beauty.
About the Guest Blogger

Mark Petersen, PE, is a transportation engineer at Ayres Associates and served as project manager for the IH 90 project. Ayres Associates, a longtime member of ACEC, is a 300-person engineering and architectural firm based in Eau Claire; it has four additional offices in Wisconsin, as well as offices in Florida, Colorado, and Wyoming.