Shared Street Design Dramatically Improves Safety and Function of Urban Milwaukee Corridor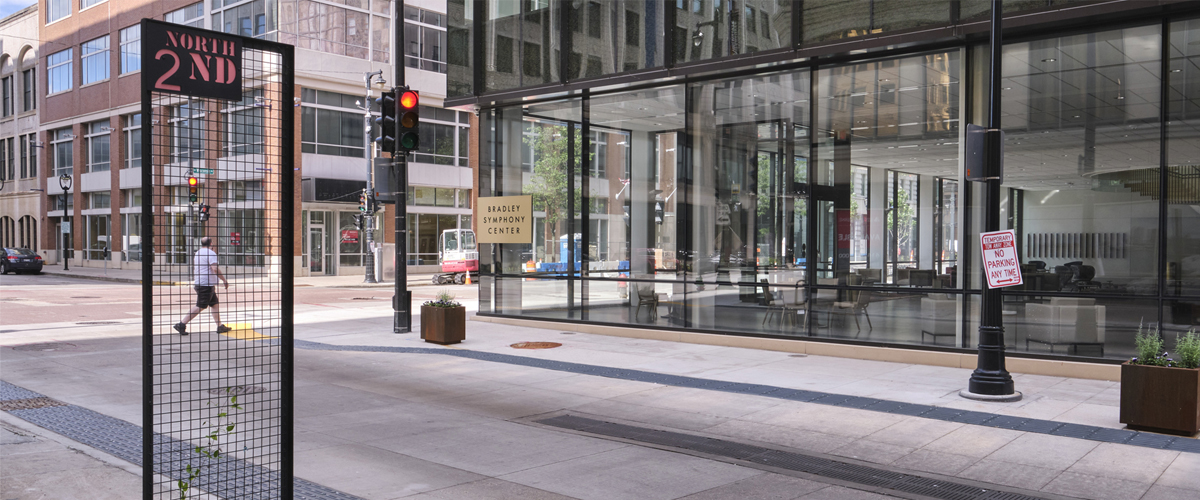 Written by Brooke Beckner, Benesch

One of downtown Milwaukee's hot spots is dramatically improved for both pedestrian and vehicular users alike, thanks to the engineering behind the N. 2nd Street rehabilitation project. A shared street concept was used - the first application of its kind for the city in an urban center – to enhance both public mobility and safety from Wells Street to Wisconsin Avenue. The project was timed to align with the reopening of the newly renovated Milwaukee Symphony Orchestra's (MSO) Bradley Symphony Center and an anticipated influx of pedestrian traffic. To ensure project success, the design team held a Value Planning session at the project's onset, which identified the best ways to cultivate a vibrant public realm and create an overall framework for improvements to the corridor.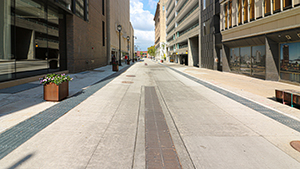 Creating a pedestrian-friendly environment was paramount on this project. That objective, as well as the corridor's narrow width and low vehicle volumes, led to the decision to use the shared street concept. Shared street environments can significantly contribute to the public space network, adding vibrancy and activity. On N. 2nd Street, accessible paths were created and delineated using visual cues including special concrete jointing, sandblasting patterns, longitudinal drains, and street furniture.
Safety was another key design consideration. The shared-use space allowed for improved safety for both drivers and pedestrians. Elements such as curb-less sidewalks (with ADA compliance) and the aforementioned longitudinal drains helped to calm and visually direct traffic, while lighting enhancements brightened the previously dim urban area, especially during travel between the Bradley Symphony Center and a nearby parking garage.
The N. 2nd Street rehabilitation also created social, economic and sustainable benefits included traffic calming and a safer environment for people walking to and from events at the Bradley Symphony Center. Several "living benches" were also added using natural materials with built-in planter boxes to create seating and enhance corridor aesthetics. Special accessible crossings were also created to connect nearby parking structures to the Bradley Symphony Center.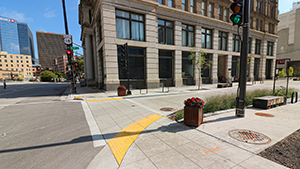 The expansion of the Bradley Symphony Center and construction of its new atrium and doors necessitated innovative storm water solutions to keep storm water away from the outer doors. A landscaped bioswale and the shallow longitudinal drains were utilized to improve stormwater management. The drain was also used as a visual cue to separate moving vehicles from the Bradley Symphony Center drop-off area and bus parking.
From the creation of an innovative, curb-less, one-way street to traffic calming, public furniture, and a creative drain system, this newly rehabilitated shared street corridor provides a safer, more visually appealing public space for pedestrians, cyclists and drivers alike, while complementing the area's natural surrounding environment and facilities. It also allows for developers to further enhance the area, ensuring an economic benefit for existing and future stakeholders, including the offices and condos being developed at the existing Grand Avenue Mall space across the street from the Bradley Symphony Center. It is anticipated that as a result of this project's success, the City of Milwaukee will explore multiple "avenues" to upgrade more of its urban infrastructure to shared-use compatibility.