Verona Road Reconstruction Improves Safety, Mobility, and Connectivity
Date posted
September 13, 2022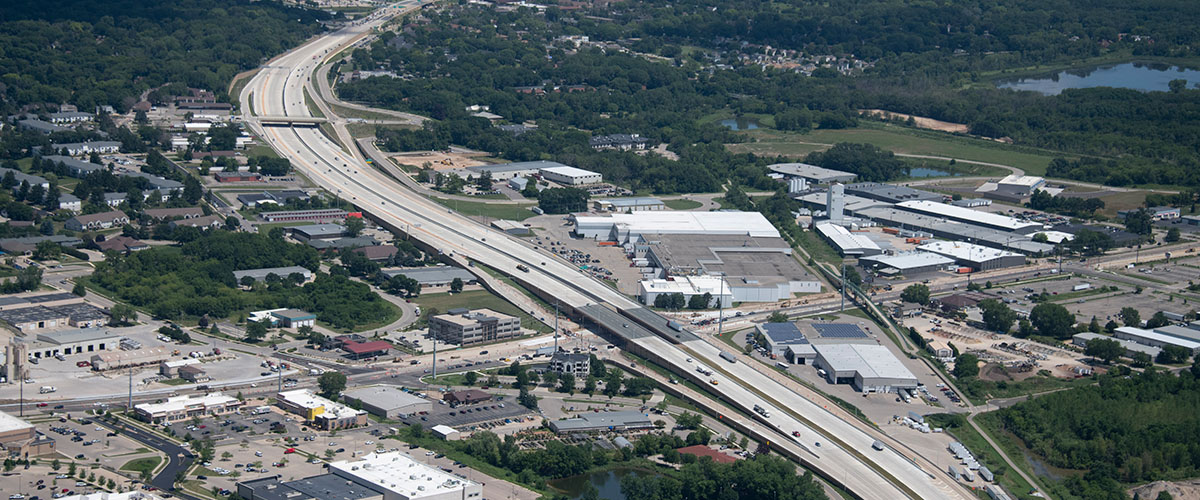 Written by Joe Bunker, PE; Strand Associates

The USH 18/151 (Verona Road) corridor is one of the busiest corridors in Dane County and the Madison, Wisconsin, metropolitan area. Verona Road links major economic centers of northeastern Iowa, Madison, and the Fox Valley via the National Highway System and is a critical corridor in Dane County–the fastest growing county (by population) in Wisconsin. Verona Road is also an important commuter corridor for major businesses in the area, including Sub Zero, Inc. and Epic Systems. Since this portion of the corridor is the only remaining low speed urban section with signals for the 227 miles of USH 151 between Dubuque, Iowa, and Fond du Lac, Wisconsin, the purpose of the project was to improve mobility, provide greater local connectivity, and improve travel operations and safety for motorists and pedestrians.
The Verona Road Project was part of the Wisconsin Department of Transportation's Majors Program and was divided into two major stages. Strand Associates, Inc.®, led both stages. Stage 1 reconstructed Verona Road between Raymond Road and the West Madison Beltline and is completed. Stage 2 reconstructed Verona Road between County PD and Raymond Road, as well as County PD between Fitchrona Road and Commerce Park Drive. Verona Road and County PD are projected to carry 67,000 and 48,000 (2040) vehicles per day, respectively.
Major improvements completed during Stage 2 included:
Reconstruction of more than 2 miles of Verona Road.
Reconstruction of 2/3-of-a-mile of County PD (McKee Road).
Addition of a two-span single-point urban interchange at Verona Road and County PD (the second such design in the U.S. with offset piers), with Verona Road passing 25 feet over County PD.
Addition of a tight urban diamond interchange at Verona Road and Williamsburg Way, with Verona Road passing 25 feet beneath Williamsburg Way.
Installation of collector-distributor lanes between County PD and Williamsburg Way.
Reconstruction of Williamsburg Way with a roundabout at Williamsburg Way and Anton Drive.
Construction of 1/2-mile of new local road (Fitchrona Road).
Reconstruction and rehabilitation of 1 mile of the East Frontage Road.
Replacement of an at-grade crossing of the Military Ridge State Trail at the intersection of Verona Road and County PD with a seven-span, grade-separated multi-use trail overpass to eliminate conflicts between bicyclists/pedestrians and traffic along County PD.
This multi-faceted project combined many innovative ideas and concepts including the unique two-span SPUI with offset piers, an aesthetic theme based on geological formations in the project area, the preservation and enhancement of the sensitive natural areas, and cost-effective construction staging focused on establishing the outer roadways and working inward. Stage 2 was completed on time in October 2020 and under budget at $85.7 million.
The success of Stage 2 has been immediately measurable. In the first 12 months following completion of the project total crashes decreased by 60 percent, injury crashes decreased by 40 percent, and travelers of the corridor saved over 300,000 hours of delay and associated emissions through the addition of the interchanges.
The reconstructed Verona Road improves mobility, provides greater local connectivity, and improves operations and safety for motorists and pedestrians. It is an exemplary, cost conscious, and successfully planned and executed project that will provide long-lasting economic benefits for Wisconsin.
About the Guest Blogger
Joe Bunker, PE, is a Corporate Secretary and Vice President at Strand Associates, Inc.® in Madison and currently serves as ACEC Wisconsin's Government Affairs Committee Chair. Strand Associates is a long-time ACEC Wisconsin member. Established in 1946, Strand is a thriving corporation with 12 offices and projects in 48 states.