Waldo Boulevard Well Worth the Wait
Date posted
February 8, 2022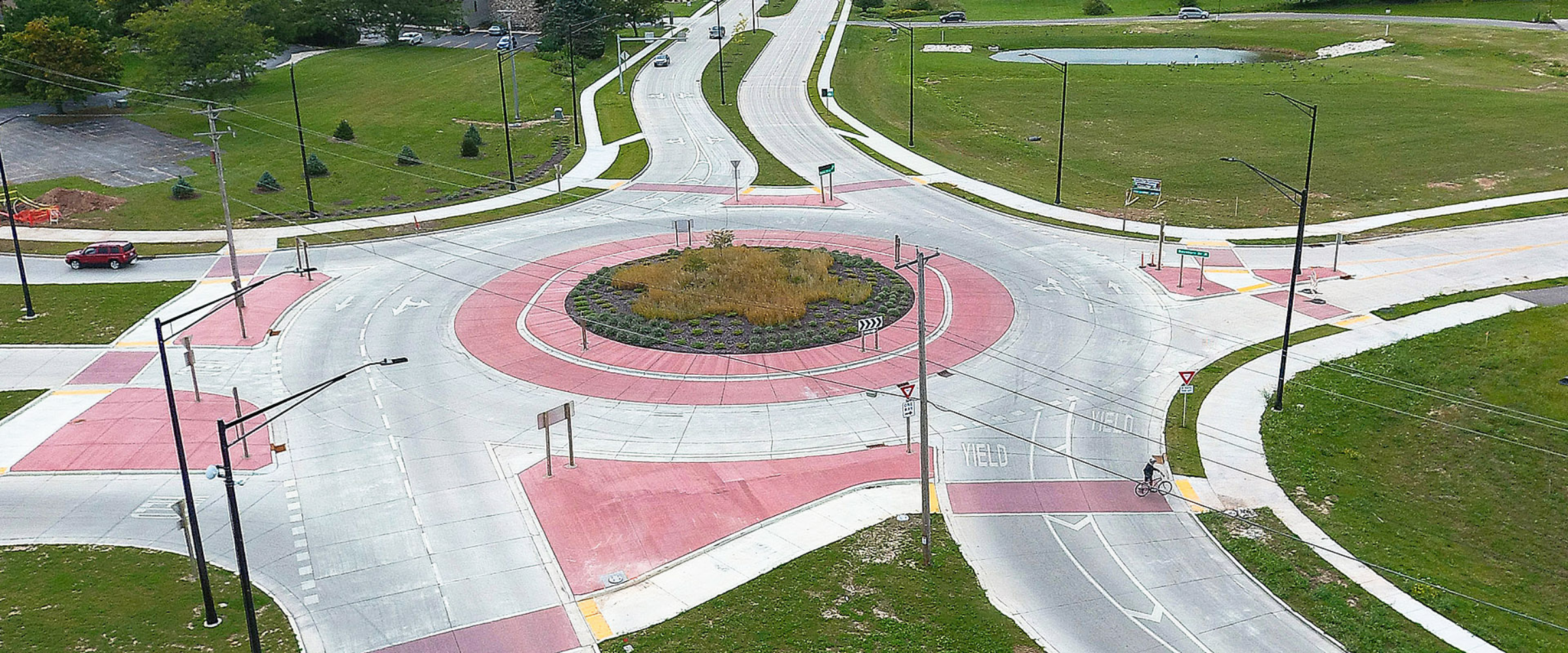 Written By: Troy Robillard, PE, Ayres

Slicing through the City of Manitowoc's north side, this roughly 3-mile-long urban reconstruction project had it all when it comes to road project complications, all spread out over two years of construction.Slicing through the City of Manitowoc's north side, this roughly 3-mile-long urban reconstruction project had it all when it comes to road project complications, all spread out over two years of construction.
State and City officials had discussed and dreamed about an improved Waldo Boulevard for many years before the design of this project began. This important stretch of roadway, also known as U.S. Highway 10/State Highway 42, joins Interstate 43 with the City's popular Lake Michigan shoreline. The corridor also provides access to the City's bustling downtown and the SS Badger Lake Michigan ferry, which provides seasonal transportation to Ludington, Michigan.
"Back when I was on the City Council from 2004 to 2008, it was talked about then, 12 years ago," State Rep. Paul Tittl, R-Manitowoc, said at the project's ribbon cutting. "To see it become a reality is just fantastic."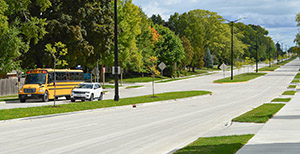 The improvements to Waldo Boulevard were way overdue.
The City, the Wisconsin Department of Transportation (WisDOT), and engineering consultant Ayres knew the transformation of Waldo Boulevard was going to be a long, complicated process. However, none of the parties lost focus of the goal and kept the project moving through nearly nine years of design and construction.
Consider the long line of hurdles along the way:
Complex utility coordination involving 14 different utilities.
Four historical properties and one historic district that required Section 4(f) documentation and a Memorandum of Agreement.
Three railroad crossings that required coordination.• Extensive public outreach and involvement.• Four schools along the route.
Manitowoc fire and rescue station adjacent to the project that required a temporary roadway.
Twin-cell box culvert replacement.
Three-span structure redecking.
Flat slab structure rehabilitation.
Up to 72-inch storm sewer buried almost 30 feet deep.
Four traffic signals.
Sanitary sewer and water main replacements.
Asphalt overlay section with concrete base patching.
Multilane roundabout.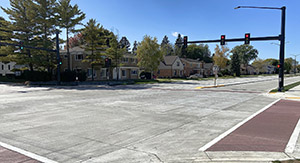 Topography data for the project was acquired with mobile lidar (light detection and ranging), which was an emerging technology at the time. The project was originally slated for traditional ground survey, but Ayres recognized this high-traffic corridor was an excellent candidate for mobile lidar mapping and recommended the technology to WisDOT to reduce lane closures and limit survey operations in the right-of-way. Traffic control consisting of advanced signing, arrow board and cones was used to control traffic during the painting and measuring of lidar targets.
A high-density scan was performed on the substructure of the bridge over the railroad tracks. Redecking was completed for this structure. The high-density terrestrial scan data was incorporated with the mobile lidar data to create a three-dimensional model of this structure to aid in the design.
The existing intersection of Waldo Boulevard and Maritime Drive was a T-intersection along a horizontal curve. The stop-controlled intersection experienced safety issues and had a lack of pedestrian accommodations. The roundabout was designed by Ayres' Kevin Kuhlow, a WisDOT Level 3 roundabout designer, the state's highest level.
Kevin thoughtfully completed the design, which maintained the existing configuration with State Highway 42 as the through movement. The design meets driver expectations and provides access to the future development in the northwest quadrant as well as the green space between the roadway and the multiuse path along Lake Michigan. The roundabout was designed as a Case 2 roundabout, and at the request of WisDOT's Northeast Region, accommodates oversize/overweight (OSOW) vehicles along State Highway 42 even though it is not an OSOW route.
With a steady, guiding hand from Ayres' engineers, surveyors and specialists, the $26 million Waldo Boulevard project came together better than anyone could expect. A collaborative design effort between WisDOT, Ayres and key subconsultants led to the on-time, on-budget success of a key roadway that will serve Manitowoc for decades.
"Waldo Boulevard is one of those streets that helped define the character of an entire community," said WisDOT Secretary Craig Thompson at the ceremony opening the roadway. "The upgrades to this vital roadway will make it easier and safer to drive and will set the foundation for Manitowoc's future development."
About the Guest Blogger

Troy Robillard, PE, is a transportation manager and engineer at Ayres and served as project manager for the Waldo Boulevard project in Manitowoc.
Ayres, a long-time member of ACEC Wisconsin, is a team of 300+ innovative problem-solvers nationwide, standing with integrity behind thousands of projects that strengthen communities and our country's infrastructure, economy, and environment. Ayres is based in Eau Claire; it has four additional offices in Wisconsin, as well as offices in Florida, Colorado, and Wyoming.