ACEC Wisconsin Members Shine at the ACEC Fall Conference
Date posted
October 20, 2023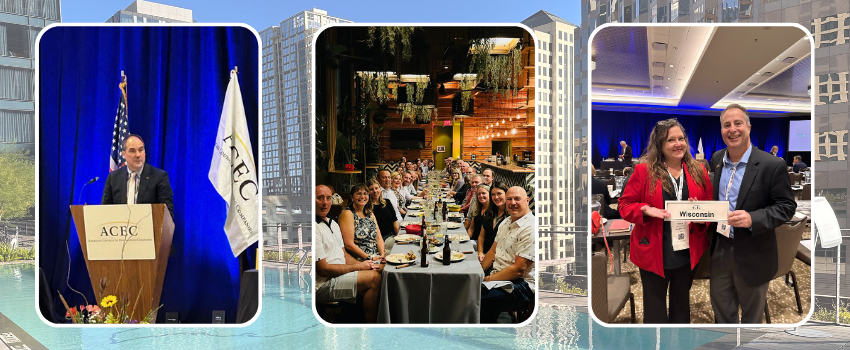 The ACEC Fall Conference was held in Austin, Texas, October 14-18. This annual conference brings together professionals from the civil engineering industry, and ACEC Wisconsin members made a significant impact. With a diverse array of keynotes, educational sessions, and networking opportunities, the event was a remarkable experience.
ACEC Wisconsin has always been committed to representing the best interests of civil engineering businesses, and its members embody the spirit of innovation and excellence.
Jessica Splittgerber was honored as a Young Professional of the Year Finalist.
National Director Tonia Westphal and Chair-Elect Mike Statz represented Wisconsin at the ACEC Board Meeting.
President & CEO Chris Klein is the current NAECE (state member organization staff leaders) President with a seat on the Executive Committee.
Networking is a key element of any successful conference, and the ACEC Fall Conference is no exception. It's a chance for ACEC Wisconsin members to connect with colleagues, partners, and professionals from all over the country. The Wisconsin Night Dinner is always a highlight of the National conferences. It is a chance to connect over great food and conversation.
Wisconsin always has one of the largest and most dynamic delegations to attend the event and the 2023 Fall Conference in Austin was no exception. We hope you'll join us for ACEC National's 2024 Annual Convention & Legislative Summit, May 12 – 15 in Washington, DC.