CTH GI Reconstruction
Date posted
February 22, 2021
2021 Engineering Excellence State Finalist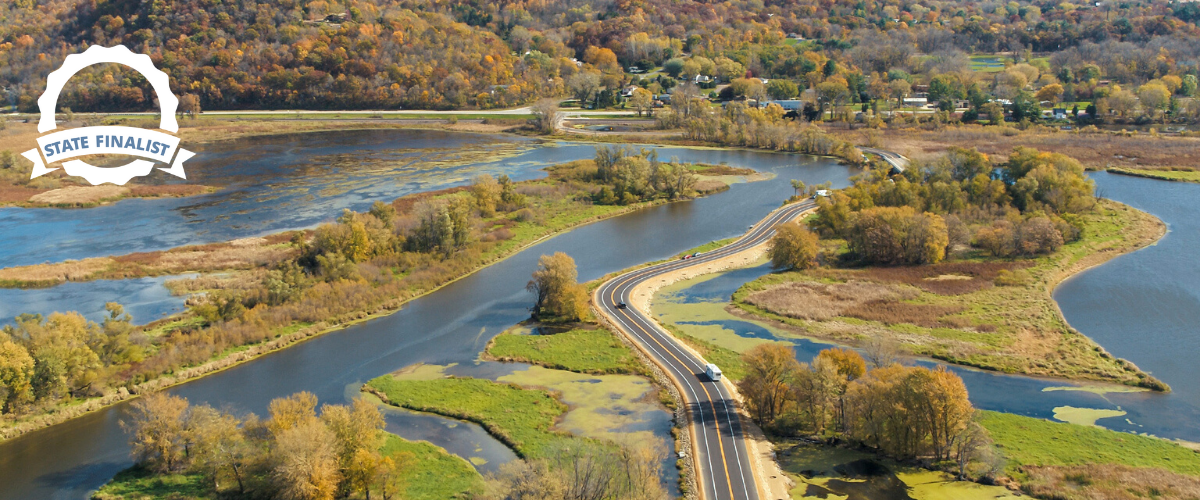 Entering Firm: Short Elliott Hendrickson Inc.
Client: Wisconsin Department of Transportation
Owner: La Crosse County Highway Department
Environmental concerns are frequently part of engineering. It is important to adapt infrastructure to the environment it will function in. Reconstructing CTH GI went above and beyond the usual. This road winds through extensive wetlands and required a unique amount of coordination and planning to meet the client needs.
Short Elliott Hendrickson worked closely with the client, owner and a large range of stakeholders who prioritized preserving the wetlands environment. The construction administration team worked with these entities to expand the roadway and to improve public facilities at a nearby park. The widened roadway provides multi-modal access to the park and new boat launches give visitors easy access to fishing and recreation spots.
The new road incorporates multiple cement culverts to reduce flooding and balance the natural environment. A special, larger culvert was installed to improve the local fish habitat. This feature allows the Department of Natural Resources to control water inflows and the oxygenation of the water. With the proper control mechanisms in place, this will make the environment healthier overall.
The reconstruction of this road went beyond a simple transportation project. It was a lesson in how proper coordination and broad thinking can go beyond a road improvement to benefit all aspects of the built and natural environments.