Innovative Technologies Used for Marquette Interchange Rehab Minimize Impacts to Traveling Public
Date posted
September 10, 2019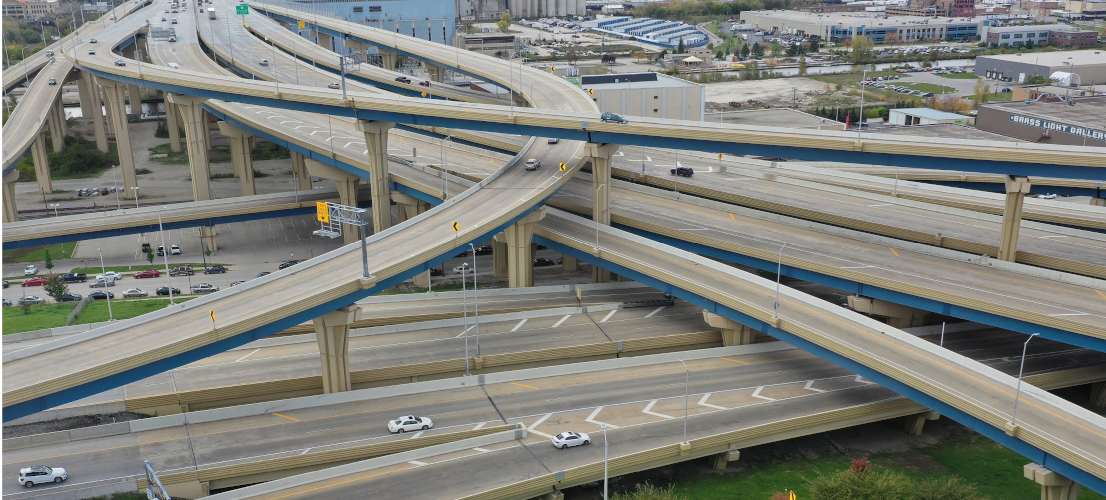 Written by Lindsay Kaufmann, PE; Michael Baker International

Improving a Vital Interchange
The Marquette Interchange is a major, high-volume roadway that serves many economic needs of the Milwaukee area, carrying more than 300,000 vehicles per day throughout the region. The original construction was completed in 2008, and at the time was the largest interchange project in Wisconsin.
This interchange serves as the primary route from Chicago to Minneapolis. In 2018, the Marquette Interchange was scheduled for a planned maintenance overlay to prevent possible deterioration of the deck surfaces and prolong major reconstruction.
Michael Baker International, a global leader in engineering, planning and consulting services, provided preliminary and final structure design and construction staging services for the Marquette Interchange Rehabilitation project.
Identifying the Right Materials for the Job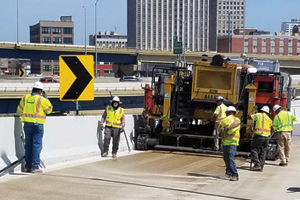 Michael Baker worked with the Wisconsin Department of Transportation to review a study, performed by the University of Wisconsin-Milwaukee, on four different types of overlay treatments before selecting a polyester polymer concrete (PPC) overlay system, which would minimize disruptions to the public and provide a long-lasting protective barrier on 30 bridge decks throughout the interchange.
Polyester polymer concrete offers several advantages including highly effective crack sealing, long-lasting performance, fast cure times and an ability to be placed at low temperatures. Using its effective crack sealing, PPC overlays were used on 30 bridges in the core of the interchange and will ensure the bridges reach their 75‐year minimum anticipated life span.
Engineering a Traffic-Flow Solution
Traffic staging through the interchange was a complex challenge which required detailed engineering to keep traffic flowing smoothly to and through downtown Milwaukee. Travelers along the Marquette Interchange include drivers and freight traffic traveling through the interchange for more regional destinations and those who travel from all directions to get to home, work, entertainment, the lakefront and popular summer festivals.
Traffic staging was coordinated closely with local stakeholders, the Department of Transportation and adjacent projects, and much of the PPC construction was done during nighttime hours to minimize disruption. The fast‐set nature of the overlay product lends itself to overnight closures, allowing the existing bridge deck to be milled, prepped and overlaid within a matter of several nights.
A First in Wisconsin
Polyester polymer concrete overlays are common in some areas of the country, but prior to the Marquette Interchange Rehabilitation project, it had only been tested once in Wisconsin. With the successful completion of PPC overlays on the project, this type of overlay is now planned for more than 50 bridges in the Southeast region and many more throughout Wisconsin.
About the Guest Blogger

Lindsay Kaufmann, PE, is a Project Manager at Michael Baker International, a leading provider of engineering and consulting services, including design, planning, architectural, environmental, construction and program management. She has been with the firm for more than 15 years and serves as the Transportation Manager for Michael Baker's Wisconsin offices. Lindsay is a graduate of ACEC Wisconsin's Leadership Institute program.