Leadership Institute Class of 2022 Recognized & Celebrated
Date posted
April 25, 2022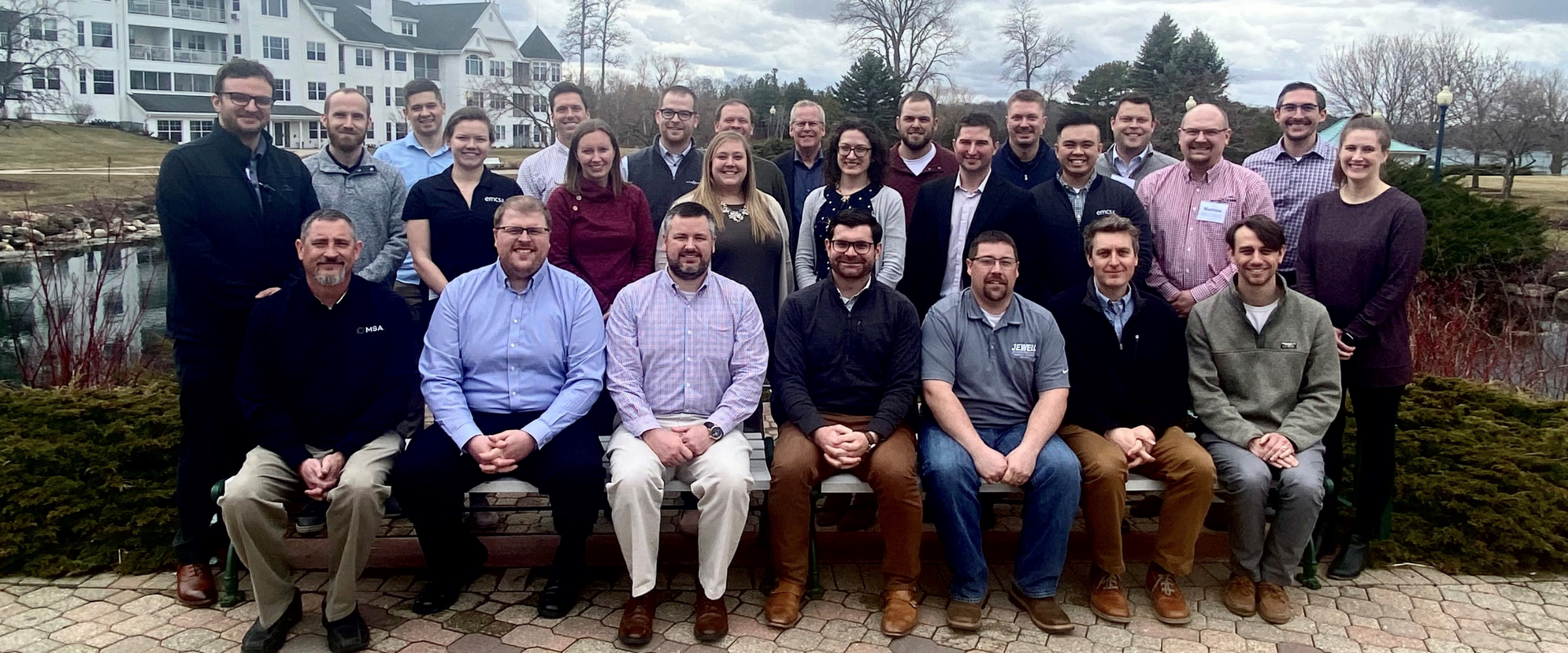 The Class of 2022 began its leadership journey back in September and went through six transformative sessions over the course of eight months. Despite the masks and being the largest class to date, this group formed a tight bond, asked challenging questions, and developed a new committee. This is an amazing group of rising stars.
Congratulations, Class of 2022!
Travis Anderson, PE, Strand Associates Inc.
Noah Anliker, Jewell Associates Engineers, Inc.
Chris Becklin, PE, Origin Design
Christopher Beyer, PE, Clark Dietz Inc.
Joshua Borst, Ayres Associates
Andrew Busch, AIA, NCARB, Origin Design
Julie Chapman, PE, GRAEF
Cassandra Coopman, Mead & Hunt Inc.
Nicholas L. Decent, PE, raSmith
Vincent DiFrances, PE, JT Engineering, Inc.
Brennen Fischer, PE, CFM, Ruekert & Mielke Inc.
Kevin Lohff, JT Engineering
Joseph Malenofski, PE, CBS Squared Inc.
Joshua Mercier, PE, KL Engineering
Emily Micolichek, PE, Miller Engineers & Scientists
Patrick S. Morrow, PE, MSA Professional Services, Inc.
Matthew R. Patterson PE, Becher Hoppe Associates
Ashley Pridemore, PE, Strand Associates Inc.
Jeremy Roberts, PE, MSA Professional Services, Inc.
Mark Sauer, AICP, Mead & Hunt, Inc.
Laura L. Schroeder, PE, PTOE, RSP, raSmith
Cameron Shiffer, PE, CORRE Inc.
Jessica L. Splittgerber, EMCS Inc.
Harry Tran, PE, EMCS Inc.
Ryan Wallace, Baxter & Woodman, Inc.
Jacob W. Zander, PE, Ayres
What's the secret ingredient to the success of the Leadership Institute program? The Class Advisor! The Class Advisor is an industry leader who attends all sessions, connects the dots, shares lessons learned from real examples and keeps the group motivated.

Gil Hantzsch, PE, FACEC served as the Class Advisor to the Class of 2022 and Class of 2021. During this time, Gil mentored 41 of the industry's rising stars. A big thank you to Gil for making Leadership Institute a dynamic learning experience.
Interested in the Leadership Institute Class of 2023? The final arrangements are being made and the search for the Class of 2023 will begin very soon. Watch for the program information by May 1st.