Leading the Charge in Child Abduction Recovery Efforts
Date posted
January 15, 2019
Written by: Scott Kiley, MSA Professional Serivces
Bringing our children home
Nearly half a million children are reported missing in the United States every year. While many are found and safely returned home, others are less fortunate. Three counties in Wisconsin have teamed up to challenge these statistics and are pioneering efforts with the implementation of a comprehensive child abduction recovery program. This includes the utilization of a new GIS-platform app that provides officers, dispatchers, investigators and community volunteers real-time capabilities to best organize, map and track their recovery efforts.
There's an app for that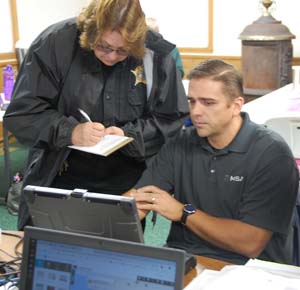 The GIS team at MSA configured the operations response app based on the Web AppBuilder for ArcGIS. It will work on any device with an internet connection, whether that be a computer in the command center, a laptop in a squad car or a smartphone in the field. The app uses a situational awareness widget to locate points of interest within a distance of a specified location, like where a missing child was last seen. The widget can highlight areas to guide canvassing teams and track the information they gather. It can also display addresses of people on the state offender registry and detailed information about them: tattoos, scars, identifiable markings, alias names and a list of vehicles driven. Investigators can use the app to map search areas, log evidence and other points of interest that may help lead to the recovery of a missing child. The app provides a complete view of the search and recovery operation to all team members in real time while also providing a map-centric record.
Full-scale preparation for worst-case scenarios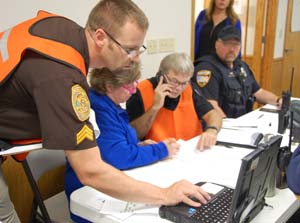 This app was utilized for the very first time in Wisconsin on September 19, 2018, as part of a full-scale emergency response exercise organized by the public safety and law enforcement agencies of Juneau, Adams and Wood counties. This tri-county Child Abduction Response Team (CART) hosted 125 regional officers, response members, administrators and citizen volunteers for a day of training surrounding a simulated missing child event. The goal of the day was to train participants and establish proficiency in the following areas: Incident Structure, Command and Documentation, Communications, Volunteer Coordination, Search and Rescue, Advocacy, Legal Considerations and GIS Mapping.

MSA and other GIS professionals were positioned in the Incident Command Post, a hall filled with computers, monitors and mobile devices, with participants accessing the new web-based app and viewing results as projected on a big screen. Outside, a mass of over 100 other volunteers gathered to await debriefing and directions: air support in the form of helicopter and drone pilots, search and K9 teams, neighborhood canvassers, evidence collectors and an intelligence team—all ready to assist the tri-county dispatch with the full-scale simulation.
Missing girl, 11 years old
A mock victim description was given: 11-year-old girl, reported missing when she did not board the school bus and arrive as usual to class.
The first step was to map where the child was last seen and find all registered sex offenders within a four-mile radius. The app proved to be an invaluable tool at this stage, quickly mapping search areas and pulling a list of registered offenders and offender locations within the defined area.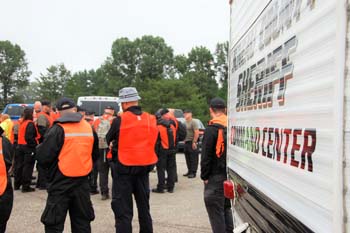 The next step was to track and pinpoint any collected evidence or leads in the field. The alleged victim's cell phone recorded a GPS location in a junkyard approximately a quarter mile from her last known location. A single child's shoe was discovered another quarter mile down the road, and soon—a discovered green backpack. Search teams reported seeing a truck with Illinois plates driving through the search area. The vehicle description was reported back to the command center and cross-referenced against the list of registered sex offenders, Before long, the response team found a possible match with an offender who happened to also have family ties in the area. An APB was put out and the truck was pulled over with the missing girl in the back seat, alive and well.
Mobilization in every community
Success. The organization and execution of the training returned the "missing" child to her home. With the right implementation, education and training, any community can be better prepared to mobilize for success in the face of such a terrifying situation. As they say, "an ounce of prevention is worth a pound of cure," and there is no such thing as too much prevention when it comes to the safety of our children.
Thanks to the Juneau, Adams and Wood counties for leading the way in this important cause. Read more about the training here or link to coverage of the event here, with thanks to WMTV, NBC15 in Madison.
About the Author

Scott Kiley, GISP, is a senior GIS analyst at MSA Professional Services, Inc. (MSA). His expertise includes GIS project planning, integration and implementation, with a particular interest in the analysis of spatial components. He has worked with web and mobile mapping applications and Python scripts, creating ways to help communities use data and GIS to make smart, sustainable decisions. MSA is a long-time ACEC WI member and a 100% employee-owned, full-service multidisciplinary consulting firm.