Navigating one of the Largest Water Expansion Projects in Wisconsin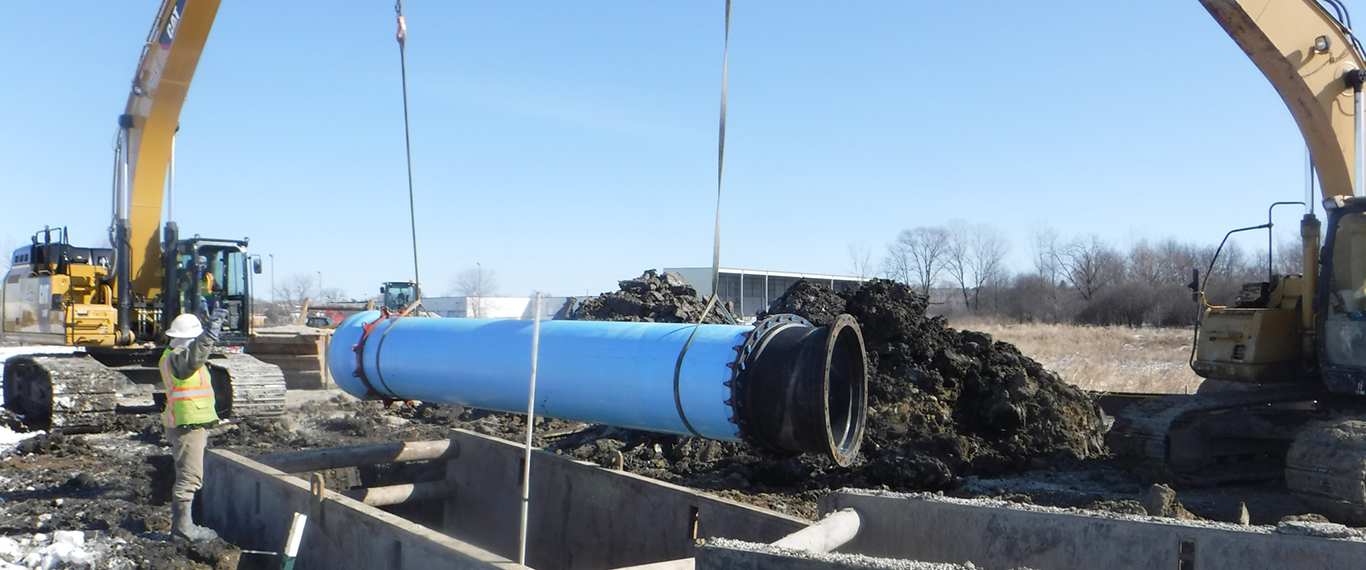 Written by: Kenneth R. Ward, PE; Ruekert & Mielke, Inc.

In 2017, the Racine Water & Wastewater Utility (RWWU) partnered with Ruekert & Mielke, Inc. (R/M) to embark on one of the largest water system expansion projects ever in the state of Wisconsin; one that would allow the utility to provide an average of 5.8 million gallons per day (mgd) for approximately 20 million sq. ft. of new manufacturing space in the Village of Mount Pleasant.
This expansion included:
Two new pumping stations
Significant improvements to two existing pumping stations
New elevated storage tank
174,540 feet (nearly 34 miles) of new water main measuring 36" to 48" in diameter
To accommodate the needs of this massive development, the project timeline was significantly expedited and the design, permitting, and construction of the project were completed at an extraordinary pace, often simultaneously.
For critical segments of water main, design work that would normally take a year was completed in less than two months.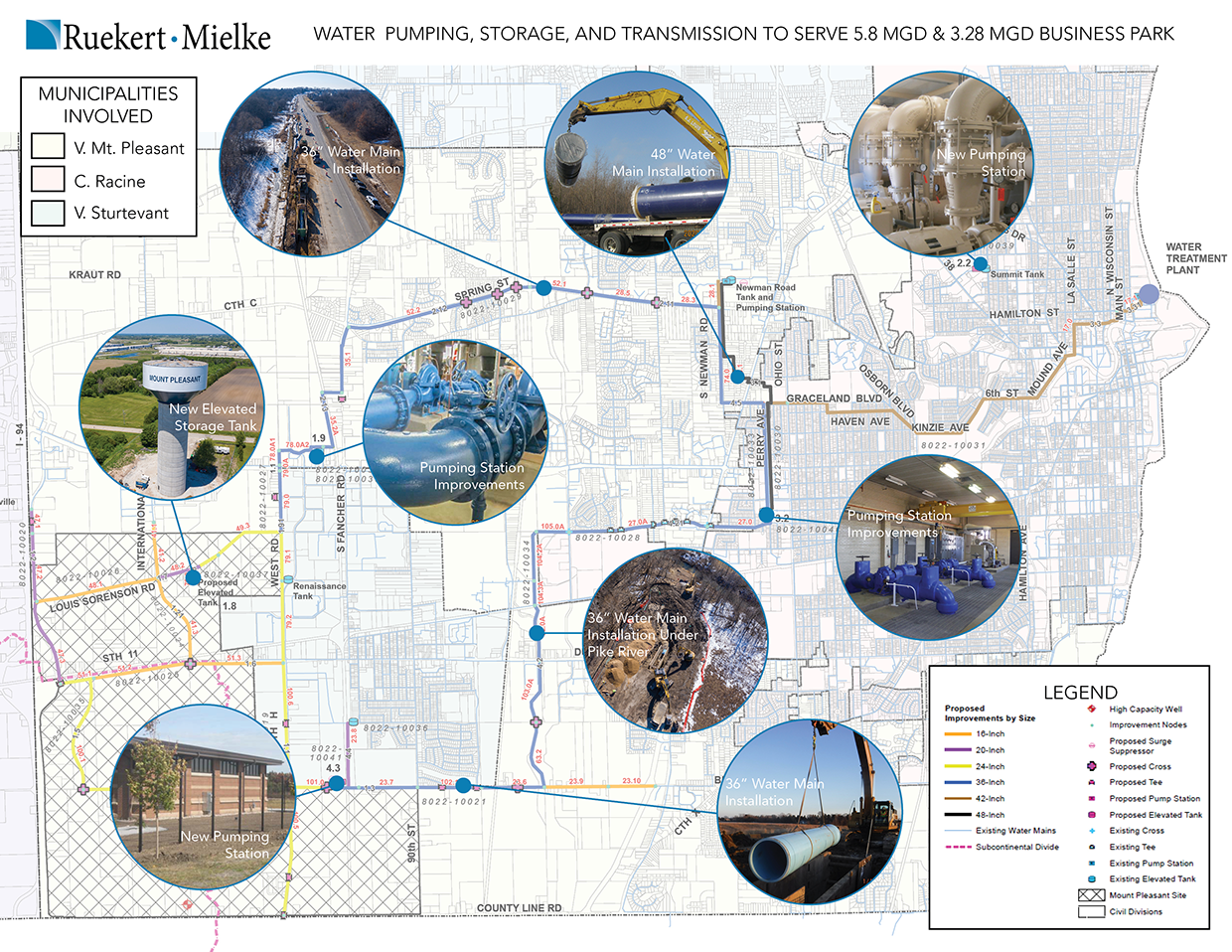 The complex nature of this project made the timeline all the more demanding. Design considerations for such large diameter water main are compound, as there is only so much room underground for pipe that measures up to 48" in diameter. A significant portion of the water main construction took place in highly congested, urban areas where all of the underground space between the surface and 12 feet of depth was occupied. As a result, the project team needed to move laterals and other existing infrastructure to make room for the new main without cutting off water supply to local homes and businesses.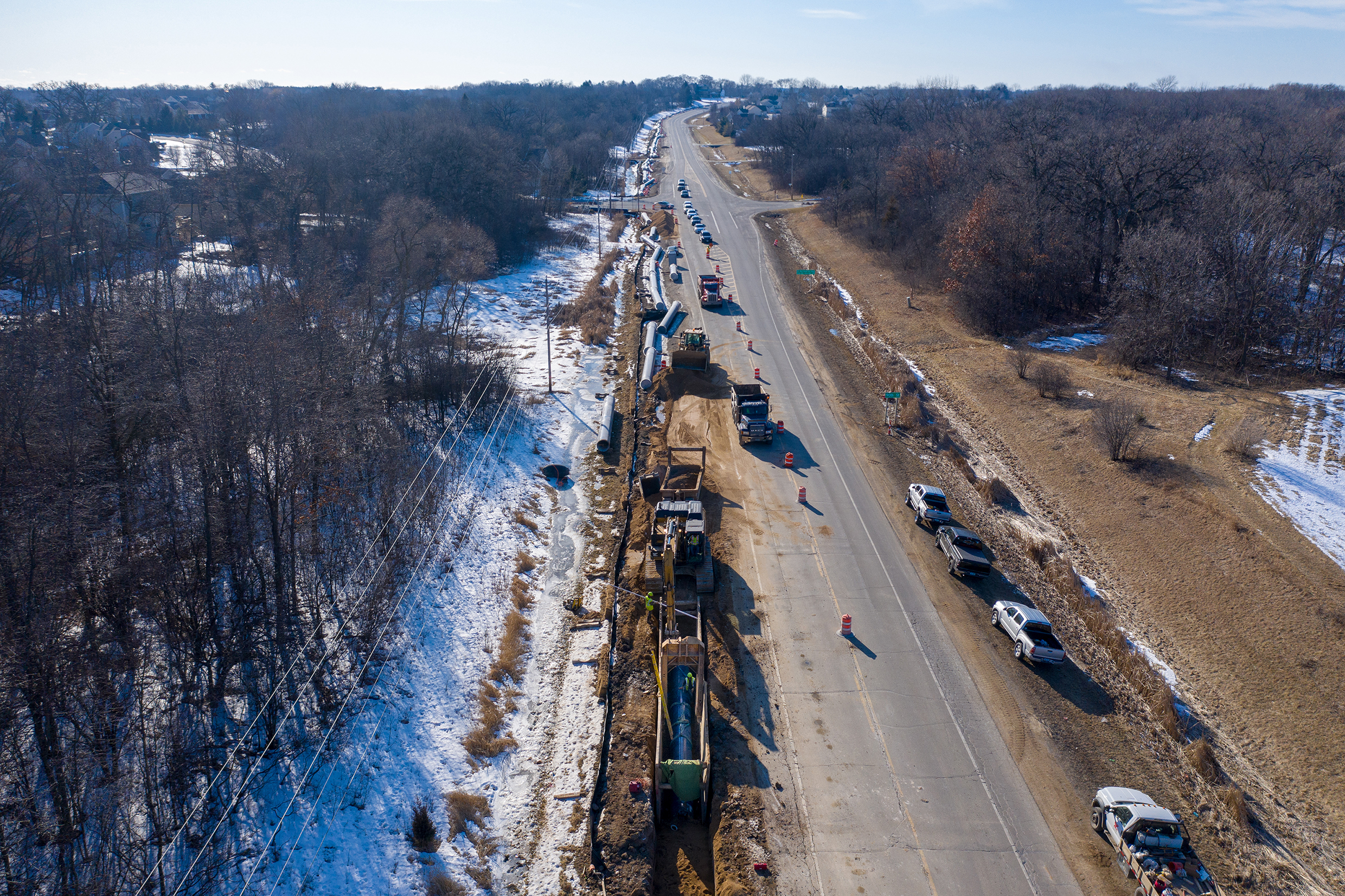 R/M is a relatively small firm, with just over 100 employees. While the magnitude of this project presented challenges for our team, our small size allowed us to be nimble and quickly adapt to necessary changes and unexpected obstacles. This flexibility helped us navigate the many complexities of this exciting project.
The RWWU water expansion will have a powerful impact on local communities. Over the last two decades, the Village of Mount Pleasant and surrounding areas saw a significant loss of manufacturing jobs. This development will support appreciable economic expansion in Southeast Wisconsin, bringing new jobs and tax revenue to the community. RWWU customers will also see a direct financial benefit resulting from the water supply expansion, as the more customers a utility serves, the more affordable water rates become.
About the Guest Blogger

Ken Ward, PE has been with Ruekert & Mielke, Inc. (R/M) since 1984. He's served as a primary client contact, project manager, and project engineer on a variety of municipal infrastructure projects, including streets, alleys, sewers, storm water management, bike route trails, and water mains. He has an extensive background in construction inspection, public involvement, and public assessment of municipal improvements. R/M is a long-time member of ACEC Wisconsin.