Peninsula State Park Eagle Tower Replacement
Date posted
February 19, 2023
2023 Engineering Excellence Best of State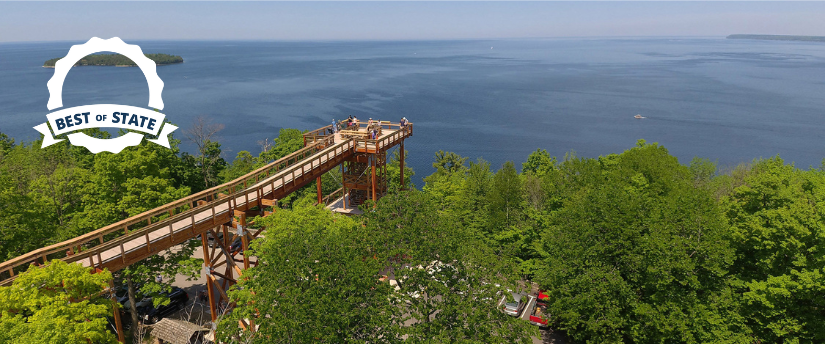 Entering Firm: Ayres Associates Inc.
Client: Wisconsin Department of Natural Resources
Peninsula State Park is a top tourist destination in scenic Door County. One of the highlights is the view off Eagle Bluff where visitors get a bird's eye view of the area. A 76-foot tower stood on the bluff but after years of wear and tear, the structure was closed and dismantled.
Back to Life
Ayres Associates crafted a plan to bring the tower back. Research and testing determined that there was no easy solution. New structures are required to be ADA-compliant, and accessibility was a core goal of the client. Budget and space constraints meant that any new structure could not use elevators to meet those accessibility needs.
A View for All
The design team designed a new structure that met all needs. A steep, 95-stair climb offers a quick (and space-saving) way to reach the top of the new tower. A custom-designed 850-foot ramp provides accessibility for all users and meets ADA requirements. The tower is built from specially processed timber that improves longevity and blends into the environment.
Awards judge Matt Dapp said "The Eagle Tower replacement project excelled at creating a design that not only met the ADA requirements, but it also incorporated various sustainability efforts. The design team developed a wooden structure that matched the natural environment and will stand the test of time. I like that the new tower provides remarkable views to visitors from all over – no matter their ability."
One of a Kind
The new Eagle Tower is the only wooden structure of this height in the country. The design sets an example that can be followed for other parks and other amazing views.