North Fish Hatchery Road Reconstruction
Date posted
February 19, 2023
2023 Engineering Excellence Best of State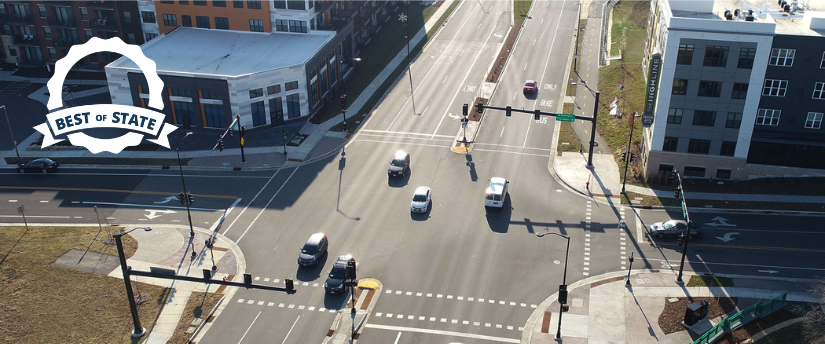 Entering Firm: KL Engineering Inc.
Client: City of Fitchburg
As the keystone entrance to the City of Fitchburg, North Fish Hatchery Road serves 40,000 vehicles per day. Improvements were sorely needed. The city used this as an opportunity to create a new corridor.
Meeting Stakeholder Goals
KL Engineering designed a new reality for the client. Instead of a traditional road reconstruction, the team planned for extensive bike and pedestrian accommodations and enhanced facilities to encourage public transit use. These improvements were implemented within the existing right of way by skillful design decisions. The team also added aesthetic elements to create a welcoming gateway for the city.
Behind the Scenes
Beyond those up-front improvements, there were also changes to the hidden infrastructure. Water infrastructure was improved for the growing area and located below the transportation corridor. A new culvert and other upgrades improve stormwater management and prevent harmful runoff from reaching nearby natural springs.
Awards judge Cathy Wunderlich said: "This project faced many environmental, right-of-way, scheduling and construction challenges. The final design dramatically improves public safety and came in nearly $700,000 the construction bid price. Creative solutions included street scaping, pedestrian/bike path improvements and mass transit amenities. A true testament to innovation and technology while preserving the environment and public health and safety. Very well done!"
A New Gateway
The project was completed within an expedited timeframe and came in under budget, despite supply chain and COVID-related labor issues. The new gateway accommodates user needs and welcomes them into the City of Fitchburg.