Reconstructed Bridge Makes Grand Entrance into Popular, Picturesque Park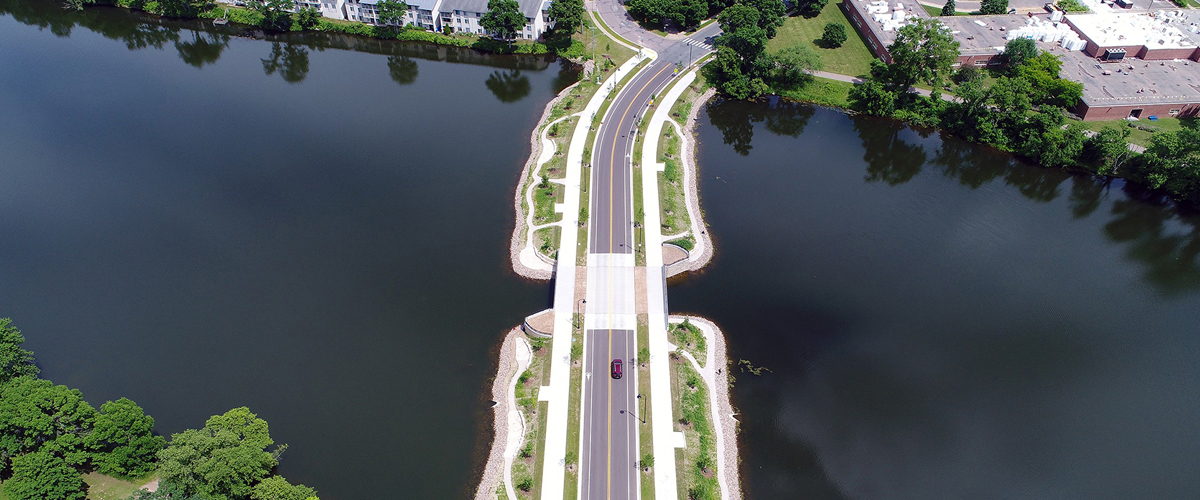 Written by Dan Sydow, PE, Ayres Associates

How times change. How projects evolve. And how transforming the end result of those changes can be. Never was this more evident than with the City of Eau Claire's Grand Avenue Half Moon Lake Bridge Replacement project – an upgrade like no other.
Located at a prominent entrance to Carson Park, one of Eau Claire's signature attractions, the original bridge had deteriorated to the point of becoming both structurally deficient and functionally obsolete. Its bridge sufficiency rating – a calculation the Wisconsin Department of Transportation uses to help prioritize bridge improvements – was a mere 40.8 out of 100. Functionally, the narrow bridge presented a substantial safety concern for the City and the scores of visitors and recreationalists relying on the crossing to enter the popular park.
While replacing a basic bridge may sound like a straightforward engineering pursuit, the Half Moon Lake project was anything but routine. From the beginning, City leaders had lofty goals for their project when they learned that the failing bridge was selected to receive funding assistance through the WisDOT's local bridge program. They not only wanted to replace the modest structure with a safe and structurally sound replacement bridge but also incorporate improvements and aesthetic enhancements that would serve the community well for generations to come.
And that they did.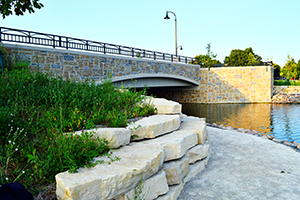 The "extras" incorporated into the design, including off-trail, environmentally sensitive fishing accommodations, improved lighting, increased navigational clearance and wider and terrace-separated recreational trails, complement the new structure and position the area as a destination and extension of the 134-acre park. Ayres Associates' designers worked with the City to more than triple the footprint of the causeway. As a result, bicyclists have designated lanes to ride in, anglers have Americans with Disabilities Act-compliant accommodations to fish from, pedestrians no longer have to walk alongside live traffic and motorists have a structurally sound passageway into the park.
How it happened: the engineering behind the vision
From a technical standpoint, the project involved replacing a narrow concrete arch bridge built in 1933 with an aesthetically enhanced, 50-foot-long-by-77-foot-wide concrete slab bridge and 600 feet of approaches. Taking the project to the next level, the team made a concerted effort to consider all users and stakeholders in the design plans. Special considerations included extensive and varied types of fishing accommodations, including fishing areas for those with disabilities and creation of a fish habitat with trees placed in the water along the project; user-friendly and context-appropriate landscaping; environmental impacts coordination with regulatory agencies; removal and proper treatment of contaminated lakebed material and minimizing disruption during construction. Landscaping features along the causeway provide recreational opportunities while also blending into the look of the area. Flag stone pavers, limestone seat walls, stamped concrete and light poles serve important functional purposes while further adding to the project's aesthetics.
Public involvement during the design was critical, and the project team worked extensively on public outreach efforts, developing a tri-lingual project website and flyer to share information with concerned and affected residents living near the project site and creating detailed renderings and "fly-through" animations to help stakeholders visualize the future finished product.
A happy ending: both safety and recreational needs addressed
While the initial focus of the project was to address a bad bridge, the resulting collaboration delivered much more than just a means to access a park. It demonstrates that transportation facilities can be much more with careful planning, quality communication, and open collaboration.
This innovative, cost-effective project has made a dramatic improvement for the community, addressing public safety and offering attributes for the public beyond basic transport over a body of water. The City made a wise choice when it opted to invest in this out-of-the-ordinary bridge replacement project.
About the Author
Dan Sydow, PE, is a structural engineer at Ayres Associates and served as project manager for the Half Moon Lake project. Ayres Associates, a longtime member of ACEC Wisconsin, is a 300-person engineering and architectural firm based in Eau Claire; it has four additional offices in Wisconsin, as well as offices in Florida, Colorado, and Wyoming.