Taking on the Challenges of the Future at the Summit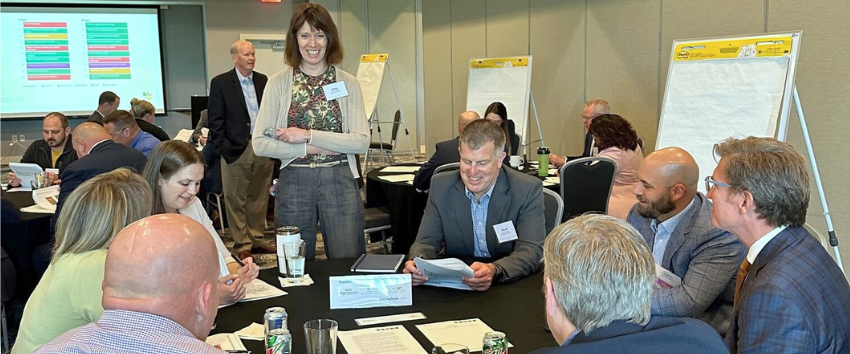 ACEC Wisconsin held a Mini Summit and Annual Business Meeting on May 25, 2023. This event was our first collaboration with Engineering Change Lab USA. It was an opportunity to explore the challenge of the 21st century and how leaders in the engineering community must respond. The highly interactive session led by ECL-USA Executive Director and President Mike McMeekin and ECL Board Member and ACEC Wisconsin Member Amy Squitieri of Mead & Hunt. Groups discussed new value propositions for the engineering firm of the future and the engineering workforce of the future.
The overall sentiment is the engineering industry will be challenged but with change comes opportunity and excitement.
During the Annual Business Meeting attendees learned about the state of the organization.
Business Meeting Highlights:
Board Chair Steve Wurster outlined our progress and continued work on our strategic goals.
President Chris Klein reviewed the legislative priorities, partnerships efforts, the importance of political giving, and upcoming events.

The PAC Golf Outing is September 13th. Registration opens soon.

Secretary-Treasurer Jeff Bauer presented the Financial Report showcasing our strong balance sheet.
The event also featured opportunities to network, collaborate and engage with other ACEC Wisconsin members.
Thank You Sponsors
Many thanks to the ACEC Trusts for the generous support of this program. The Trust programs are available exclusively to member firms and designed to enhance your membership by helping to control your costs.