The Nick: UW Madison Campus Recreational Facility
Date posted
February 20, 2022
2022 Engineering Excellence State Finalist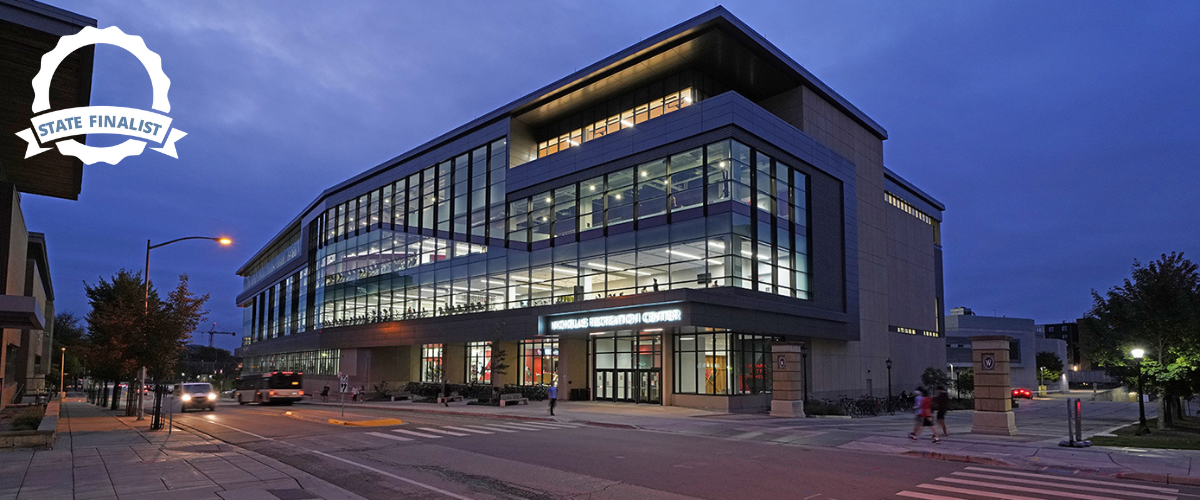 Entering Firm: GRAEF
Client: UW Madison Recreation & Wellbeing
UW-Madison's primary recreational facility, the SERF, was not meeting expectations. Its windowless design from the 1980s created an uninviting atmosphere. Despite modest improvements, the facility suffered from structural problems and dramatically underserved the student body. A completely new facility was needed.
GRAEF started by looking at the problems plaguing the old facility. At the SERF, users complained about vibrations from all the activities in the venue. A vibrations specialist was brought in to help the team design structural trusses to stabilize the facility. Additionally, the layout of the facility was updated to isolate high impact activities. Stability was also vital for the running track that hangs three stories up, a unique draw that also saves space.
Another issue with the SERF was its pool facilities. The old pool didn't meet campus needs, couldn't support spectators and was leaking into the soil, undermining the foundations. The design team did geotechnical work to stabilize the footing of the new building. The new natatorium has an Olympic-sized swimming pool as its focal point and plenty of room for spectators. These new facilities are located on the lowest floor of the building which required unique support from the structural trusses.
The new, multi-storied facility, named the Nick, offers light-filled spaces for fitness conscious Badgers of today and well into the future.