Understanding Highway Hydraulics Keeps Bridges, People Safe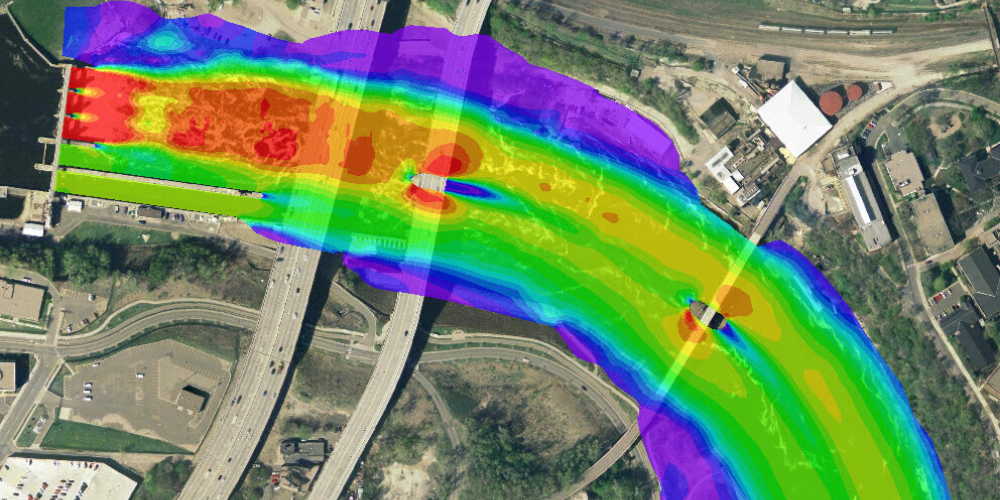 Written by Pete Haug, PE, Ayres Associates

One of the principles of engineering is that water always wins. Whether contained in a river or falling in a rainstorm, water finds a way to infiltrate basements, saturate soils – and undermine bridges.
Bridge Failure & Scour
The most common cause of bridge failures is from floods scouring bed material surrounding bridge foundations. What is scour? Simply put, scour is the engineering term for the erosion of soil surrounding a bridge foundation (piers and abutments).
Bridge scour occurs when fast-moving water around a bridge removes sediment from around the bridge foundation, leaving behind scour holes. These holes, in turn, can seriously compromise the bridge's integrity, endangering people and property.
One of the most well-known examples of bridge failure due to scour is the collapse of I-90 over Schoharie Creek in New York in 1987. Ten people died in that collapse. Closer to home, a 2016 flood in Ashland County washed out bridges on State Highway 13; the official detour between Mellen and Ashland added more than 50 miles to a normal trip of 25 miles, putting a crimp in schedules for residents and tourists alike.
Highway bridge failures caused by scour and stream instability account for most of the bridge failures in the United States, resulting in substantial repair and replacement costs. In fact, the indirect costs associated with a bridge failure have been estimated to exceed the direct cost of bridge repair by a factor of five. A 2014 report in the Journal of Mechanics and Geotechnical Engineering says scour of bridge foundations is the number one cause of bridge collapse in the United States, and 600 bridges have failed due to scour problems in the past 30 years.
Safe & Effective Bridge Design
A solid understanding of hydraulics is crucial to safe and effective bridge design. That's why the Federal Highway Administration's National Highway Institute exists.
The National Highway Institute (NHI) is the training arm of the Federal Highway Administration (FHWA). Established by Congress in 1970, the organization has a long history of innovation and expertise in delivering transportation training to practicing engineering and others in the industry. While a college course provides the basics of an engineering practice, NHI's programs delve deeper into the details. They also are likely to have instructors who bring years of hands-on experience implementing the very topics they're teaching.
Being able to learn practical engineering applications from professionals who have actually "walked the walk" is critical. For example, many roadway engineers understand the need to consider the hydraulic impacts of a project, but don't have the background in current design tools and practices. NHI training in transportation hydraulics helps increase their proficiency.
Having instructors with real-world experience is something that sets the NHI program apart from more academic-type training environments. Whatever the course, NHI's goal is to have instructors who have worked in the field, have done practical design projects, and have firsthand experience in how to apply engineering theory in the real world.
Ayres Associates has played an active role in helping NHI achieve its mission for nearly 30 years by helping develop and teach a multitude of transportation hydraulics-related courses. The firm has a long-standing history of NHI teaching starting in 1989 with the Stream Stability and Scour Course and continuing today with a total of 850 courses taught by Ayres team members. Ayres currently has 18 NHI-certified instructors with four more in the process of certification.
To date, Ayres instructors have taught approximately 22,000 students in Wisconsin and throughout the United States about a range of transportation hydraulic topics, from bridge scour and design of safe bridges, to urban drainage design and 2D hydraulic modeling. Classes range from one- to three-day courses and are taught across the country to professionals representing state departments of transportation as well as others in private and public industries. Ayres also has been involved in the development of nine instructor-led courses and four web-based offerings.
View the training video series
About the Guest Blogger

Pete Haug, PE, is a water resources engineer in Ayres Associates' Eau Claire, Wisconsin, office and a certified instructor for NHI courses in Highway Hydraulics, Culvert Design, and Urban Hydrology. His primary focus is on dam inspection, hydraulic structure design, and spillway construction observation. He has inspected hundreds of river structures, including Federal Energy Regulatory Commission dams, state dams under the Owner Responsible Inspection Program, highway bridges for the Wisconsin Department of Transportation bridge inspection program, interstate bridges, and coolant intakes overseen by the Nuclear Regulatory Commission. His peer-reviewed papers include spillway discharge uncertainty, dam removal, spillway performance, and other hydraulic topics.