University of Wisconsin-Madison Camp Randall Stadium
Date posted
February 19, 2023
2023 Engineering Excellence Best of State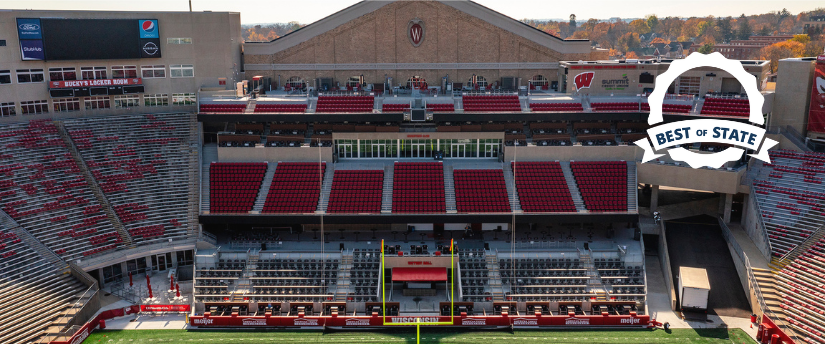 Entering Firm: raSmith
Client: University of Wisconsin-Madison
Camp Randall, the home of the Wisconsin Badgers football team, was originally constructed in 1930. The historic structure is near and dear to fans but limited the ability to deliver modern game day amenities.
Jump Around on the Foundation
raSmith provided the engineering expertise needed to turn the vision into reality. The vision was a project that added 2,300 seats and new amenities within the stadium's existing footprint. Expansion had to merge seamlessly with the current structure and avoid disturbing current mechanical services. The design team found that pre-cast concrete would put too much weight on the structure. Instead, a steel frame was used that would limit the weight placed on the foundations. The new frame was carefully connected to existing steel joints to support the 400,000 pound weight of the new expansion.
On the Clock
One of the biggest difficulties arose during construction staging. The project had to be completed within the football offseason. This required pre-ordering materials and having them ready to go for construction. With interference from the pandemic, the team delivered the new facility in time for the 2022 football season.
Awards judge Josh Pachniak said, "The University of Wisconsin-Madison Camp Randall Stadium project overcame unique structural connections, tight site constraints, a compressed construction timeframe, and construction directly adjacent to the historical UW Fieldhouse. This successful project for one of UW-Madison's landmark facilities will provide a unique viewing experience for Badger football fans for many years to come."
On, Wisconsin!
The new expansion fits seamlessly with the existing structure and delivers a modern game day experience for Badger fans.