Van Natta Recognized for Board Service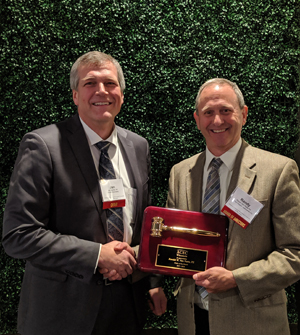 Outgoing Past Chair Randy Van Natta was recognized for his service and dedication on the ACEC WI Board of Directors. Randy commitment to ACEC WI began when he was recruited to serve as the Leadership Institute Class Advisor for the Classes of 2013 and 2014. He began his Board service in 2014 and rose to the leadership ranks serving as Board Chair in 2017-18. Randy brought a wealth of knowledge, experience and a positive outlook to the Board of Directors.
Van Natta noted he enjoyed his time serving on the Board of Directors and expressed gratitude for the opportunity to represent Wisconsin's consulting engineering industry.
Thank you for your time, efforts and dedication to ACEC WI!