Washington Avenue (WIS 20) Reconstruction
Date posted
February 19, 2023
2023 Engineering Excellence State Finalist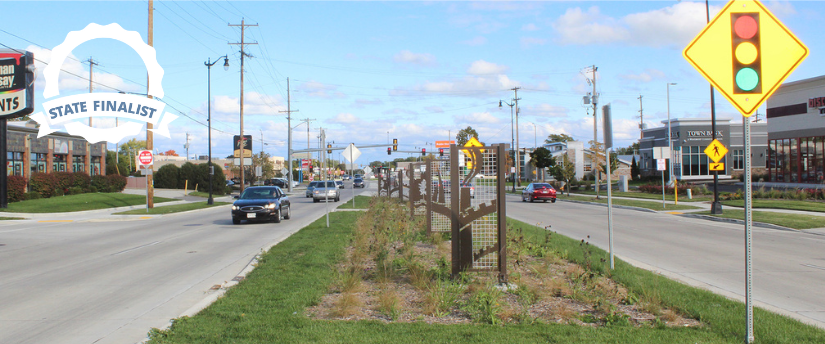 Entering Firm: Strand Associates Inc.
Client: City of Racine
The WIS 20 corridor in Racine was showing its age. It's a vital thoroughfare to access a thriving business district but the corridor lacked parking accommodations, bike accessibility, and ADA compliance. The crash rate was more than twice the statewide average.
Strand Associates designed a plan to fix the issues without taking any real estate away from businesses or historic buildings. To do this, they worked with a citizen advisory committee to deliver a solution that met local needs and respected community input.
A road diet was identified as the best plan for the corridor. The diet would reduce car lanes but would provide space for bike accommodations and increased safety and ADA compliance for pedestrians. Modern sidewalk bump outs better delineate new parking options and slow down traffic for pedestrians. The road diet also came with improvements to the pavement and signaling. Even by shrinking down the amount of car space, new signaled intersections and reinforced pavement help traffic to move through the corridor.
The new WIS 20 has parking, multi-modal and ADA accessibility, and a significant crash rate reduction. All this was done without impacting local businesses or historic structures.