Eau Claire Grand Avenue Half Moon Lake Bridge Replacement
Date posted
February 18, 2019
2019 Engineering Excellence Award | Best of State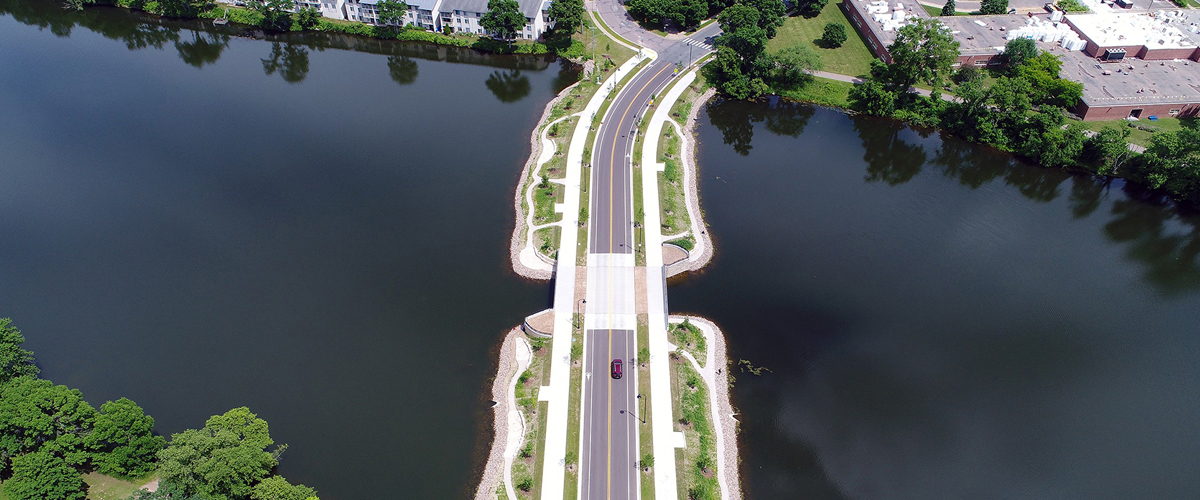 Entering Firm: Ayres Associates Inc.
Client: City of Eau Claire
Category: Structural Systems
---
The Grand Avenue Half Moon Lake Bridge is a keystone bridge for the community because it was the only way to access Carson Park. Carson Park is the city's most popular park and the structurally deficient bridge was an eyesore and major point of concern for the community.
Ayres Associates took the redesign opportunity as a chance to totally transform the bridge. A tri-lingual website and flyer were created, multiple public information meetings were held and "flythrough" animations helped visualize the finished product. Buy-in from the public was earned by paying attention to the aesthetic qualities of the bridge and adding modern amenities like dedicated bike/pedestrian paths and ADA fishing spots. Natural plantings and bridge artwork integrate the corridor into its surroundings. These changes required the design team to triple the footprint of the bridge which led to additional coordination challenges. New permits were obtained from the Department of Natural Resources requiring the team to remove nearly 11,000 cubic yards of contaminated sediment and replace it with nearly 30,000 cubic yards of new material to accommodate the expanded footprint. Ayres minimized cost and time by quickly determining the cheapest and closest options for disposal of the old material. Removing the material allowed for creation of fish habitat near the bridge and addressed some of the issues with water quality in the lake. Finally, extra culvert pipes were added to facilitate water flow in the lake and further improve water quality.
Awards judge Brandon Braithwaite said about the project: "For me, the project jumped out as transformative. Rather than replacing the bridge that leads to a destination, the bridge and related amenities became a destination itself. This project dreamed big and they were able to achieve their dreams!"
Ayres designed a bridge that provides room for bicycles, pedestrians, anglers and motorists. The bridge has become more than a transit point. It is now a proper gateway for the park and a recreational resource in its own right.